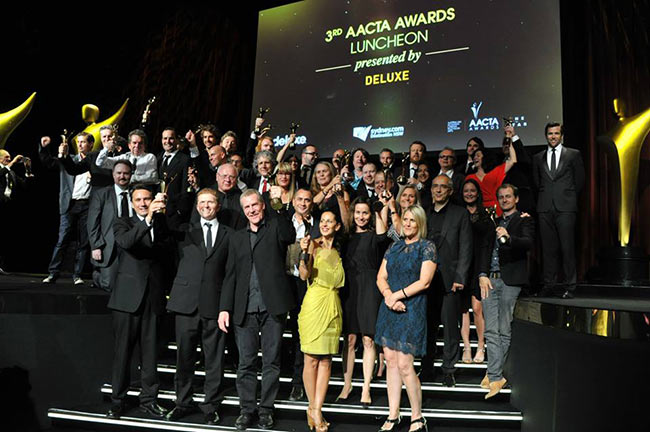 The Australian Academy of Cinema and Television Arts (AACTA) Awards 2015 are well underway, with the first group of winners being announced on Tuesday 27 January during the 4th AACTA Awards Luncheon at The Star Event Centre, Sydney.
The annual awards commemorate and celebrate Australian film and television achievements and is considered Australia's equivalent of the Oscars and the BAFTAs.
A strong lineup saw The Broken Shore, Tender, Ukraine is Not a Brothel and Predestination all nominated five times.
Some of the current winners include:
AACTA Award for Best Direction in a Television Light Entertainment or Reality Series WINNER: The Broken Shore (Martin McGrath ACS – ABC)
AACTA Award for Best Cinematography in Television WINNER: The Code (Episode 1 Deborah Peart ASE – ABC)
AACTA Award for Best Short Animation WINNER: Grace Under Water (Anthony Lawrence)
AACTA Award for Best Short Fiction Film WINNER: Florence has Left the Building (Mirrah Foulkes and Alex White)
AACTA Award for Best Cinematography WINNER: Predestination (Ben Nott ACS)
A special congratulations to:
NYFA Australia director mentor, Samantha Lang, for her involvement in the award winning Carlotta. The production was the 2015 winner of 'AACTA Award for Best Proudction Design in Television' and 'AACTA Award for Best Costume Design in Television'.
NYFA Australia lecturer Grant Thompson, for his nomination in the Best Documentary Television Program category, for Taking on the Chocolate Frog.
This is just a small group of the impressive list of winners from the 4th AACTA Awards Luncheon.
Students of New York Film Academy Australia have also been invited to attend this amazing event, later this week. A selected group of student were excited to have been given access to this unique opportunity, many being inspired by the works of the local nominees and winners. We are sure to see NYFA Australia students on stage in the near future accepting their own accolades. In the meantime, they will enjoy the honor to be amongst the talent and professionals of the Australian film and television industry.
You can find out more details on our New York Film Academy Acting for Film programs on our website. The program is available throughout the United States and at our Sydney and Gold Coast campuses in Australia. Contact us for more details.
by nyfa