Tayla Schaffner, graduate of the New York Film Academy (NYFA) BFA in Acting for Film program, has been turning heads with her thesis film When It Rains, which has been steadily winning awards since its debut.
Schaffner originally hails from Johannesburg, South Africa, where she first auditioned for NYFA Associate Director of Recruitment Blake Babbitt. "She immediately stuck me as incredibly talented, professional, and driven," says Babbitt of their first meeting. "I've been fortunate to get to know Tayla as a person during her studies at NYFA and we've kept in touch since her graduation from our BFA Acting for Film program. It's inspiring to see Tayla's growth as an artist."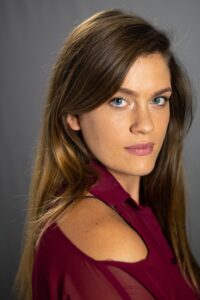 After getting her feet wet in her school's drama club, Schaffner left her home country and headed to study at NYFA's Los Angeles campus. Through the course of her BFA studies, she was cast in a total of 17 student-directed films and an Off-Broadway production of Antigone by Sophocles in which she played the lead at the Majorie S. Theater in Times Square, New York.
"I believe my time at NYFA shaped me into an on-the-spot thinker," says Schaffner. "It taught me to take exactly what I have, and work with it. There is no point in fussing over what you don't have."
Her hard work came to fruition with When It Rains, her short film about a woman named Lila who discovers she has cancer for the second time. Apart from playing the lead, the film was also written and produced by Tayla as part of her final thesis project for her Bachelor in Fine Arts.
The film has gone on to win several nominations and awards, including:
Hollywood International Moving Pictures Film Festival – Winner – Best Drama Short
Best Shorts Competition – Winner – Award of Recognition
Los Angeles Film Awards – Honorable Mention – Student Film
United International Film Festival – Winner – Award of Merit
The IndieFEST Film Awards – Winner – Award of Recognition
Los Angeles Movie Awards – Honorable Mention
Los Angeles Cinefest – Semifinalist
Los Angeles Independent Film Festival Awards – Semifinalist
Taking time to reflect on her achievements and never forgetting her roots, Schaffner shares a very important message to her fellow South Africans back home: "Anything is possible if you just believe. The opportunities are endless."
New York Film Academy congratulates BFA Acting for Film alum Tayla Schaffner on the success of her film When It Rains and looks forward to seeing her future successes!
by nyfa