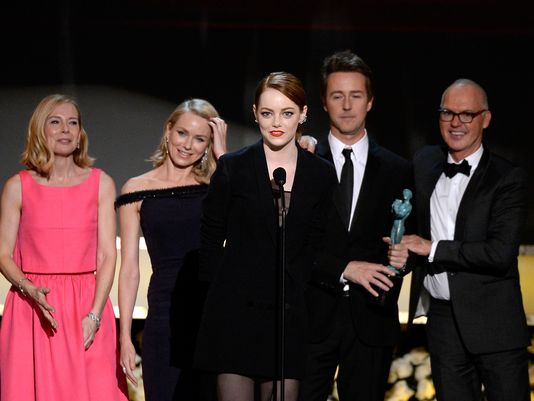 This weekend's double-header of the Producers Guild of America Awards and Screen Actors Guild Awards continued to vex Academy Awards predictors as Birdman upset Best Picture front-runner Boyhood in both ceremonies, nabbing the Darryl F. Zanuck Award for Outstanding Producer of Theatrical Motion Pictures at the PGA Awards and the Outstanding Performance by a Cast in a Motion Picture award at the SAG Awards. While Boyhood is still a likely candidate to take the top prize at the Academy Awards on February 22, these two victories for Birdman have placed it firmly in the front-runner category.
Elsewhere, the other major upset from this weekend's awards marathon came from Eddie Redmayne who beat Michael Keaton for the Outstanding Performance by a Male Actor in a Leading Role at the SAG Awards. While early predictions have placed Keaton as the front-runner for best actor at this year's Oscars, his status now seems much less assured as the relative newcomer continues to scoop up awards.
As actors make up the largest branch of the Academy—accounting for 19% of the voting membership—the SAG Awards offer Oscar analysts a significant insight into how the Academy Awards might shape up.
In the other major film acting categories at the SAG Awards, things went as expected with Supporting Actor front-runners as Whiplash's J.K. Simmons and Boyhood's Patricia Arquette continued to clean up awards season. Arquette took her SAG award as a chance to salute her family's long lineage of acting, stating "I'm a fourth generation actor."
Meanwhile, Best Actress frontrunner Julianne Moore picked up the Outstanding Performance by a Female Actor in a Leading Role, cementing her status as the category's likely Oscar winner.
Orange is the New Black's Uzo Aduba, who plays the unforgettable Crazy Eyes on the series, provided the SAG Awards with its most emotional moment when she gave a tearful acceptance speech for winning the Outstanding Performance by a Female Actor in a Comedy Series, informing the audience that "the day I got this job was the day I had stopped acting."
In other memorable speeches, How to Get Away With Murder's Viola Davis earned her first SAG Award for TV as an actress in a drama series, expressing her appreciation to ABC executives and the show's creator for believing that her role as a sexual and conflicted heroine could be played by "a 49-year-old, dark-skinned African-American woman who looks like me."
And seemingly making amends for its Best Animated Feature snub at the Academy Awards, The Lego Movie won the award for Outstanding Producer of Animated Theatrical Motion Pictures at the PGA Awards.
Awards season will continue its build-up to Oscar night with the DGA Awards slated for February 7. The full list of SAG Award winners can be seen here while the PGA winners can be viewed here.
by nyfa