New York Film Academy (NYFA) Cinematography alum Anna Vialova was recently interviewed by Short Close-Up Film Magazine.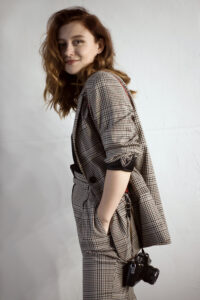 Vialova hails from Ukraine, and first attended New York Film Academy in July 2015, enrolling in the 8-Week Filmmaking workshop at our Burbank-based campus. She followed that up in Spring 2018 with the advanced and rigorous studies in the 1-Year Conservatory at NYFA's Cinematography school.
Credits as a cinematographer include Devour, I Just Wanted to See You, Silent Voices, Things That Fall, and No Longer Perfect. Vialova also shot her own film, Brave. New., which she directed and produced. Additionally, Vialova is an accomplished photographer, and has had photos published in ELLE, Harper's Bazaar, Vogue UA, and L'officiel.
Short Close-Up is an international, independent online magazine that covers a variety of culture, including, narrative, documentary, animation, music video, experimental, fashion, commercial, and mobile. Short Close-Up shares the experiences of established filmmakers by publishing in-depth profiles and interviews by the most in-demand filmmakers working today.
In the interview, Vialova spoke about what inspired her to become a filmmaker, the important of collaborating on set, and the role film festivals have played in her life. She also asked about the relationship between a filmmaker and the artist, telling Short Close-Up, "I feel that the best thing I can do is to stay honest with my audience and myself. I don't shoot scripts I don't like. If I don't feel connected to the story it will be disrespectful to director and audience to shoot it, because I won't be able to tell the story in a best way."
New York Film Academy wishes Cinematography alum Anna Vialova the best of success as her career continues forward, and encourages everyone to check out her full interview with Short Close-Up here.
by nyfa