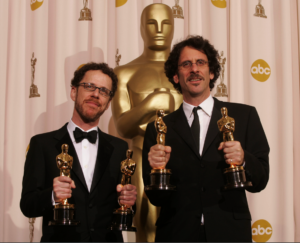 Its organizers announced this week that the 68th Cannes Film Festival will, for the first time in its history, have two Presidents of the Jury, and they're the Coen Brothers. The Oscar-winning directors have a long history with Cannes, having nine of their films presented at the prestigious festival and having won the Palme d'Or in 1991 for Barton Fink, the Grand Prix in 2013 for Inside Llewyn Davis and two best director awards—in 1996 for Fargo and in 2001 for The Man Who Wasn't There.
The Cannes Festival will run from May 13 – 24 this year, with its official selection of films as well as other members of the jury being announced sometime in April. The Festival is renowned for its selective pedigree of movies, ranging from independent to foreign films to Hollywood blockbusters. The Palme d'Or is one of the highest honors a film can receive; the winner of the prize is selected by a jury of luminaries that changes every year. As co-Presidents, the Coen Brothers will have a large say in both the selection of films and the winner of the award.
It's no accident the Coens were selected for this year's festival. 2015 is the 120th birthday of the cinematograph, a landmark invention in the art of film, designed and built by Louis and Auguste Lumiere. In honor of the revolutionary camera and the brothers who made it, the Cannes organizers have selected a theme of "cinema brothers." It was a no-brainer then to invite Ethan and Joel Coen to chair this year's festival. Unlike Donny, they will not be out of their element.
by nyfa