On November 15, 2018 New York Film Academy Los Angeles veteran-students gathered in the NYFA Theater, for a special lecture from Medal of Honor Recipient and appointed Chair of NYFA's Veterans Advancement Program Colonel Jack Jacobs.
Colonel Jacobs served in the U.S. Military for more than 20 years and his gallantry in Vietnam earned him the Medal of Honor—the nation's highest combat honor—as well as two Silver Stars, three Bronze Stars, and two Purple Hearts. Colonel Jacobs is a military strategist and on-air analyst for NBC and MSNBC News.
Colonel Jacobs' mission at NYFA is to support the Academy's veteran-students' transition from the military to exciting careers in media and entertainment.
The evening began with a screening of the documentary about Colonel Jacobs that recounted the events that took place during the Vietnam War and Colonel Jacobs' dauntless actions that later earned him the Medal of Honor.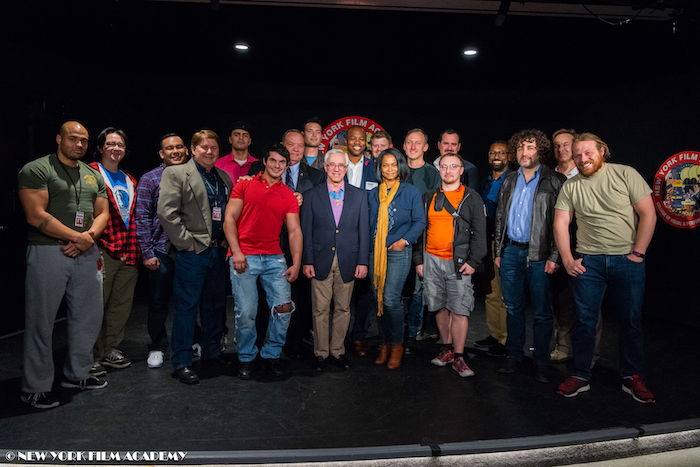 During the talk, Colonel Jacobs discussed his personal experience in transitioning from the military to civilian life and offered his advice to the veterans in attendance. The Colonel's personal experiences, his inspiration, and at times his wit, touched several pungent topics. He emphasized his belief that the military is the only place that will give an 18-year-old man or woman a large amount of responsibility and this prepares them – more than most 18-year old who have not served – for nearly any career and circumstance. "An employer who hires a veteran, gains a huge benefit due to the work ethic and skills that they learned and honed while serving our great Country" stated Jacobs. He spoke on how veterans should walk into a job interview confident that with their military background, they know both how to follow and how to lead.
The evening concluded with Colonel Jacobs taking photos and talking with the NYFA veteran-students as well as other vets in attendance from Veterans in Media & Entertainment (VME), and the Veterans Affairs (VA).
It was truly a great experience and very inspirational evening for everyone in attendance.
by nyfa