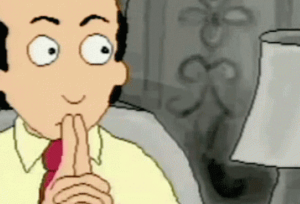 Twenty years ago, the animated series Dr. Katz, Professional Therapist aired on Comedy Central and began six seasons of squiggly cartoon avatars of leading standup comics complaining to the ultra-dry shrink. Created by and starring Jonathan Katz, the show has maintained its cult status ever since, as well introducing the world to popular voiceover artists H. Jon Benjamin and Laura Silverman.
To celebrate its 20th anniversary, the show will have a special live performance at the Moontower Comedy & Oddity Festival in Austin, Texas. Katz will hold staged therapy sessions with today's leading comics, including Andy Kindler, Emo Philips, Maria Bamford, Dom Irrera, Dana Gould, and Eddie Pepitone as well as surprise guests.
While it's been fifteen years since the show produced new episodes, its legacy lives on today. In addition to Katz, the show was primarily produced by Loren Bouchard, who went on to create the equally-squiggly animated series, Home Movies. Today, he runs one of the most critically acclaimed animated shows on television, the Fox sitcom Bob's Burgers.
Interested in working in animated TV? Check out New York Film Academy's animation school program and screenwriting school program today!
by nyfa