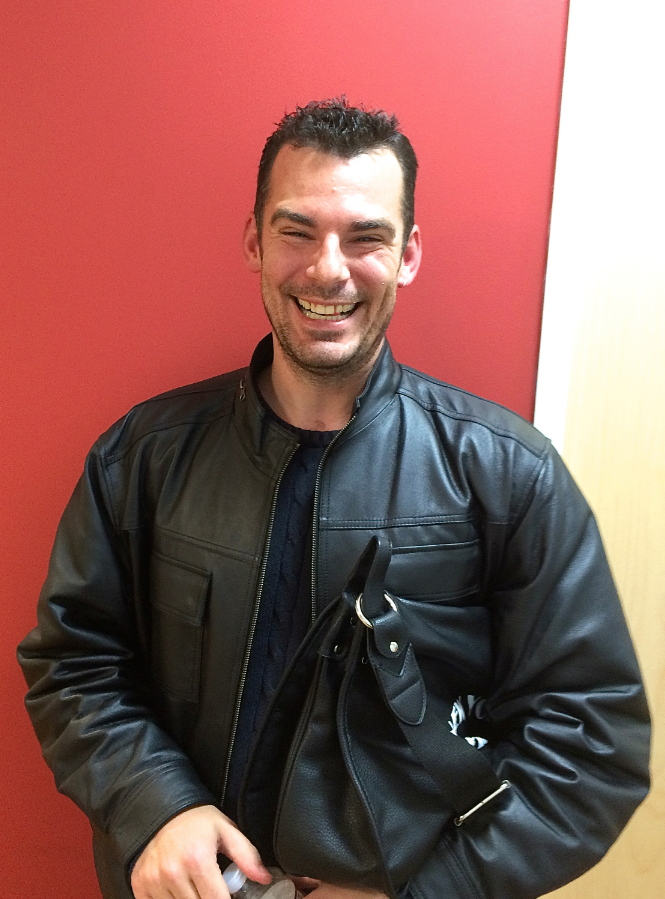 On December 2nd, 2014, screenwriter and director Nathan Scoggins sat down with NYFA's Business of Screenwriting class to tell his tale of how this son of a pastor from Warwick, Rhode Island, found his way to writing movies in Hollywood.
"I couldn't have grown up further from Hollywood," Scoggins recalled. "I was raised in a conservative town with pretty traditional values. But my family always encouraged artistic exploration, and I think for me it just awakened something inside." Scoggins grew up loving classic movies like Hoosiers and Citizen Kane, as well as movies with a heartfelt, hopeful or spiritual message like Field of Dreams. He wrote short stories and plays in high school, which won him a few awards. He also played soccer, which he credits to teaching him a certain level of mental toughness, something he definitely feels all writers need to have.
Attending Wesleyan University, Scoggins originally thought he might teach English when he graduated but "God messed all that up," Scoggins joked with our students. Scoggins had taken a bunch of film classes and fell in love with the classic westerns like The Searchers and Kurosawa's Throne of Blood. Upon graduating, Scoggins knew he wanted to do good in the world (for anyone who knows Nathan, they know his spirituality and Christian faith is a big part of who he is), but that writing itch was also never far away from him. Serendipitously, it was the merging of Scoggins' religious upbringing and his desire to write that lead to his first break.
"They say write what you know, and I knew a lot about being a spiritual leader from my father and I thought — we've never really seen a movie about an African American priest before." That script, then called Parker and later called The Least of These tells the tale of a priest who returns to his old Catholic high school to replace a priest who has gone missing, only to begin to suspect that the missing priest may have been murdered by someone at the school to hide a darker secret. This script was a game-changer for Scoggins, especially when it placed in the prestigious Nicholl Fellowship along with a whole host of other screenplay competitions. It was the spark Scoggins needed to pack it up and move to Los Angeles.
Scoggins began to write short films. There was Midnight Clear, which is about an escaped prisoner who forms an unlikely connection with the family whose home he breaks into during a storm; and Cries From Ramah, about two mothers, one Israeli, one Pakistani, who both lose children in a bombing at a Tel Aviv and unknowingly encounter each other while in the hospital waiting room. Scoggins also directed Pop Star, which is about a spoiled British pop star sent to a hospital before his first big tour. Once there, he meets a girl who enables him to see himself in a new light. Scoggins tells stories about people and moments in time when they are fundamentally altered.
"One of the keys out here," Nathan explained, "is finding people who really get you as a writer." One of the collaborators Scoggins found early on was producer and mentor Ralph Winter (The Giver, X-Men Origins), who ended up Executive Producing The Least of These. "Another is to keep the people who are the most important to your priority — I'm a husband and father before anything else."
The Least of These soon attracted the attention of Grey's Anatomy actor Isaiah Washington, as well as legendary character-actor Robert Loggia. Because of Nathan's background with directing a few shorts, Nathan was able to direct the film as well. "We assembled a great team of people who really believed in me." One thing Nathan explained to the students was "you should always be thinking and asking what other value can I add?" As it turns out, Scoggins has a knack for raising money independently, and he helped raise a significant portion of what turned out to be a million dollar budgeted debut feature. Scoggins went the angel investor route, asking friends and acquaintances who might want to contribute. "One of the advantages of making movies with a message is there are people out there who do want to help, but that's definitely not why I tell the stories that I do."
After The Least of These, Scoggins went on write his second feature The Perfect Summer. "I had ten days to write the script," Scoggins explained, to which all of the students (and me) did a complete double-take! It's true. Scoggins got the call from a producer – who had liked his work — that he was making a spiritual surfing drama and needed a script ASAP. Scoggins had been planning a family trip to Seattle with his wife and kids. "He asked me if I could do it, and, after we negotiated the terms," Scoggins joked, "I gulped, yes, I could." Scoggins learned a valuable lesson about writing under pressure during this time. I wrote sixteen pages a day. Scoggins found that there were some nice parallels to surfing, which is a form of 'walking on water', and Jesus' famous similarly miraculous feat. "It's always an act of faith to make something out of nothing, which is why I think creativity is so closely linked to spirituality." With our minds sufficiently blown, Scoggins has more wisdom to dispel.
"One thing I've learnt with writing spiritual stories is that you can't be too overt or too preachy. When you are, the audience tunes it out. Jesus is a slap in the face, not a comfort. And my faith is hard-fought. You have to avoid easy answers and half-truths, as there's a lot of "Jesus Junk" out there," Scoggins explained, alluding to some of the recent fair out there that's capitalized on the 'God-craze' in cinema lately. "It's easy to say, 'I do this in the name of Jesus', it's a lot harder to actually act like him." The class, as evidenced by their comments and further questions, were truly grateful to Scoggins' openness throughout and honesty about his faith and the role it plays with his work — something truly rare these days.
Scoggins closed out with some more valuable pointers for NYFA's screenwriters to take with them after they graduate. "Always be writing and always be finishing," Scoggins exclaimed, recalling the fervor of Alec Baldwin in Glengarry Glen Ross. "Try and do ten pages a day." "Don't chase scraps," Scoggins continued, meaning don't take a job just for the money, "find meaning in what you're doing," at which he joked, "this can be hard, as you don't want to tell your daughter she has to live in your car and shower at the Y either!"
On a roll, Scoggins closed out, "How you treat people matters. Listen to the universe, look for guidance all around you. It's there. If you're too self-focused, you'll miss the opportunities. Don't give up. Ever. Oh, and write thank you notes. Hand written thank you notes. It's a dying art form people always appreciate." Scoggins shook the hands of each of the students as he left, wishing them luck individually.
Nathan Scoggins lives in Los Angeles with his wife and children. He is repped by Carlos Bobadilla. He recently completed his comedy script Made in Mexico, which will be shopped in 2015.
by nyfa