On Tuesday, August 6, New York Film Academy (NYFA) hosted a special Q&A with esteemed producer Matt Kaplan for our high school campers, following a screening of the Netflix all-time most-viewed original film, To All the Boys I've Loved Before. Tova Laiter, Director of the NYFA Q&A Series, curated and moderated the event.
Matt Kaplan is the founder and CEO of Ace Entertainment, focused on making feature films, television series, and digital content for youth audiences. Kaplan has produced incredibly buzzy YA films including the runaway success recent rom-com hit The Perfect Date, Spontaneous, and To All the Boys I've Loved Before, starring NYFA alum Lana Condor. He is also behind the upcoming Are You Afraid of the Dark TV reboot based on the 1990s Nickelodeon television series. Kaplan's past credits include features such as Before I Fall, The Lazarus Effect, and Viral. He is currently working on and next year's sequel, To All the Boys I've Loved Before 2.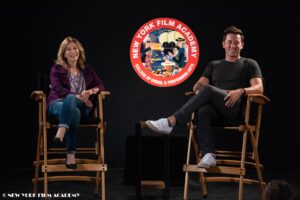 Laiter started by asking Kaplan how he started in the industry. Kaplan talked about how he started making short form content after graduating film school. "YouTube was just getting popular, and so I started making short videos with my friends," he told the audience. From there, he started as an assistant at Lionsgate, a job his YouTube videos earned him, and worked his way up to an executive position in charge of YA content. During his time at Lionsgate, he was a part of the team that made The Hunger Games. "But I knew as a younger executive," said Kaplan, "that I wanted to be the one making the final decisions."
One student asked about where to start when producing a movie. Kaplan replied, "First, try to figure out what kind of movies you're passionate about telling … typically we will option a book or buy an article or whatever it is, and then hire a writer—or sometimes you'll ask a friend to write the script on spec. And then once we have the script, that's kind of the jumping off point. Once you have a good script, amazing things can happen."
Another student asked how Kaplan had figured out that he wanted to be a producer. "I like putting things together. I just looked at what I was good at. When I was your age, I took writing classes, and directing classes … but I knew I was good at assessing material, and I knew I had an instinct for what I could sell, and market. And so I spent a lot of my time making relationships with great writers and great directors."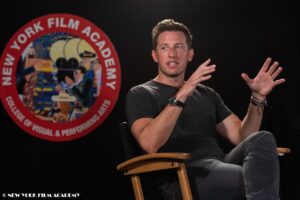 One student asked about how to make connections in the film industry. Kaplan said, "Someone gave me this advice: it's follow-up … As long as you are passionate about seeking that out, people in this business want to help. Start off by trying to get experience under mentors, don't just watch—try to make friends with these people, and be helpful. And I think once you start to do that, good things can happen." 
New York Film Academy would like to thank To All the Boys I've Loved Before producer Matt Kaplan for sharing his producing insights with our high school campers.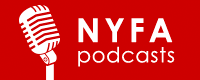 by nyfa