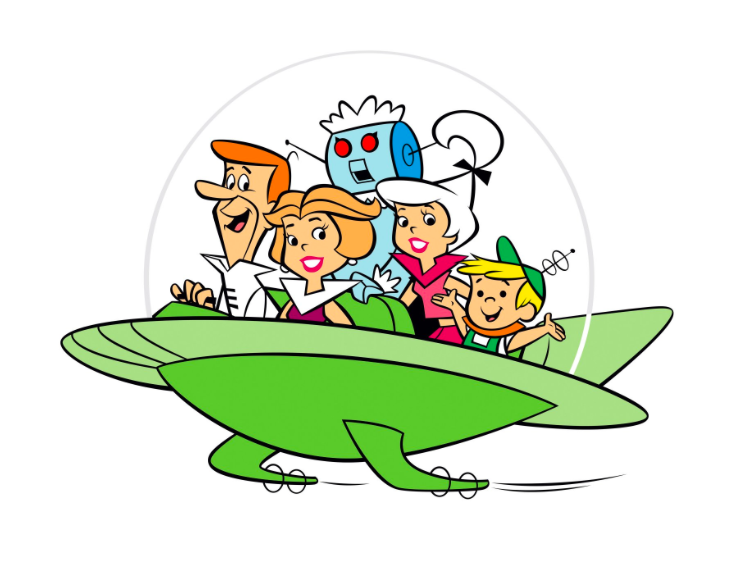 Jane! Green-light this crazy thing! That's right, everyone's favorite animated space family is coming to the big screen—again—Warner Brothers announced this week. They last hit theaters with a feature-length movie in 1990, after two rebooted seasons in the mid 1980s. The original two seasons of the hit Hanna-Barbera show about George, Jane, Judy, Elroy, Rosie and Astro first aired in 1962, after the smash success of 1960's The Flintstones. A working-class family in the Stone Age resonated with mid-century Americans, so on the heels of President Kennedy's moon initiative, it only made sense to write a Space Age comedy next.
Warner Brothers previously tried to bring a live-action version of The Jetsons in 2012, but the project never gained traction. The new project is said to be animated, though the company has yet to specify whether it will be hand-drawn or computer animated. Given that even traditionally hand-drawn properties as Peanuts are getting the CG treatment, it's a good bet to say The Jetsons will also follow suit.
Matt Lieberman, a Disney upstart who has been making huge waves with his high-concept spec scripts, has been drafted to write the feature-length screenplay for the cosmic family. Lieberman previously scripted Dr. Dolittle: Tail to the Chief and is currently writing the anticipated reboot of 80s hit Short Circuit. The Jetsons will probably not make it to screens until at least 2017.
by nyfa