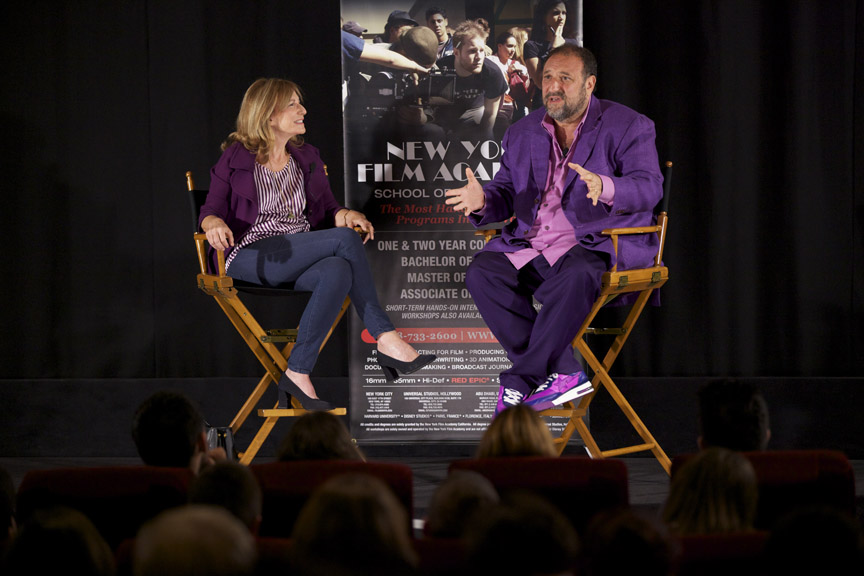 Mega-producer Joel Silver recently visited New York Film Academy for a Q&A and special screening of his 1988 classic, Die Hard. "We were kind of crafting a new genre," said Silver. "Summers weren't full of action films then." He said he had originally wanted Richard Gere to play the lead, who turned down the role. They took a risk with Bruce Willis, an actor best known at the time for his starring role on TV's Moonlighting. It paid off, becoming an international hit that would go on to spawn 3 hit sequels. The fourth sequel, A Good Day to Die Hard, is slated for release in February 2013.
Silver has produced more than 60 films, earning more than $13 billion worldwide. His credits include the Academy Award-winning The Matrix trilogy, the blockbuster Lethal Weapon franchise, and the sci-fi thriller, Predator. More recently, he launched the Sherlock Holmes franchise for Warner Bros. He is co-founder of Dark Castle Entertainment and owner of Silver Pictures. His newly-launched division, Silver Pictures Entertainment, announced a five-year distribution deal with Universal Pictures. Silver said the new division plans to make movies in various genres with mid-sized budgets of $40-60 million. He joked, "There's always going to be artistic films out there, but I want to make the movies people actually see."
Answering questions from New York Film Academy students, Silver commented on the state of the industry, saying, "The Hollywood system is better than it has ever been. People are going to the movies more than ever, and all over the world. It's a great time." He continued, "People are making movies for 20 bucks … We're living in a golden age of Hollywood."
Speaking to the young filmmakers and actors, he said, "You have to be passionate about movies. I'm excited every day. I love the process. I know the process. I live crisis. Crisis is a part of my life … If you bang your head against enough walls, eventually you're going to break through."
He also put to rest rumors about revisiting the Lethal Weapon franchise, saying, "I'd rather be dead," eliciting a roar of laughter from the crowd.
by nyfa