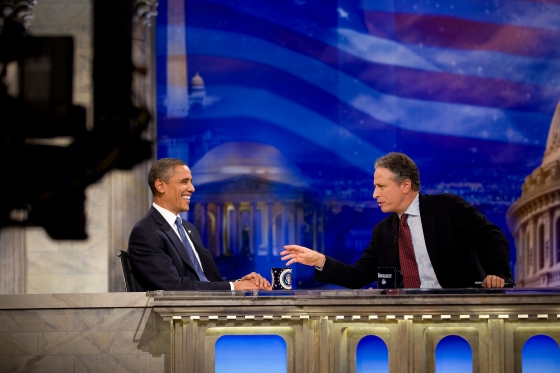 Fans of Comedy Central's The Daily Show got some sad news yesterday, as it was announced that host Jon Stewart will be leaving this year.
Shortly after the network's president, Michele Ganeless, released a statement about the host's departure from the show, Stewart himself revealed the information to his live studio audience.
You can see the clip of his announcement below:
https://www.youtube.com/watch?v=qJUTiB-jOe0
For over 16 years Stewart has been delivering nightly news story with a satirical twist. And although he has continuously claimed that he is "just a comedian," it is clear to everyone that this isn't completely true. His show has been a must-stop for anyone seeking political office, for example.
Since 1999, The Daily Show has developed into the primary news source for a large portion for the millennial generation. The show has picked up 20 Emmy Awards along the way. And Stewart came away with an entertainer of the year award in 2004, beating out all the typical performers you would expect to win.
Whether you agree with the political views of the "fake news" host, it's hard to deny the impact he has had on society (which includes launching the careers of several other hosts like Stephen Colbert and John Oliver).
In fact, it Stewart's willingness to bring his views into the show that likely contributed to the show's great success. People who agree with him watch the show, but so do people that disagree. Stewart actually thanked people who "hate-watch" his show during his announcement.
Although there was no clear reason given for the departure, Stewart did hint that he was restless and that the show and audience deserved better. This isn't the first time he clued us in on his potential future plans, however.
During his leave from the show to pursue directing Rosewater, Stewart had mentioned that the The Daily Show may not be enough; that there is more out there.
There are rumors that working on Rosewater has opened up more doors for Stewart to work on feature length filmmaking projects. But whatever the future holds, and although the host jokingly stated that his future plans involve having dinner with his family, it's hard to imagine that the show is the last we'll be seeing him.
by nyfa