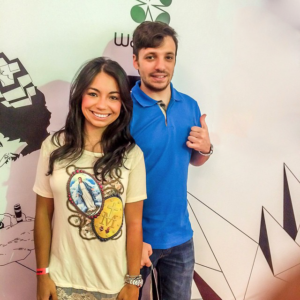 After working post-production in New York City and Los Angeles for five years on projects like Parks and Recreation and Brooklyn Nine-Nine, New York Film Academy graduates, Helena Hilario (Producing) and Mario Pece (Directing) have decided to explore other opportunities in the Brazilian market by starting their own business. Their company, StratoStorm, will focus on developing visual effect sequences for commercials, films, television, music videos and digital projects for creative advertising agencies, production companies, and talented directors.
"There is a demand in Brazil for VFX for advertising, television and films," says Helena Hilario. "We wanted to bring our experience from Hollywood to Brazil."
Helena and Mario have invested in a state-of-the-art studio in São Paulo, equipped with workstations and render farms. Their remote-based workflow system allows them to work with clients and artists from around the world while residing in the tropical Brazilian countryside.
Thus far, StratoStorm has hit the ground running, as they're currently working on a TV commercial for Combatant Gentlemen, which will air in the United States. They are also creating visual effects for the Brazilian feature film Jonas e a Baleia, directed by Lô Politi, set to premiere in movies theaters in South America in the beginning of next year.
Helena and Mario met while attending NYFA. From there, they developed a life-long relationship both personally and professionally. Helena had been working as a line producer at Academia de Filmes, one of Brazil's largest production companies, until she decided to move to New York to learn about the movie business. "It was my dream to attend NYFA, I always heard about the great programs, excellent teachers and impeccable reputation of NYFA. When I found out about the Producing program, I had no doubts that it would be one of the best experiences of my life."
Following her studies at NYFA, Helena worked in NYC at Downtown Reel, a production company which specialized in TV commercials for foreign markets. After that, she moved to Los Angeles, where she was hired to work on the production team at KGB, a boutique, independent production company based on the legendary Paramount Studios lot in the heart of Hollywood. In mid 2013, she joined the team at Ingenuity Engine as a VFX Executive Producer and New Business Development. There she worked with various ad agencies and production companies.
Helena's partner, Mario Pece left Italy in 2008 to attend the 8-Week Directing Program. While enrolled, he directed several shorts films and decided to continue his education in the One-Year Directing Program. His focus was primarily on creating innovative and unique ways to incorporate VFX into his storytelling. After graduating, Mario became the lead VFX artist at Ingenuity Engine, an award winning VFX studio creating VFX for numerous clients such as Doritos, Reebok, Callaway, Jello, UFC and Virgin Holidays. For television, they produced the visual effects for TV shows Parks & Recreation, Happy Endings and Brooklyn Nine-Nine (Winner of Best Comedy at the Golden Globes 2014) and award-winning music videos. One of the music videos, Katie Perry's Wide Awake, was nominated at the 2012 VMA's for Best Visual Effects.
"Our training at NYFA was definitely very important for our careers," said Helena. "We created hundreds of projects from concept to delivery, including the award-winning trailer for the suspense thriller Out of Home, starring Patrick Boll."
Helena and Mario encourage talented visual effects artists and freelancers to send his or her reel to StratoStorm at [email protected].

Mario Pece Reel 2014 from StratoStorm on Vimeo.
by nyfa