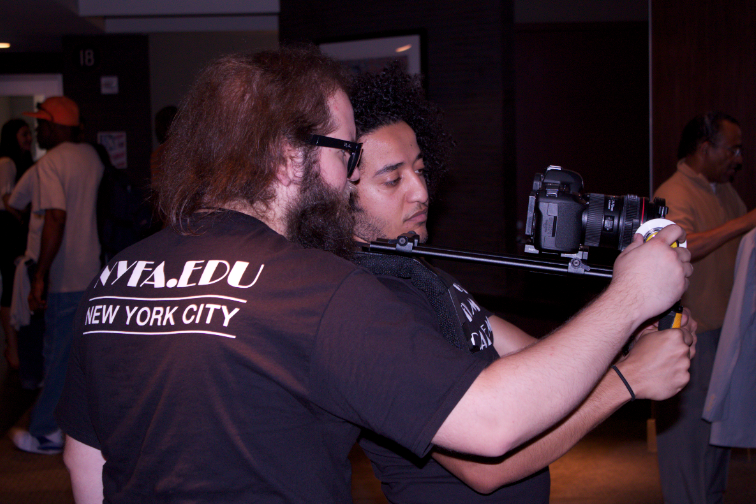 Recently, the New York Film Academy volunteered to produce a video for the "Save A Suit Foundation" at the Met's Citi Field. The nonprofit organization provides military veterans with professional business attire and the confidence needed to succeed in the work force. Several NYFA alumni were also invited to the event, as the New York Film Academy is the school of choice for many veterans. "This is such a wonderful job networking event for the men and women who deserve it most," said Evan Leone, NYFA Director of Veterans Admissions in NY. "I didn't hesitate in inviting several of my Veteran students."
NYFA has also developed a partnership with The Soldiers Project, a nonprofit that provides free, confidential counseling to military service members and veterans. A clinician from the Soldiers Project visits the LA based campus every Wednesday and Thursday to provide counseling support. The organization has also provided training for faculty and staff on the common readjustment issues many veterans face as they return home. The film they shot here is intended to help Colleges to develop support programs for veterans, and how to best help them.
NYFA, a school synonymous with its hands-on intensive approach to learning, is honored to work with the Department of Veterans Affairs and participate in the post – 9/11 GI Bill and Yellow Ribbon tuition assistance programs at both New York City and Los Angeles campuses. Recently, MilitaryFriendlySchools.com listed NYFA as a Top Military Friendly School.
"If I can succeed at serving my country during a time of war, I can succeed at following my dreams at attending film school," says NAVY Veteran and NYFA graduate, Paquita Hughes. If you served time in the military, you too can follow your dreams by pursuing an education in the arts at the New York Film Academy.
If you have any questions about financial aid and military benefits at New York Film Academy, please contact the Office of Veterans Services at [email protected] or call (818) 733-2600.

by nyfa