In late July, New York Film Academy (NYFA) MFA Documentary Filmmaking alum Drama del Rosario received one of the two awarded prizes for the 2020 PBS Short Film Festival. The documentary filmmaking alum caught the eye of voters and the prestigious Jury for the competition and ultimately received this years 'Juried Prize' for his film In This Family. 
Del Rosario was awarded the prestigious prize by eight jury members, who selected the NYFA alum's film as their favorite out of all the festival selections. In addition to del Rosario's film, all festival selections are available to the public to watch online.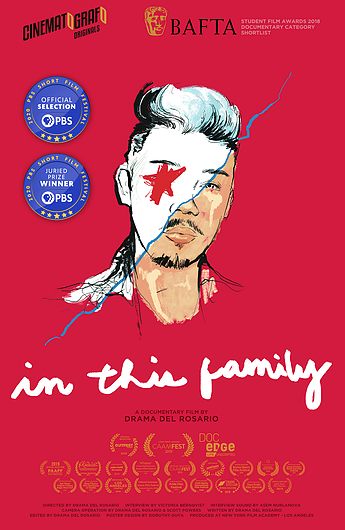 Del Rosario is a Filipinx documentary filmmaker based in Los Angeles. He is the recipient of the 2019 BAFTA-GSA Commissioning Grant for his documentary film, I'm Okay (And Neither Are You), which touches on sexual assault trauma from a gay couple's perspective. The NYFA alum is known for creating documentary films that challenge the Filipinx Catholic background and he has worked with many international names including BeBe Zahara Benet (Winner, RuPaul's Drag Race, Season 1) and Sophie Sumner (Winner, America's Next Top Model, Cycle 18). 
His latest documentary, In This Family, is a twelve minute short film that chronicles what happens after del Rosario's teach outs him as a gay man and includes recordings of his family's reaction to the news.
"Thank you so much to everyone who watched and voted for my documentary! Your support has been so overwhelming, and I am so moved by all the messages from queer youth, parents of queer children, and teachers of queer students," shared del Rosario. "I hope this documentary moves us closer to helping the LGBTQIA+ community feel safe and loved, especially within Asian families and schools."
Del Rosario also credits NYFA alum Naya Rivera, who tragically passed away in early July, as a source of inspiration for his short film. "In the documentary, I reference various queer programs, Glee especially. Naya Rivera's character, Santana Lopez, was one of the crucial queer characters that helped me and my family get to where we are now. It is a testament to how much queer entertainment can change the life of a family on the other side of the world. Rest in Power, Naya Rivera."
The NYFA alum also shares that this documentary is an important release in his native country as it is produced by Cinematografo, which is under the Filipino production company ABS-CBN International. "It has been so humbling to have this documentary represent how important it is to keep Philippine media alive and growing! Our voices need to be heard!" His full statement can be found below.
https://www.instagram.com/p/CDJ_3xNMUXJ/
New York Film Academy would like to congratulate NYFA Documentary Filmmaking alum Drama del Rosario for his latest achievement and looks forward to what is next from the talented filmmaker. 
To watch the full documentary, view below or click here. 
https://www.youtube.com/watch?v=vCBdpt54c2g
by nyfa