UPDATE: NYFA Documentary Filmmaking Instructor Claudia Raschke is Director of Photography (DP) for the new series Land of the Giants: Titans of Tech premiering on CNN+.


New York Film Academy (NYFA) had the honor of welcoming NYFA's own CLAUDIA RASCHKE to The 20/20 Series, created by NYFA's Creative Director of Filmmaking and Cinematography, Liz Hinlein. The conversation was moderated by Hinlein and was held virtually, allowing individuals to join NYFA and the special guests from all over the world.
The 20/20 Series, created by Hinlein, is a virtual pop-up event that takes us into the homes, hubs, and workspaces of an array of dynamic creative visionaries to allow for relaxed, engaging conversations on craft, creation, and artistic vision.

Claudia Raschke is an award-winning New York City-based cinematographer, whose notable award-winning films include the Oscar-nominated and Emmy award-winning documentary RBG, the Oscar-nominated film God is Bigger Than Elvis (HBO), the Peabody Award-winning film Black Magic (ESPN), the Oscar short-listed Mad Hot Ballroom (Paramount), Particle Fever (Bond), Atomic Homefront (HBO), and The Freedom to Marry (Argot Pictures).
Her new cinematic feature documentary work includes the Sundance Film Festival selected My Name is Pauli Murray (Participant Media) and the 2021 premiere of Julia (CNN /Imagine Entertainment), as well as PBS/American Masters productions of The Code Breaker and Ballerina Boys. It was also recently announced, that Raschke will be lensing the upcoming National Geographic FAUCI documentary about epidemiologist and famed White House COVID-19 pandemic advisor Dr. Anthony Fauci.
One of the topics of conversation between Hinlein and Raschke included a deeper understanding of what it means to be a cinematographer on the set of a documentary, something Raschke knows all too well having lensed multiple award-winning documentaries over the years.
"You have to listen and watch carefully to what is happening right in front of your lens," shared Raschke. "You are shooting 360. The most essential things to remember are to pay attention with your ears and assess what is the right angle to capture the dynamic or what is relevant at the time. Seize the moment, act quickly, be graceful when you move, and pay attention."
As for how to shoot something live, Raschke explained her process when it comes to aligning her role as the Director of Photography (DP) with the director's vision, while also keeping in mind the nature of the content being captured.
"I make great efforts to compare visions [with the director]. If I have a particular storyline, I will ask for films that the director or producer envision how they could fit with their story or whether there's a particular sensibility that is necessary for the topic that is being shot. Sometimes if you have a film that approaches social issues and you may approach shooting those differently than, say, if you are someone who is shooting a story that is more like a slice of life [documentary]."
Each cinematic approach is tailored to the needs of the film according to Raschke. This includes camera movements, which she explained she doesn't choreograph, especially when it comes to capturing the vérité moments of the production. "You want to be the cinematographer who sees their superpower as a mirror saying, I am reflecting this to you so you can see a blind spot that you may have."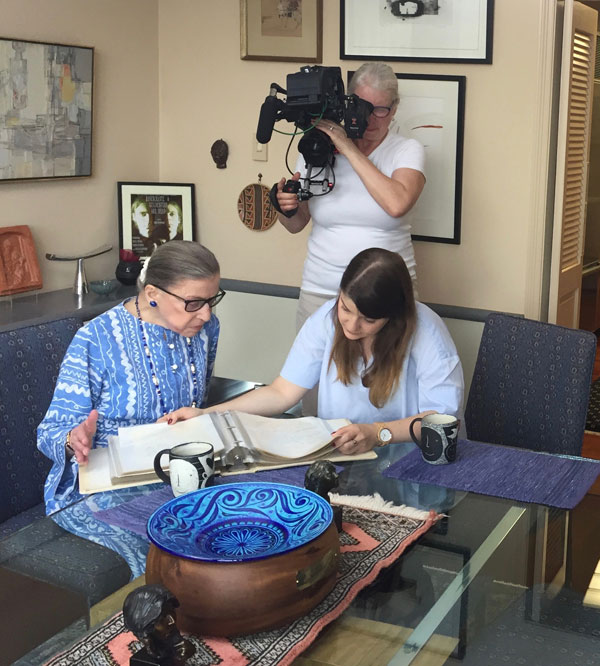 A lot of camera movements for this type of cinematography are narrowed down by split-second decisions and include the most unexpected moments of filming. "You certainly train yourself to pay attention to detail. You know your craft," shared Raschke. "When I get in a situation, I can typically know a good angle and know my options to make a decision in the split of a second."
It's those decisions by the DP, as Raschke points out, that are crucial for the audience to see the blind spots of the topic in which they are immersing themselves and allows the audience to see the bigger picture. "You [as the DP] are focusing a good story point. You have to ask yourself, is where I am going with my camera move contributing to the story point?"
"As a cinematographer you want the audience to connect. I am the first viewer of the story and if I feel triggered or emotional I know the audience will identify as well."
New York Film Academy would like to thank Claudia Raschke for joining the NYFA global community to discuss shooting documentary films as a DP for The 20/20 Series, created by and moderated by Liz Hinlein.
These guests are not faculty and do not teach at NYFA, but they have appeared to share their stories and experience with our students. As guest speakers are scheduled based on their availability, NYFA cannot guarantee whether a guest speaker will visit during a student's attendance or who that guest speaker may be. This guest speaker forum is not part of any NYFA curriculum and attendance at guest speaker events is purely voluntary. Students should be aware that guest speaker events do not represent a job opportunity nor are they intended to provide industry connections.
by nyfa