From K-Beauty to K-Pop, South Korean's pop culture is taking the world by storm, flooding the internet with the latest YouTube influencers or musical supergroups and artists. New York Film Academy (NYFA) student, Seoyeon Chloe Shin, decided that now more than ever it was time to create a new kind of reality show, one centered around a pop up salon in Vietnam, affording customers the opportunity to transform themselves using K-Beauty techniques.
Seoyeon Chloe Shin is an award-winning director and producer, who has produced and directed more than ten documentaries and 100 TV shows that have been broadcasted nationwide and internationally. For the last 16 years, Shin has worked at Taegu Broadcasting Corporation (TBC), a major local broadcasting corporation located in Daegu, South Korea.
Her show, K-Beauty Salon, was in collaboration with TBC and a local Vietnam TV station. The show went on to win a Bronze Remi Award at Worldfest-Houston International Film Festival in April 2020. Shin has also previously been awarded 'Best Picture in Local TV Show' at the Korean Producer Awards (2018) and a 'Best Picture for Children' award at the Korean Producer Awards (2017).
"These days, K-Pop culture is so popular worldwide, including the styles of many K-Pop stars," says Shin. "I wanted to make a cross-cultural entertainment program in Vietnam about K-Beauty." The show, K-Beauty Salon, follows top Korean stylists as they spread K-Beauty in Da Nang, Vietnam by setting up a pop-up shop to showcase their outstanding beautician skills and have discussions with local customers who come into the shop along the way.
The cast of characters includes real-life professional stylists and personalities known throughout Korea and internationally including Cheon Min-kyu, a hair designer for various K-Pop stars and Superstar K5 winner and K-Pop singer Park Si-hwan, among others. "These days, entertainment shows should be more internationally focused," says Shin. "So we planned to use K-Beauty to transform others to look like K-Pop stars."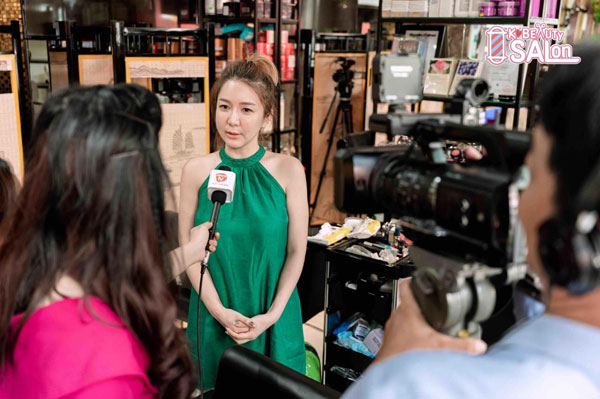 Shin, who currently studies in NYFA's 1-Year Filmmaking Conservatory program, decided to study at NYFA to gain an international perspective and learn the visual aspect of filmmaking in order to hone her craft for future shows and films. According to Shin, being at NYFA is a "good opportunity for me to go back to the basics and enhance my skill to make the show [and all projects] more precise." She also notes that getting a taste of the other disciplines like acting has been "helpful for me to understand the actors."
New York Film Academy congratulates Seoyeon Chloe Shin on her Bronze Remi Award and looks forward to seeing her continue to make her own path in international filmmaking for television.
To watch a full episode of K-Beauty Salon, watch the full video below or click here.
by nyfa