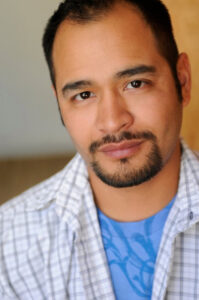 Acting for Film
graduate Jesse Bernal is one of many military veterans who chose to attend
New York Film Academy
after leaving the military. The San Antonio native followed in the footsteps of his father and other brother who both served their country. Jesse spent 7 years in the
US Air Force
, working as a calibration technician and electronics specialist. His service took him to New Mexico, South Korea, and South Carolina.
Though Jesse had started taking some acting classes while serving in the military, and booked some television roles (including Lifetime's Army Wives, and the film The New Daughter with Kevin Costner), he decided to attend New York Film Academy at Universal Studios to further develop his talent.
"The GI Bill paid my full tuition and living expenses. Without having to worry about [the money], I was able to put my best foot forward," he explained. "The military gave me structure and helped me with time management. When we were doing scenes, I would think that it's not just working, but working with my team."
Jesse landed a manager after participating in an actors' showcase put on by New York Film Academy. Soon after his graduation in June 2011, he booked a role in a promo for HBO's Real Time With Bill Maher. He also joined the staff of the New York Film Academy to stay busy between auditions and performances. "Everyone on the staff believes in me and my talent," says Jesse. He adds, "It's amazing to see new students as they come in. I get to see their passion. It's uplifting." He also thanks his family for their support and inspiration.
You can catch Jesse in a starring role in A Few Good Men at the Sky Lounge in the North Hollywood Arts District. The play was written by Aaron Sorkin, who later adapted the script for the film. The production with Rise Above Theatre Movement has just been extended and runs through April 22. In between work and evening performances, Jesse also squeezed in a modeling job for a national print advertising campaign. He is also producing a short film called The Secretary, a slapstick comedy about a couple and their infidelities. He is gearing up to direct a stage production of Reasons to be Pretty at the end of the summer.
by nyfa