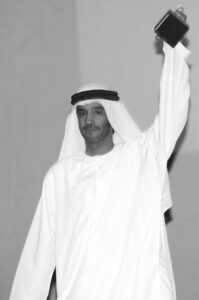 Swiss luxury watch manufacturer IWC Schaffhausen and the Dubai International Film Festival (DIFF) have announced the three shortlisted projects in the line-up for the $100,000 prize for the third annual IWC Filmmaker Award.
We're proud to announce that one of our New York Film Academy Abu Dhabi filmmakers, Saeed Salmeen Al Murry, is one of three in the running for the $100,000 with his film, Going to Heaven. His film surrounds the life of Sultan, an 11-year-old boy, who is longing for the tenderness of his late yet ever-present grandmother. Sultan likes keeping colored fish, as they help him to escape the loneliness and suffering inflicted on him by his stepmother.
The three projects in development will be assessed by a jury of film industry experts, who will consider the scripts and the overall potential of the projects.
"We are delighted to partner with the Dubai International Film Festival to bring the IWC Filmmaker Award to the Gulf filmmaking community for a third year," said Karoline Huber, Brand Director of IWC Schaffhausen Middle East & India. "Over the course of the past two editions, we have had the privilege of meeting some of the Gulf's most prominent and up-and-coming filmmakers who introduced us to unique and captivating stories from the region. Witnessing their visions come to life has been an extremely rewarding and fascinating experience, and we are looking forward to further contributing to storytelling in the region."
Saeed has already directed a number of acclaimed films, including Bint Mariam (2008), which won both local and international awards, including Best Emirati Filmmaker at DIFF in 2008.
by nyfa