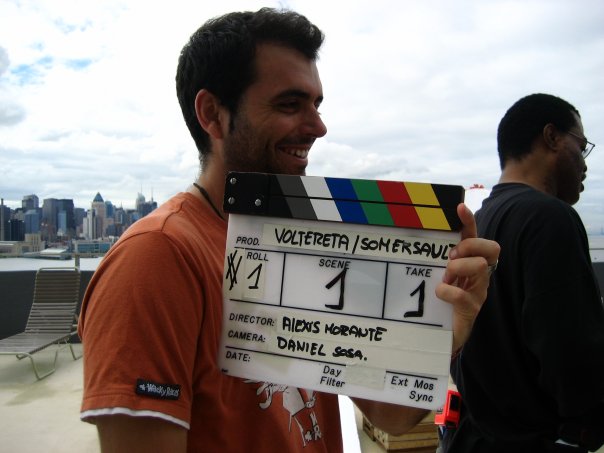 Congratulations to New York Film Academy graduate Alexis Morante for his Latin Grammy nomination! Since his graduation in 2010, he has worked on a dozen music videos, racking up over 10 million views on Youtube. His most recent video, Licenciado Cantinas, is a 25-minute film with Spanish rock star Enrique Bunbury. It played in movie theaters and on television in 10 countries, and was nominated for Best Music Video – Long Format last week. "I'm very proud of the whole team, made up of several friends and fellows from NYFA," says Alexis. "I hope this nomination, along with hard work and perseverance, will help me to develop a better career as filmmaker, especially in the American industry."
Alexis is no stranger to success. His first-year thesis film, Voltereta, was an official selection at over 70 festivals worldwide, winning over 20 awards. Alexis' second-year thesis film, Matador on the Road, has played over 50 festivals, winning over 10 awards.
But he wasn't always so sure about a career in the film industry. Alexis was in law school in his native Spain when he decided to make his first short film. Soon after, he decided to pursue a degree in Communications. Then he travelled to Cuba and Sweden for short-term filmmaking courses. He chose New York Film Academy to earn his MFA in Filmmaking, doing his first year at the school's New York campus, and the second year at the Universal Studios campus. "None of this would be possible without NYFA and the students here," he says. "I'm still working with the students on a professional level."
Though he is thrilled to have success working on music videos in Spain, Alexis hopes to expand to more work in the U.S. "I see myself concentrating on movies, doing advertising and music videos in between. I also love documentary and travel documentary." He is currently developing a feature length script, and will be ready to take it to market soon.
SHOWREEL – 2016 – Alexis Morante from Alexis Morante on Vimeo.
by nyfa