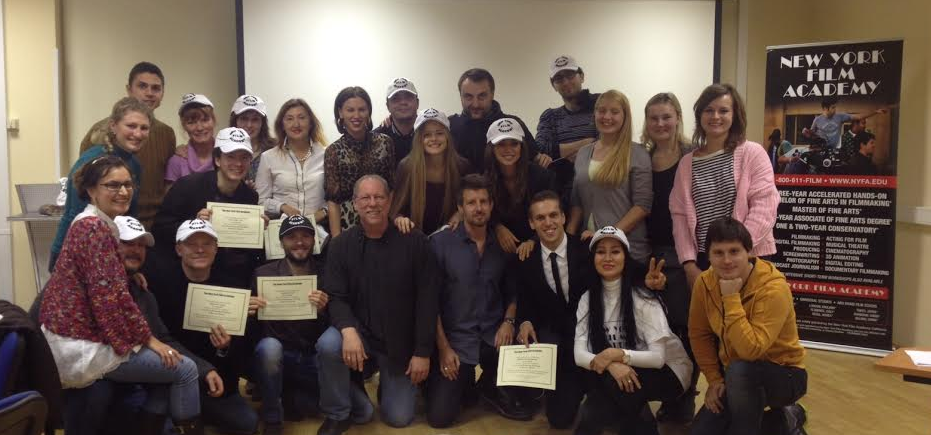 The New York Film Academy recently wrapped another successful Producing Workshop in Moscow! During the last two weeks of October, NYFA marked the 5th Anniversary of its Moscow Workshops and Guest Lectures with a Two Week Producing Workshop attended by more than 20 industry professionals from Russia and surrounding countries. The Workshop included hands on instruction in U.S. standards of producing, production management, screenwriting and directing. The students, all working professionals in the Russian and surrounding countries' film and television industries, came together for a two week intensive course that ended with an exciting Producers Pitch Fest, where each student pitched an original project conceived and developed during the course.
Representing NYFA at the workshops were Head of MFA Feature Productions and former Producing Chair, Lydia Cedrone; veteran NYFA screenwriting and directing instructor, James Rowe; and NYFA Chair of Producing, Tony Schwartz.
Also while in Moscow, Lydia Cedrone and James Rowe met over 100 guests and attendees at the NYFA Open House held on October 25 –more than 100 guests attended! Guests interested in degree programs abroad at NYFA campuses, along with those interested in short term workshops both abroad and in Moscow, attended a guest lecture of James Rowe, a highlight of the Open House.
And we're not done in Moscow. NYFA faculty will also be at the Radisson Royal Hotel, Moscow on November 8th and 9th to hold auditions, portfolio reviews and information sessions. If you're interested in signing up for any of these events at the Radisson Royal Hotel, please CLICK HERE.

by nyfa