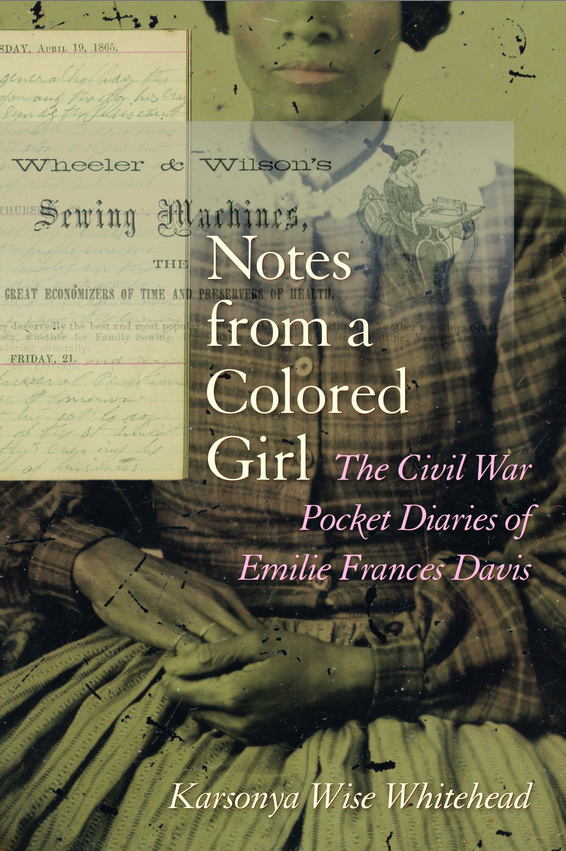 New York Film Academy graduate, Karsonya Wise Whitehead has recently released a book entitled, Notes from a Colored Girl: The Civil War Pocket Diaries of Emilie Frances Davis. In the book, Whitehead examines the life and experiences of Emilie Frances Davis, a freeborn twenty-one-year-old mulatto woman, through a close reading of three pocket diaries she kept from 1863 to 1865. Emilie's world-views and politics, her perceptions of both public and private events, her personal relationships, and her place in Philadelphia's free black community in the nineteenth century, are all explored. The diaries of Emilie Frances Davis is one of only a handful of resources written by a free black woman from the nineteenth century.
Whitehead's book was resoundingly endorsed by Harvard Professor, Henry Louis Gates, Jr. "'To day has bin a memorable day. I thank God I have bin here to see it.' So begins the pocket diaries of free black woman Emilie Davis of Philadelphia on the day of Emancipation at the midpoint of the Civil War. Her words also capture my feelings in seeing Davis's diaries published under the expert eye of Karsonya Wise Whitehead, whose scholarly annotations not only set the scene but reveal how this 'everyday' domestic-dressmaker's decision to record her thoughts at the critical hours of the African American journey was itself an emancipatory act."
Since graduating from NYFA, Dr. Karsonya Wise Whitehead is now an assistant professor of communication and African and African American studies in the Department of Communication at Loyola University Maryland; a Master Teacher in African American History for intermediate, secondary and college teachers; the 2007 Gilder Lehrman Preserve America Maryland History Teacher of the Year; and, a three-time New York Emmy-nominated documentary filmmaker.
In addition, she has been a featured speaker at the 2013 and 2014 White House Black History Month panels co-sponsored by the Association for the Study of African American Life and History (ASALH).
by nyfa