New York Film Academy (NYFA) is an internationally recognized thought leader in the field of Broadcast Journalism. That status was recognized by the US State Department, which chose NYFA to conduct a week-long Journalism workshop for mid-career TV professionals in Nur-Sultan, the capital of the Central Asian country of Kazakhstan. Broadcast Journalism Chair Bill Einreinhofer, and instructor Evgeniia Vlasova made the long journey from New York City to Kazakhstan just before Christmas, a time of year when Nur-Sultan is known for its bone chilling weather and frequent snow.
The goal was not to teach "what to report." Rather, the workshop was about innovative "ways to report." It also avoided the typical teacher/student paradigm and instead was structured as colleagues sharing potentially useful information with colleagues.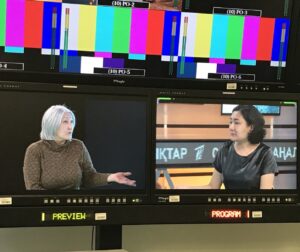 Einreinhofer drew upon his US network television experience, using the PBS NewsHour and NBC's Meet the Press as models for how to explore complicated, controversial subjects in a non-partisan and engaging way. Vlasova has seven years of TV experience in her native Russia, and is also a graduate of NYFA's 1-Year Broadcast Journalism conservatory program. She literally spoke the same language as workshop participants. (Many people in Kazakhstan speak both Kazakh and Russian.)
The culmination of the workshop saw the participants go into a TV studio and create a "pilot program" incorporating the techniques discussed during the week. Their success can be measured in the decision of a major Kazakh TV network to develop an entirely new political talk show based on that pilot.
Einreinhofer and Vlasova will be returning to Kazakhstan next spring to teach a second workshop there. In July they will conduct a three-week Journalism Summer School in Moscow, aimed at early career journalists. Both projects are being sponsored by the US State Department.
[su_carousel source="media: 33521,33520,33518,33516,33519,33517,33515″ limit="60″ link="lightbox" target="blank" width="780″ height="360″ title="no" autoplay="0″]
by nyfa