Photographer Garry Winogrand once said, "I look at a photograph. What's going on? What's happening photographically? If it's interesting, I try to understand why."
As an abolitionist feminist, artist, and educator, Naomi White has spent her photography career looking for the why and working on ideas at the intersection of political ecology and photography. White addresses an array of complex contemporary issues through her work, questioning dominant ethics and narratives throughout history and asking how we can shift our focus away from the current racist, capitalist model of domination to one of equity and collective voice for the sake of all people, animals, and the planet.
NYFA CHAIR OF PHOTOGRAPHY (LOS ANGELES), NAOMI WHITE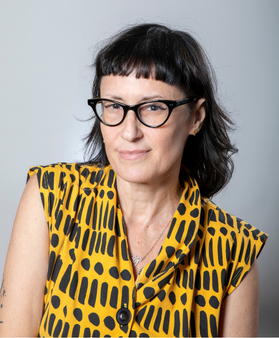 Naomi's work has been published in PDN, The Brooklyn Rail, Cut Me Up Magazine, The Missouri Review, and Uncertain States. She won PDN's Objects of Desire award, and her work has been exhibited throughout North America and Europe. This includes art fairs Photo LA, Scope, and Spectrum. She has an MFA in Photography and Related Media from SVA in New York, s well as a Post Baccalaureate in Photography from the San Francisco Art Institute and a BA in English Literature from San Francisco State.
We spoke to Naomi about how she got started in the field, her previous and current work, as well as her experience teaching at New York Film Academy.
NYFA: How (and when) did you first get interested in photography?
I took an AP art History class in High School. We were learning about photography, and then we came to a lesson on Sarah Charlesworth. Her work asked questions with the camera instead of giving answers. I was hooked.
NYFA: What have been your favorite projects to work on to date?
My recent project, EXCAVATIONS, has absorbed me for the last few years. During the pandemic, I really wanted to work with my hands, so the type of collage I'm working in, printing, tearing, and burning my photographs, has been satisfying and engaging. I also loved curating an issue of Cut Me Up magazine exploring the paradoxical way we treat and think about animals. I also am proud of my Shipwrecked and Traces of the Real projects.
READ MORE: Check Out FAYN Magazine by New York Film Academy Photography Department
NYFA: Tell us about your time at NYFA.
I was hired by the first LA chair of photography to teach 1 class. By the end of the first semester, I was teaching five. I've been at NYFA since 2014 and have grown into the Chair role over time. Teaching is still my favorite part of my job and has become an important aspect of my artistic practice. Connecting with students who share my passion for photography is meaningful to me. 
NYFA: What are your favorite courses to teach?
I love teaching courses that reflect my artistic practice and bring in my concerns. I often bring in texts and ideas from my research to start us off, and then we see what ideas take and go from there. Some of my favorite classes to teach are Photographic Essay, Aesthetics & Ecological Activism, Ecology, Ethics & Activism, Thesis Projects, FAYN, and Lighting for Still Life: Desire & Disgust.
READ MORE: Photo Arts Conservatory at New York Film Academy (PAC at NYFA) Showcases Work in Photo LA
NYFA: How would your students describe your teaching style/methods?
I ask a lot of questions. I always aim to start a dialogue and want to hear their points of view. I want them to feel the classroom is a safe space to share and grow in. To encourage this, I often share personal experiences as a human and professional artist, to help them know I am here for them. Stories are a great way to communicate and also to remember details. I also ask students to make a lot of work. I love seeing what they do in response to assignments and often ask them to continue with projects after each critique, so they get it to a place they are happy with. I try to push students to be the most curious and courageous selves in their work, to ask questions, and to go as far as they can to make their pictures how they want them.
NYFA: What are your favorite aspects of the photography community in LA?
The art and photo community here are very supportive in LA. People share information and spend time in each other's studios, attending each other's openings and sharing each other's work.
NYFA: Who do you believe have been some of the most significant individuals in photography?
SO MANY. I'll just name a few greats, which would be Robert Frank, Garry Winogrand, and Bruce Davidson – they all had the gift for capturing decisive moments. Diane Buckler, my late mentor, who printed her surreal combinations of photographs (her own and found) on granite; Sarah Charlesworth, who asked us to see the hierarchies and power structures within editorial and fashion photography; Lorna Simpson and Carrie Mae Weems, who both use text with images to expose racism and sexism in everyday vernaculars, each in their own astute ways; Deanna Lawson's portraiture which enacts story through pose and expression; Michelle Abeles and Sarah Cwynar, whose playful, colorful challenges to consumer culture break down the picture plane in unexpected and engaging ways; and so many more.
NYFA: What are some of your favorite films?
The Greatest Picture Show, When We Were Kings, Picnic At Hanging Rock, Buffalo 66, Call Me By Your Name, Fast, Cheap and Out of Control, Roma, Moonlight.
NYFA: What advice would you give a prospective student looking to get started in photography?
Like music, the technical stuff is just the beginning. Make pictures every day, print them, look at them, read them, and share them. Then make more pictures in response.
Art is an action; it is a way of processing the world around us. Developing your ideas connects you with yourself and finding what is important to you.
Develop Your Photography Skills at NYFA
Ready to strengthen your creative and technical skills in photography? Learn more about our photography programs today!
by nyfa