Photography in Florence is magical; the light is soft and billowy, almost tangible. The 2,000 year-old Florentine streets are paved with cobblestones and the buildings display history in layers as you walk by, one fresco emerging behind another. Since everything is new to the eye in unfamiliar surroundings, all kinds of details and expressions jump out and call to be photographed.
Florence is covered in art from Renaissance paintings by Botticelli and Da Vinci, to the Duomo and other architectural gems. Nearly every church has fine art paintings and sculptures inside, frescoes by Giotto and Masaccio, and you can get so close you can smell them!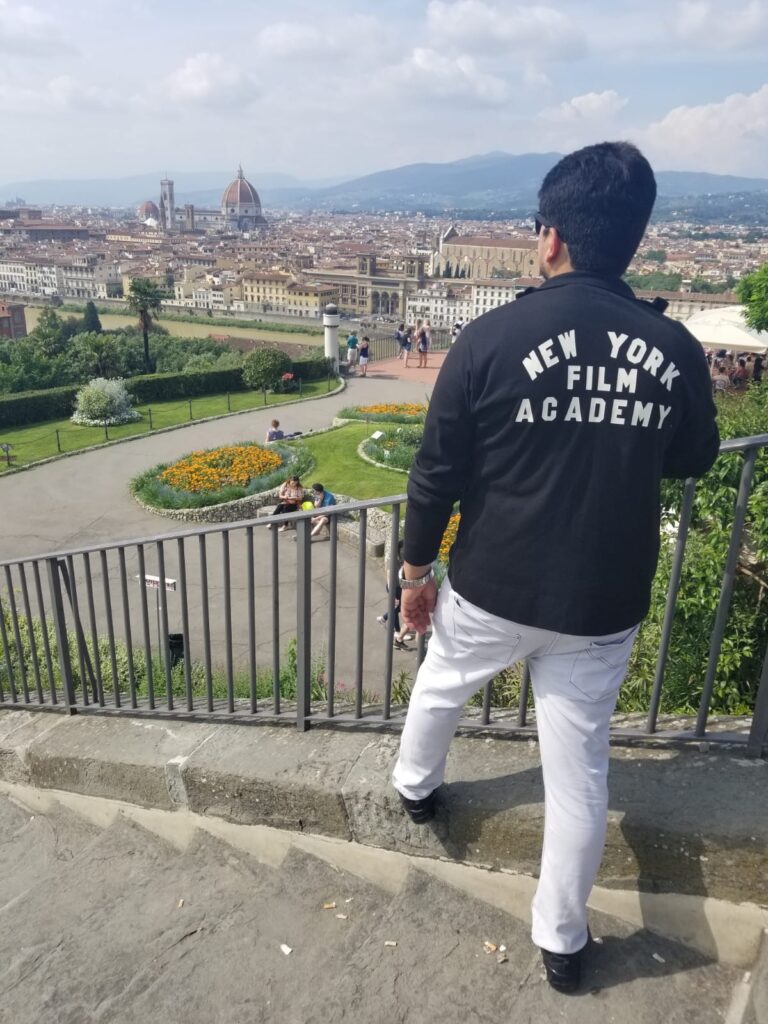 Over spring break, New York Film Academy (NYFA) Chair of Photography David Mager and Associate Chair of Photography Naomi White traveled with 18 NYFA students and alumni for an incredible week of photography in the historic city of Florence, Italy. Students came from several different departments (Acting for Film, Filmmaking, and Photography), creating a diverse group of talented and creative people.
Classes were held in the mornings at the beautiful NYFA Florence campus in Piazza San Lorenzo, and were geared towards both beginning and advanced students. In the afternoons, we alternated between walking tours of the city and commercial shoots at local businesses. We also toured Tuscany together, visiting the hill towns of Siena and San Gimignano, both built for pedestrians with large city squares and ornate romanesque-gothic churches.
Walking tours focused on elements of exposure and how aperture affects communication, as well as embracing decisive moments through street photography and documentary portraits. We toured the church of San Lorenzo, with it's collection of Renaissance paintings, including the recently restored Annunciation by Filippo Lippi (c. 1450); the Boboli gardens with their magnificent sculptures and shady dells; and wound our way along the Arno, crossing over several bridges including the famous Ponte Vecchio with it's shiny jewelry shops and magnificent views of the river.  
There were also 3 commercially-focused shoots, where advanced students worked with the ProFoto B1 lights to create elegant imagery for various businesses. The first was in a 600-year-old apothecary in Santa Maria Novella. Gothic vaulted ceilings and pink and white striped stone pillars define this enchanting space, which is now used as a fully working perfumery selling upscale bottles of expensive perfume.
The second business was an all-women-run ceramic shop. The owner, now in her 80s, still goes to work every day to paint beautiful ceramic pottery alongside her daughters.
The third business was a leather school where students are trained in creating leather goods typical of Florence such as bags, purses, belts and shoes.
We had a wonderful group of students who not only took great pictures, but who bonded and enjoyed each other's company.
The NYFA Photography excursion to Florence offered a great week away from the familiar daily life and gave the students new skills and new perspectives. If you ever have the opportunity to go to Florence with NYFA, you should take it!
by nyfa