On Thursday, September 26, New York Film Academy hosted veteran and award-winning game designer and NYFA instructor Andrew Ashcraft.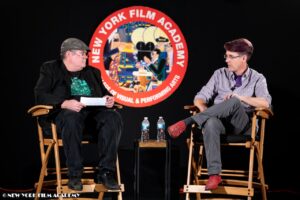 Ashcraft came to speak at NYFA as part of the school's Masters of Game Design series, a speaker series in which distinguished members of the gaming industry visit for an informal chat with NYFA instructor Scott Rogers about their career in gaming. The series has included industry luminaries like Insomniac Games president Ted Price and veteran writer and game designer John Zuur Platten.
The event was attended by over 50 students and industry professionals who has been invited by the school. Ashcraft and Rogers talked about Ashcraft's 23-year career, starting with his early years at UCLA, before moving on to his transition into the gaming industry and his vast experience creating games for Sony Santa Monica, Disney Mobile, THQ, and Activision. Ashcraft's career as an independent designer of board games and LARPs was also discussed. Audience attendees were then invited to ask Ashcraft a series of questions.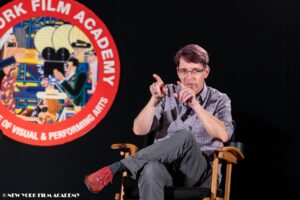 In addition to working for major game development companies, Ashcraft teaches for the NYFA Game Design school at our Los Angeles campus, where students are given the chance to make multiple games, work with a variety of different professionals, and build their portfolio to help them find a game design career after college.
New York Film Academy thanks instructor and veteran game designer Andrew Ashcraft for taking the time to speak with our students and sharing his expertise.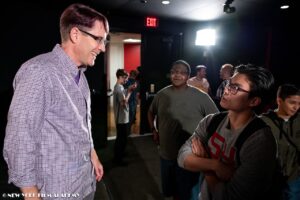 by nyfa