The award-winning documentary short Syria's Tent Cities first found life as an MFA graduation project for New York Film Academy MFA Documentary alum Mira Hamour. It quickly took a life on its own, and thanks to the passion and incredibly demanding—both physically and emotionally—work put in by Hamour, the film has gone on to win eleven awards (and counting)  since its completion in July 2018.
These honors include: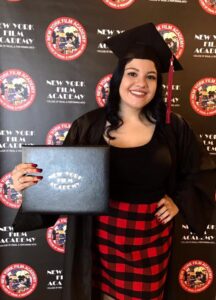 -London Independent Film Awards (Best Documentary Short)
-South Film And Arts Academy Festival (Best Documentary Short Film)
-Best Shorts Competition (Award of Merit)
-Cinema World Fest Awards (Best in Show, Best Documentary Short)
-International Independent Film Awards (Platinum Award)
-Los Angeles Film Awards (Best Documentary Short)
-Independent Shorts Awards (Gold Award for Best Documentary Short)
-Top Shorts (Best Documentary Award)
-Docs Without Borders Film Festival (WINNER: Revolution and Reform- Exceptional Merit)
-Global Shorts (WINNER: Special Mention)
Additionally, Syria's Tent Cities has been selected to screen at the Studio City International Film Festival in Los Angeles, an official selection at Short to the Point festival, selected at the Short Long World Festival, been selected as a Semi-Finalist at the Directors Cut Int'l Film Festival, and chosen in the Top Shorts Semi-Finalist Top 40 films. Hamour will be attending the screening on November 14.
The documentary short isn't just a film—it's a call to action by Hamour, telling vitally important stories from one of this century's greatest humanitarian crises and educating its viewers on how they can help in their own small way. Not just a powerful work of filmmaking, Syria's Tent Cities is an extrapolation of Mira Hamour herself—a passionate plea for empathy and understanding from an artist whose heart matches her mastery of the documentary craft. 
Amid a festival circuit for Syria's Tent Cities as well as pre-production and production of several other projects, Hamour found time to chat with New York Film Academy about her film, what drives her work, and her time at NYFA:
New York Film Academy (NYFA): First, can you tell us a bit about yourself and what brought you to New York Film Academy?
Mira Hamour (MH): I identify as Syrian-Canadian. Growing up, I've lived in the Middle East and Canada and most recently spent three years in the United States (New York, Los Angeles, and New Jersey).
When I was in high school, I love watching documentaries. I loved hearing real stories, about real people and learning about all of these world problems that not many people really seemed to know about. I felt like a lot of the social issues that interested me stemmed from the misinterpretation and incorrect practice of religions, and I explored lots of world religions throughout my bachelor's degree to see if I could find the root cause of these problems and misinterpretations. I wanted to prove that when interpreted and practiced correctly, every major belief system preached love, acceptance, and unity at its core. I focused on taboo and challenging issues and throughout my Undergraduate schooling; I extensively researched a variety of controversial topics, including feminism and homosexuality in Islam, Jewish masculinities and gender identity and, exploring ISIS and radicalization's global impact.
Realizing the incredible power of film to bring people together, inform audiences, and encourage them to make a change for the better, I knew that I wanted to study Documentary Filmmaking to learn how to effectively shed light on social issues and present my audiences with viable solutions for positive social change. 
In July of 2014, I enrolled in a 4-week filmmaking summer course at NYFA while still working on my undergrad, to sort of test the waters and see if this was really for me. It's one of the best decisions I've ever made. Not only did I get to meet incredible people who are still very close friends to this day, it kickstarted my career in filmmaking and confirmed my love for it. As soon as I was done with my undergraduate degree, I enrolled full time at NYFA for my MFA in Documentary Filmmaking.
NYFA: Can you tell us about your film Syria's Tent Cities?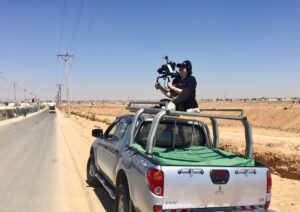 MH: My debut film, Syria's Tent Cities, was shot in Jordan, Lebanon, and Canada. It started out as an MFA graduation project, but I worked on it long after graduation and have now developed it into the 30-minute award-winning documentary short that it is today.
Identifying as both Syrian and Canadian, watching the refugee crisis continually worsen has been especially difficult for me. I felt helpless, and knew that many others also wanted to help but didn't know where to start. Almost eight years into the crisis, I noticed that the Syrian refugees were now being viewed as one, singular mass statistic. I spent many summers in Syria growing up and have amazing memories there; I wanted to remind the world that these refugees are individuals: they're parents, they're children, they're teachers, they're families, they're friends. In many ways, they're not very different from us, they've just been forced into a very unfortunate situation and had their world turned upside down.
My film is unique in that it explores the Syrian Refugee Crisis from both a local and global perspective by examining the lives of Syrian refugees in Middle Eastern refugee camps while also answering the question of what happens next, once they're resettled in North America. While planning the film and working on months of pre-production from Los Angeles, one prominent issue kept coming up: there are hundreds of thousands of displaced Syrian children around the world growing up without any access to education. In the long run, this could have very dire consequences and prevent them from becoming self-sufficient, contributing members of their society. The lack of education takes away from what's left of their childhood and doesn't give them a sense of importance or purpose. I knew that I not only had to focus on education while making the film, but also present the audience with feasible solutions to help fix this problem. 
Throughout the film, the refugees work to improve their situation through the efforts of the two individuals I chose to tell this story through: Nowell Sukkar, founder of Nowell's Mission working in Jordan and Lebanon, and Mazen El-Baba, founder of H.appi Camp working from Ontario, Canada. Both of them have dedicated their lives to making education and inclusiveness a right for all Syrian children. 
I also worked with Human Rights Watch in Jordan and Lebanon to better explain the situation to the audience; instead of blaming the refugees' parents automatically, the HRW researchers break down the many reasons why all these barriers exist and how we can combat them.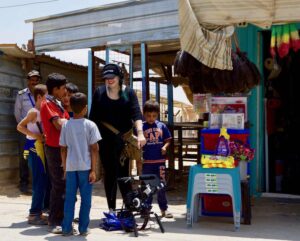 NYFA: What inspired you to make Syria's Tent Cities?
MH: The Syria we see on the news today is painfully different from the one I knew growing up; it's hard to come to terms with just how bad things have gotten in a relatively short amount of time. As with many other global crises, after a while people begin to grow tired of it because, even if they want to help, they don't know how to. It seems too complicated, too difficult, and they feel helpless. And that's why I wanted my film to focus on the specific issue of education and how the lack of it is killing refugees' childhood, their ability to dream, aspire, and achieve.
During a visit to my home city of Toronto in August of 2016, I spoke with newly resettled Syrians who noticed a world of difference in their children who had just attended the first ever H.appi camp, a free summer camp experience exclusively for newcomer refugee children. H.appi aimed to help these children integrate into Canadian society, improve their linguistic skills and aid them in overcoming the trauma that they had experienced before arriving to Canada. When I actually made the film a year later, I realized that whether they're living illegally in neighbouring countries or permanently resettled in Canada, many of the refugees were united in one thing: their goal to achieve a better life through a good education and the mental health resources many of them needed to overcome the trauma of war.
NYFA: What was your experience filming Syria's Tent Cities?
MH: Personally, working on Syria's Tent Cities was especially challenging. For starters, I had under two months to travel to two continents, three countries, and four cities to shoot all of my footage. One of the things about being a low-budget student and having to operate as what was often a one- or two-person crew is that you learn to wear many, many hats on the job. As with most of my other projects, I was in charge of directing, producing, shooting, recording sound, and editing Syria's Tent Cities. 
As someone who's doing the job of five people on location at refugee camps in the Middle East, I needed to be able to handle my emotions, even when faced with a seven-year-old girl whose leg has been amputated during the war staring longingly from her wheelchair as her twin sister and other siblings run around their one-bedroom apartment. Even when a two-year-old little boy being raised by a single father is so deprived of the love of a mother he lost while the family were fleeing the country that he curls up in your lap while you're shooting an interview with his father and clings to you, refusing to let go when you have to leave later.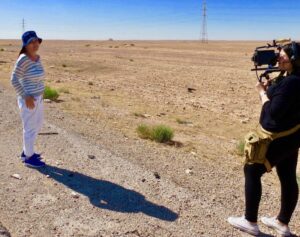 I had to keep my composure on location; if I was an emotional wreck, the film wouldn't get made and no one would hear their story. There were many, many tears when I got home. But I'd have to get up the next day and do it all again, pretending that my heart wasn't breaking every time I met another child who just didn't understand why they had to lose family members and run from what was once a safe and happy home. What kept me going was that I knew I was helping, I was telling their stories and encouraging the world to change their lives. In making this film, I truly feel like I grew so much as a person and a filmmaker.
NYFA: What are your plans for Syria's Tent Cities?
MH: My main goal was that I didn't want my audience to leave the theatre feeling sad and helpless. I wanted to give them tools and solutions to make a difference. In the film we see Nowell and Mazen; they're not millionaires, they're not people who have absolutely nothing else going on in their personal lives. Mazen is a full-time medical student and Nowell is a mother of two who has to tend to her own family's wellbeing. 
Yet they still make the time to help, they're dedicated. And although I don't expect every person who watches the film to start a non-profit like theirs, they show us the small ways in which we can all help truly make a difference in these children's lives. Simple things and contributions that actually end up having a noticeable and positive impact in the long run. 
It was incredibly inspiring to work with them and I really hope that, when they watch the film, the audience is inspired in the same way I was. I set up a page on my website where people who watch the film can learn more about Mazen's and Nowell's work and make a simple contribution that will truly end up making a world of difference. 
Additionally, after working with Human Rights Watch through making this film and seeing all of the incredibly valuable research they do on the ground, I partnered with them and created a page specifically dedicated to this cause! All donations that come through the page from the link on my website will be designated to Human Rights Watch's Refugees Division, specifically for their work on Syrian Refugees.
I'm especially proud of Syria's Tent Cities. As someone who identifies as both Syrian and Canadian, this story really hit close to home. It's something I wanted to do for so long that every (increasingly difficult) challenge that I was faced with while making this film was a blessing I was grateful for, because it meant that I was finally actually making the film and telling the story of Syrian refugees.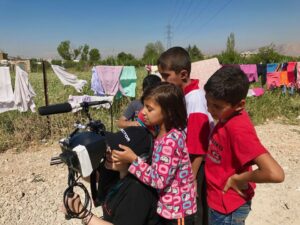 As proud as I am of how well the film's been doing and as honoured as I am to be able to tell this incredible story, the awards are especially meaningful because they confirm that people recognize the importance of the film's message and that they're moved to give it an audience and help. This is just the start, but I know that I've succeeded in beginning to raise more awareness, which is what I set out to do when I first made the film.
I plan to continue showing the film to as many audiences as I possibly can; this is a crucial problem and small contributions can make a very large difference in the life of a refugee child.
NYFA: What other projects are you working on or do you plan to work on?
MH: While working in the field of Documentary Filmmaking, I've created films that focused on issues that I felt needed to be heard and further explored. I wanted my films to not only educate the audience on the issue at hand, but to also show them clear ways in which they can help and make a difference or learn about an issue that was once foreign to them and become more accepting, compassionate individuals.
One of the films I'm working on now, PCOS, is about the often neglected and discredited Poly Cystic Ovarian Disorder in women and how the many side effects it causes impact those affected by it, including facial hair in women. Some of the women in the film resort to elective weight loss surgery to reverse the symptoms of their PCOS, while others accept and try to change society's harsh criticism of them. I actually have the condition myself and am one of the characters in the film (truly challenging as a simultaneous director!)
I'm also about to release a short documentary film about two Syrian senior citizens who relocated to stay with their family abroad. And while they're technically safe and living in a comfortable home, their whole lives have been uprooted extremely unexpectedly. At their age after retirement, they expected to live out the rest of their days in familiar Syria, and so they now spend much of their time reminiscing and missing those they lost to the war and during the move. Living in a state of constant uncertainty, major change, and having to adapt to a completely foreign country at their advanced age has made them question whether leaving Syria was worth it, and so the film is named Safe or Sorry.
Apart from my own projects, I also currently freelance, primarily in Documentary Filmmaking. Most of my jobs are in pre-production and/or production. I love researching a great topic extensively, reaching out to people, booking and conducting interviews, being on location shooting vérité and seeing my subject's world through the camera's lens. 
When people let you into their lives in that way, it's a really great, fulfilling feeling — there's a certain mutual trust and understanding there. The amazing people that documentary filmmaking brings into your life and the relationships you develop with the people you film are truly incredible and constantly remind me of why I got into this field and how fortunate I am to call this my job. For instance, making Syria's Tent Cities was such a humbling and eye-opening experience; I saw firsthand the difference that dedication and love, even coming from a single individual, can make in the lives of those facing a global crisis.
NYFA: What did you learn at NYFA that you applied directly to your work on Syria's Tent Cities, or your work in general?
MH: The biggest thing I learned is that loving something doesn't make it easy — it just makes it worth fighting for and working towards. When I first started this journey, I had absolutely no idea how hard making documentaries would be! But because I love it, it has definitely been worth every challenge I've faced.
As an emerging artist, you're definitely going to have times where you doubt yourself and your abilities, sometimes even whether you were meant to be in this field at all. You're going to have friends in 'safe' jobs, with a steady paycheque and very little risk involved. And sometimes it's going to scare you. Being a documentary filmmaker is hard, it's challenging, there's a lot of discipline, work, and time management that goes into it. You have to be able to believe wholeheartedly in yourself and your project and the message that you're trying to put out there. 
I've been so fortunate to have incredibly supportive parents, family, friends, and teachers in my life who have definitely played a big role in getting me to this point today. But to make it in this field, you have to truly believe in your work and keep pushing to make the story you're working on heard; working past every festival rejection you receive, every professional failure that comes up along the way, every person who discredits you and doesn't believe in you, and every one of the many challenges you're going to face. 
I want to specifically thank Sanora Bartels, who was actually the Consulting Producer on Syria's Tent Cities for being an amazing mentor, friend, support system, and just an overall wonderful human being. She's gone above and beyond her role as Chair of the Documentary MFA Program to make sure that her students succeed and reach their full potential. Most importantly, she believed in us and our abilities even when we didn't believe in ourselves. Having teachers like that when you're only just starting out in the field is truly invaluable. Sanora is just one of the many incredible teachers I've been lucky to work with at NYFA.
NYFA: What lies ahead for you now?
MH: In addition to filmmaking, I'm very passionate about travel and hope to be able to see the world through my work. I've been to 25 countries so far and it never ceases to amaze me how many similarities we all have on a basic human level, regardless of differing social and cultural norms. I will continue to travel and make films while I learn more about the world; Syria's Tent Cities is just the beginning, I have so many other projects planned and some are already in pre- and post-production!
[su_carousel source="media: 28395,28394,28393,28392,28390,28391,28389,28388,28386,28385″ limit="49″ link="lightbox" target="blank" width="780″ height="360″ title="no" autoplay="0″]
The New York Film Academy thanks Mira Hamour for the time she took to speak with us, and congratulates her on the well-deserved success of her documentary short Syria's Tent Cities.
by nyfa