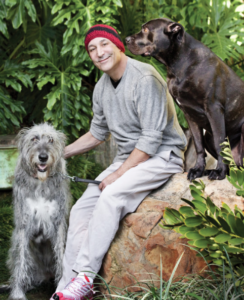 Sam Simon, legendary TV writer and producer, has died after a long battle with cancer at the age of 59. His contributions to the television landscape cannot be overstated.
Simon first started out in TV as a writer and storyboard artist at Filmation Studios before moving to primetime. There he worked as a writer and producer for such groundbreaking shows as Cheers, Taxi, and It's Garry Shandling's Show. He also executive produced the infant Fox network's The Tracey Ullman Show, a sketch show that involved intermittent animated shorts starring a yellow-skinned family named the Simpsons.
The Simpsons proved popular enough for its own primetime half-hour spot, and so in 1989 the landmark sitcom was created by Matt Groening, James L. Brooks and Sam Simon. The show went on to become a ginormous part of television and pop culture and still runs today, spouting its own streaming service, fan groups, podcasts, and megatons of merchandise, earning hundreds of millions of dollars for its creators.
Sam Simon was the showrunner for the show's important first two seasons and was given writing credit for nine episodes, though his contributions far exceeded that. He is considered by many to have defined many of The Simpsons' trademark tone, wit and humor. Despite leaving the show in 1993, he has been credited ever since as executive producer and the groundwork he laid for the show remains in its DNA to this day.
Simon worked in television on a few other shows after The Simpsons, but soon devoted much of his life to charity. He supported PETA, Save The Children, the Sea Shepherd Conservation Society and his own Sam Simon Foundation, which provided free meals to the hungry and sponsored a traveling animal surgery clinic. Before his death, he announced he would donate his entire fortune to charity.
Sam Simon won nine Emmys and was part of several legendary TV series. He is mourned by millions—those he touched in a personal way, whether through his charity work or his incomparable contributions to television and pop culture. He will be greatly missed.
by nyfa