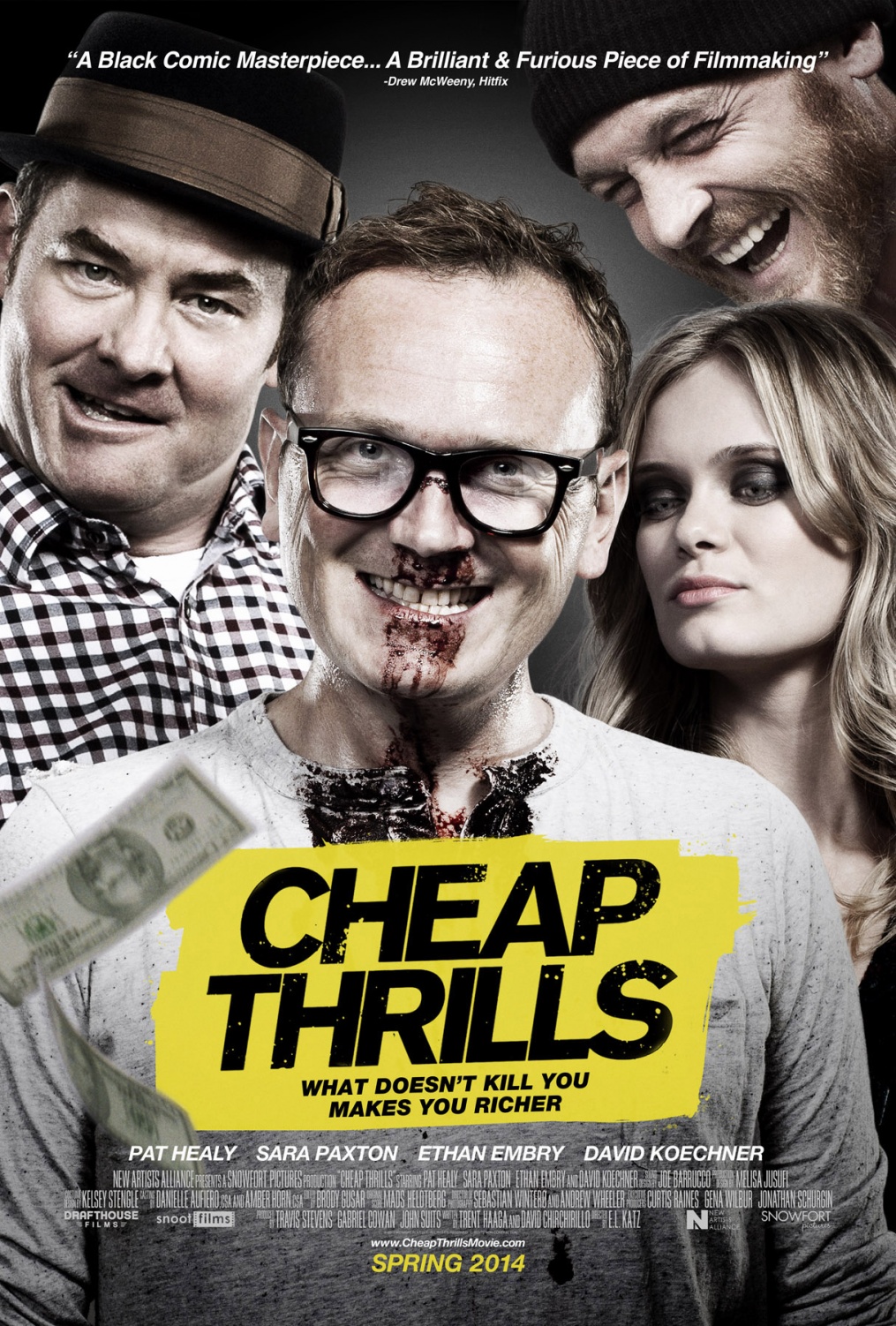 Last month, rising genre screenwriter David Chirchirillo joined New York Film Academy's Business of Screenwriting class, entertaining students with his journey of how this film student originally from St. Louis, Missouri ended up writing the 2014 cult shock-horror hit Cheap Thrills and, until very recently, working as the Head Writer on Playboy TV's The Playboy Morning Show.
Chirchirillo went to Columbia College in Chicago where he took a horror screenwriting class and ended up reading the script for Deadgirl by Trent Haaga, his 2008 horror hit. A fan of low-grade horror and Troma movies, Chirchirillo's professor was friends with Haaga, and in his last semester put the two in touch. Chirchirillo became his production assistant upon moving to Los Angeles.
"Cleaning up fake blood, going on food runs, whatever they asked of me really," is how Chirchrillo described his early experiences working as a PA. A naturally friendly, funny and outspoken guy, it wasn't long before people in the industry got wind that Chirchirillo was also a writer. "I, of course, was willing to write for free when I started, and made it known that I'd be willing to be fingers on a keyboard."
He soon met writer/director Chad Ferrin who was looking for a writer for an original idea entitled, Dances With Werewolves. Chirchirillo jumped all over it and wrote the script – which is a Civil War-era werewolf movie about a group of Confederate POWs who escape a Union prison camp and soon encounter a tribe of shape-shifting Native American werewolves with an insatiable blood lust.
He also impressed Trent Haaga himself who had written a draft of Cheap Thrills, and attached director E.L. Katz. Katz wanted a fresh take on the script, and after Katz and Chirchirillo had lunch, it was clear they shared the same vision for the script — which was to make it a crazy, satirical dark comedy (it was originally written as a more straightforward thriller). "Remember: this is a comedy," Chirchirillo had to remind his collaborators.
Indeed it is. It's a mind-blowing balls-to the-wall horror comedy that has received some amazing reviews, and currently stands at an impressive 89% on Rotten Tomatoes. It tells the story of a scheming couple, who pin two struggling friends against each other in a series of increasingly twisted dares for money over the course of one unforgettable evening. Premiering at the SXSW film festival, Chichirillo described the euphoric feeling of watching crowds react to the movie, "It was like doing a drug. It was probably the best moment of my career… thus far."
Chirchirillo went on to talk about some other experiences he's had as a professional writer. "Every time I write, I learn something new. Once it's done, it becomes the struggle of having it become a movie, where I learn more. I have a tendency to overwrite in the beginning, but it's all part of the process of what helps me find the best version of the story."
Chirchirillo also had some advice on choosing reps, as he himself has hired and dropped folks over the years in his search for agents and managers who grasp his unique voice, "Pick your reps carefully. Don't be in a rush to go with the first guy. Find someone who gets you and what you want."
Chirchirillo then entertained students with his insane directing experience on the low-budget horror film, 616: Paranormal Incident. "Let's just say it was a 9-day shoot on a shoestring budget, and due to other less than ideal circumstances brought on by the production, I ended up directing it under a pseudonym. But director Duke Hitchcock is really, really proud of it," Chrichrillo joked.
He also spoke about his experience writing a comedy morning show for Playboy TV, which spawned from him first working as an editor first for the network. "I got lucky, and a lot of it came down to timing, but it was a really fun gig." Chirchrillo wrote and oversaw the comedic bits for the newsroom-based comedy show. "It was great. We would bring in tons of special and celebrity guests, and the people at Playboy had a great sense of humor and there's not a lot of egos. It was just about having fun and putting on the best show we could." They wrote a different show every day of the week — an impressive feat in its own right.
Closing out, Chirchrillo offered some final words of wisdom to the aspiring NYFA screenwriters. "Outline. For a long time, I didn't, but it really helps. Also, check out Dan Harmon's 8-steps to Structure. That's been really helpful for me." On getting hired on assignments, Chirchirillo reminded the room, "Give them what they want, of course, but remember nothing has to be dumb, and it can all come from you. Find your way to address the note, that's how you'll do your best work. And do whatever you need to get your movies made, because that's what it's really about: getting movies made."
David Chirchirillo, who also wrote a segment for ABCs of Death 2, is currently writing the psychological horror thriller Eli in addition to other projects. He is repped by Bellevue Management and currently resides in Los Angeles, CA.
by nyfa