Ukraine has a rich and diverse history in the arts and is known for innovative visual artists, including Maria Prymachenko, Taras Shevchenko, and Victor Sidorenko. The creative crafts of Ukraine extend to filmmaking, with a range of fiction and nonfiction works for audiences to choose from. Today even, despite unimaginable challenges, Ukrainian filmmakers continue to make their mark and find ways to elevate Ukrainian stories, spreading their message worldwide during the current time of war.
In March 2023, the New York Film Academy (NYFA) welcomed a group of Ukrainian filmmakers working on various documentary films to NYFA's New York City Campus. The filmmakers—who were on the final leg of a two-week U.S. film industry tour facilitated by Cultural Vistas — spoke on a panel with faculty and students from NYFA's Documentary Filmmaking Department, sharing and discussing the ongoing challenges they face throughout the production process.
Ukrainian Film in a Time of War: NYFA Welcomes Ukrainian Documentary Filmmakers
From Shadows of Forgotten Ancestors (1965) to The Earth is Blue as an Orange (2020), there are a range of Ukrainian films for cinephiles to explore. Some of the greatest examples of Ukrainian films are their stories of perseverance and survival through the turbulent times the country has experienced throughout history.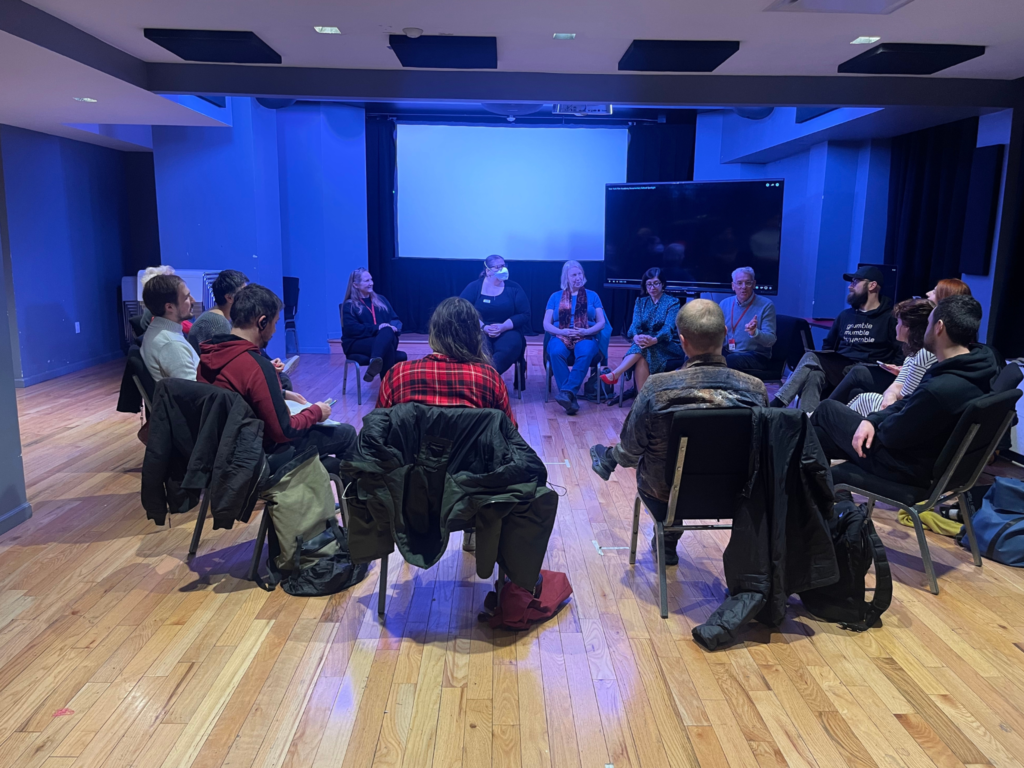 During the panel with Ukrainian filmmakers, NYFA students and faculty shared firsthand what it takes to create these emotional and impactful films.
Filming in a War Zone
Filming in a war zone has always presented risks to visual storytellers. Despite this, films such as This is Congo (2017), and The Last Men in Aleppo (2017) delivered authentic stories about some of the most dangerous conflicts in modern history. For Ukraine, the experience of filming in a war zone is no different, as filmmakers must consider their own safety and the safety of others as they capture the war.
"We are people who are risking our lives all day to get this truth and deliver it to the international community," says Andrii Lytvynenko, one of the visiting filmmakers from Ukraine.
In addition to the proximity to conflict, filmmakers also have a number of considerations to make from a storytelling perspective. During the roundtable discussions and subsequent interviews with the filmmakers, NYFA learned of the dedication they have to present Ukrainian stories ethically and responsibly while delivering their messages.
"Being a filmmaker right now is a big responsibility," says Andrii. "We need to stand against Russian propaganda and present truth in this world, against a ballistic policy of different countries and politics."
The Ukrainian Experience Told By Ukrainians
What does it take to tell a story about the war in Ukraine? For NYFA's guests, it's about Ukrainians telling their own stories.
"We live in our circumstances. So I think that makes us unique," Andrii shared with NYFA. "There are lots of people who don't go deep. They just come for three days and then come back."
I think the only way to ethically tell the story about places like Ukraine that have historically, and are presently, being heavily influenced by unwanted colonial forces, is to support Ukrainian voices in telling their own tale," adds Jacob Beard, Program Officer for Cultural Vistas, the nonprofit exchange organization that promotes global collaboration and understanding, and which facilitated the filmmakers' trip to the United States.
"And so in that way, I think that groups like this are uniquely qualified to ethically tell the story of what's happening in Ukraine because it's happening to them on their land, to their culture, in their history."
Building a Bridge with American Audiences
For our Ukrainian friends, one of the most important steps in creating their film is connecting with audiences worldwide. During their trip to the United States, Cultural Vistas arranged for the filmmakers to stop not only in New York City but various cities across the country, including Raleigh, North Carolina, and Los Angeles. The journey gave the filmmakers a number of opportunities to share their experiences and learn more about connecting with an American audience.
"This project was created, in part, to explore how to get an American audience to feel the emotional impact of our visitors' work," says Jacob. "A lot of our resources have given us really good advice about how to do that."
"In some cases, American experts have told our visitors, 'Well, you know, giving some kind of hopeful narrative, or drawing a silver lining around your film would be one way to engage an American audience," Jacob shared.
"But obviously, everything is so raw for them, and it's still happening to them, not every other day, not every other week, but every second of their life. They're dealing with things that an American moviegoer just really can't relate to. A life under siege, you know."
Delivering a Message of Hope and Freedom
The visit was an important reminder that filmmaking is a powerful and effective tool in spreading awareness, amplifying suppressed voices, and inspiring audiences to be proactive. By creating a film that tells an honest story about the Ukrainian experiences during the war, the filmmakers can express their continued hope that the conflict in their country will end.
"It was truly an honor and privilege for NYFA to host these courageous and passionate creatives," stated Jim Miller, NYFA Vice President of Strategic Initiatives who organized the event. "The afternoon brought us all together as filmmakers, and as human beings, in solidarity for the struggle that our Ukrainian colleagues are facing day in and day out. One moment that will last with me forever is when one of our guests face-timed his mother, who is in Ukraine, and with a tremendous smile, showed her the view of the Statue of Liberty from the window of our campus; he declared to her that one day they will come to visit New York together. It was a moment of pure joy and resolute hope between a mother and a son."
NYFA is also looking forward to working with Netflix's Fund for Creative Equity, the organization European Audiovisual Entrepreneurs (EAVE), as well as the Ukrainian Film Academy and House of Europe to provide support to Ukrainian filmmakers and television creators. NYFA will host a two-day digital post-production workshop to train producers and post supervisors in best practices for overseeing post-production on films and series.
"The main thing for Ukraine is freedom. And the Ukrainian heritage is freedom. That's it," says Andrii. "And we can live with the challenges, without electricity, [it] doesn't matter, but we cannot live without freedom."
by Melissa Randall