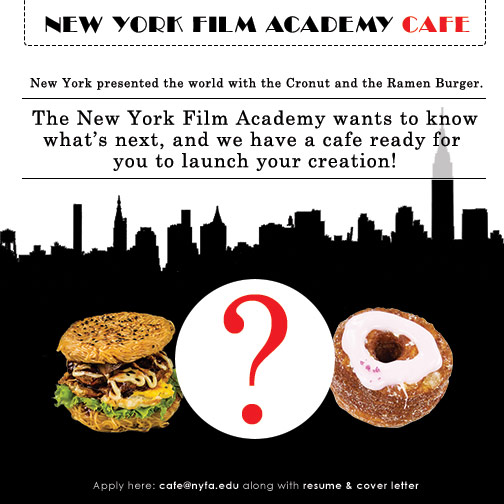 We at the New York Film Academy understand that creativity works in many forms. As such, we've decided to open up the brainstorming of the new New York Film Academy café in New York City to the world. Located on the busy corner of Lexington Ave. and 24th street, NYFA has ambitious hopes for what could become of the café. However, we realize that we may not have all the answers, and so we're reaching out to you.
If you're an avid "foodie" with experience in the industry and have a great idea for a unique café, this could be a wonderful opportunity for you to launch your very own creation. Perhaps you have the next "Cronut" or "Ramen Burger."
If so, please email your resume to [email protected] along with a cover letter that expresses your creativity, unique café idea, and describes a signature dish you would bring to the NYFA Café. If we're interested in your submission, we will be in touch to discuss it further.
Best of luck. We look forward to reading your entries!
by nyfa