NYFA FILMMAKING ALUM ISSA RAE SHINES AS SNL HOST FOR SHOW'S 46TH SEASON
October 18, 2020
"Live from New York, it's Saturday Night...with host Issa Rae!"
In the show's third episode of the live sketch comedy's 46th season, NYFA Filmmaking alum Issa Rae played the iconic role of celebrity host on Saturday Night Live, performing in the comedic sketches alongside the show's main cast and introducing this week's musical guest, Justin Bieber.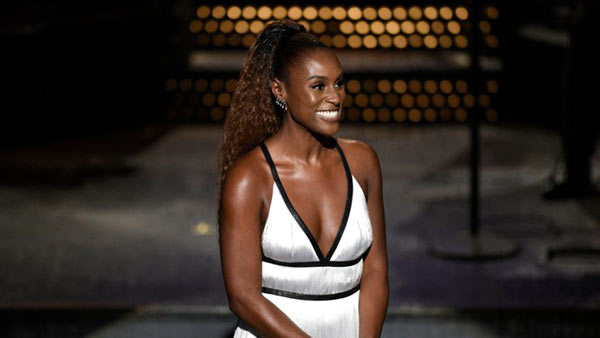 NYFA alum Issa Rae performs her opening monologue on 'SNL' (Will Heath/NBC)
With Rae as host, she was able to highlight how important it was for her to be hosting such an iconic show like
SNL
and joked that if
Insecure's
fourth season was her senior year of High School, then
SNL
felt like the prom and the live audience were her dates. Rae also joked, "If the show goes bad tonight, just blame it on me, Mary J. Blige," a lighthearted jab at how Black people in Hollywood often get confused for other people who look nothing like them.
Rae's quirky comedy enlivened many sketches throughout the evening, but her top moments seemed to shine in sketches like
"First Date Exes,"
where her character keeps seeing her extremely off-putting exes while on a first date, and "Canadian News Show," in which she played an anchor always on the lookout for Canadian rapper Drake in Toronto.
Rae recently appeared in HBO's original film
Coastal Elites
and is currently in pre-production on season 5 of her critically acclaimed,
Emmy-nominated series Insecure
.
New York Film Academy is proud to watch NYFA alum Issa Rae shine on stage and looks forward to what's next from the talented writer, director, producer, and actress.
Please note: NYFA does not represent that these are typical or guaranteed career outcomes. The success of our graduates in any chosen professional pathway depends on multiple factors, and the achievements of NYFA alumni are the result of their hard work, perseverance, talent and circumstances.