NYFA Community Outreach Spotlight: BAFTA LA
November 22, 2017 As part of New York Film Academy's dedication to give back to the community, NYFA LA has been running a filmmaking program in partnership with the British Academy of Film and Television Los Angeles (BAFTA LA) for youth in need.

The young aspiring filmmaking students participate in a 9-week film intensive curriculum, created by NYFA Community Outreach, that focuses on telling their stories and finding their voice. New York FIlm Academy faculty work with the Washington Prep High School students who learn how to make their own films from start to finish over the course of a nine weekend program. They start by learning elements of screenwriting and move on to directing and producing. They will then shoot on real sets at Universal Studios' backlot and complete a film each. BAFTA LA as a program partner helps to select the students from each cohort and also collaborates by providing film industry professionals, mostly directors, editors, and other industry experts to participate as mentors throughout. Each student's film is entered into Washington Prep's Student Film Festival where NYFA Community Outreach announces the recipients of scholarships to participate in NYFA's The NEXT Young Filmmaker Program. Four students from each year's program receive a scholarship to a summer teen filmmaking camp at the New York Film Academy.

We sat down with NYFA Community Outreach Chair and Film Directing Faculty, Mason Richards to discuss the program:

Tell us a little more about the partnership and the people who help make this program happen.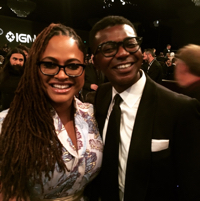 Ava DuVernay (left) and NYFA Community Outreach Chair Mason Richards (right)
We are entering our 6th year of this partnership with BAFTA LA and we are both equally excited to continue with the program. Our next cohort starts next semester, in January. A large part of the success of this outreach partnership between NYFA and BAFTA LA is due to the very firm commitment from Chantal Rickards, President of BAFTA LA and Sharyn Ross, a volunteer for BAFTA who has been the main force getting the students here. Chantal has attended (and has been a special guest speaker) at our community outreach graduations, and she's always very inspiring to the students - constantly reminding them that regardless of what the world may present, anything is possible. Also, at the heart of the BAFTA LA-NYFA outreach partnership is our liaison Sharyn Ross and her partner Jeffrey Thal, who both give their time so very generously to the students, not just to help them develop their craft as young filmmakers, but also as young adults and productive citizens. This partnership is also possible because of the dedication of Washington Prep High School Film teacher Darryl McCrane, who gets all of the students ready for their NYFA experience with his film class where the students learn and practice their craft. Darryl's filmmaking classroom space in South LA at Washington Prep HS has become a safe space for students to express themselves creatively.
Darryl's class is a favorite for the students at the high school, and we are thrilled to be able to extend their filmmaking education to our New York Film Academy LA campus. Together, BAFTA LA, Washington Prep, and NYFA - we are like a family working together to ensure that we create a space for the students to be their best selves, and be able to tell their stories through film.
Beyond learning the basics of filmmaking, what do students come away with when they complete the program?
At the end of the 9 week film program, the students leave the New York Film Academy not only with an official certificate of completion which is awarded at their final screening at the NYFA Theater, but they also leave with a great foundation and the fundamentals of how to make a film. This knowledge and experience making their own short films and interacting with NYFA students, faculty and other industry professionals can really help to shape and contribute to their professional development.
Apart from teaching the fundamentals of filmmaking, the NYFA Community Outreach film program also focuses on teaching the young filmmakers non-cognitive skills related to motivation, integrity, and interpersonal interaction. There is a certain level of emotional intelligence that the students gain from working in groups, taking on various roles on the productions, and the opportunity to be in charge and tell their stories. They also have loads of fun shooting on the Universal Studios backlot.
What have been some of the highlights of this program?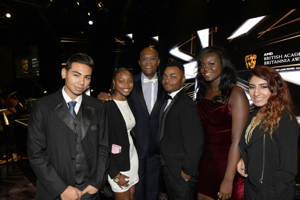 NYFA Community Outreach Students with Samuel L. Jackson. Photo courtesy of BAFTA LA
It was really special that at this year's BAFTA Britannia awards that BAFTA LA choose to focus the entire evening on the young people in the outreach program. Sitting in the audience, I was happy to see that they opened the entire dinner and live broadcast at The Beverly Hilton in Beverly Hills, highlighting how awesome the students in the outreach program are. While these ceremonies honor the work of industry professionals like Jodie Foster, Chantal Richards was deliberate in letting the audience know that our young people are who really matter. It was a special moment not only for BAFTA LA, Washington Prep HS, and NYFA Community Outreach, but also for the students and their families. I sat with some of the students at the dinner and could feel their excitement, especially when they got to meet some of their favorite Hollywood successes like Ava DuVernay, Jennifer Lawrence, Samuel L. Jackson, and Jodie Foster. It's always great when you're recognized for your talents and your hard work in front of an audience, and for the opening of this year's Britannia Awards our community outreach students were the stars of the night.
| | | |
| --- | --- | --- |
| NYFA Community Outreach Students with Ava DuVernay and high school Film Instructor Darryl McCrane. Photo courtesy of BAFTA LA | | NYFA Community Outreach student Rosie Lorias with Jennifer Lawrence. Photo courtesy of BAFTA LA |
Variety highlighted the importance of programs like this in a recent article. In your experience, how important are they to the community?
It's so important during this time in our American history - and during this time in Hollywood, which seems to be checking itself about what is important and who matters - that we remember the next generation. For us in community outreach, inclusion and diversity are not just buzzwords that we use - its practice and application, and the BAFTA LA-NYFA partnership is just that - practice and application on how we can effect change and enhance the landscape of our storytelling, as well as the next generation of decision-makers in the film industry.
Stay tuned, there's a future generation of amazing storytellers in the making.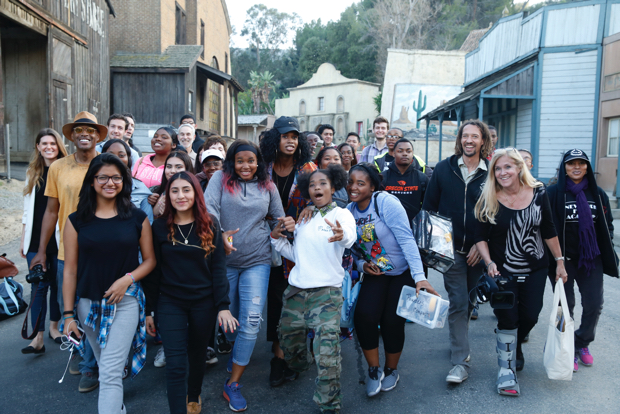 Until COVID restrictions on the Universal Studios backlot subside, not all cohorts or students will be able to attend production workshops on the backlot. The backlot is generally not used for production workshops for screenwriting, animation and game design departments.