NYFA MFA Alum Meital Cohen Navarro Nominated at the College Television Awards
March 21, 2022
NYFA MFA Filmmaking
alum
Meital Cohen Navarro
is an award-winning, Israeli-born narrative and documentary filmmaker based in Los Angeles. Meital's most recent film,
Over My Dead Body
, tells the story of a young Jewish Persian-American woman, who reveals to her parents that her fiancé is Muslim right after anouncing her engagement. Her parents are devastated by the news and give her an ultimatum: her fiancé or her family. The film explores the internal conflict surrounding a family of Jewish immigrants from Iran now living in Los Angeles.
"As a grandchild of immigrants, making this film was an amazing journey," says Meital. "I hope the film helps families with intergenerational rifts to better understand each other: For parents to see the toll it has on their children and for the younger generation to acknowledge their parents' equally heartbreaking cultural challenges."
Over My Dead Body
premiered in the United States at the Atlanta Jewish Festival and has since been collecting awards and nominations at festivals like the Film Pittsburgh Festival International Short Film Competition, The Valley Film Festival and many others. Meital's film also won the San Luis Obispo Film Festival's George Sidney Independent Film Competition For
Best Narrative Short 2021.
Recently, the film received a nomination for "Best Scripted Series" at the
College Television Awards
(College Emmys)
streaming
this Saturday, March 26th at 6PM PT.
Meital spoke with NYFA about shooting a film in a foreign language, the importance of cinema at a time like this and how food brings us together. Check out the interview below!
Tell us about yourself. What were you doing before you came to NYFA?
Wow, this is a big question. I don't know where to start. I began filmmaking when I was 14 and by the age of 18 I had already written and directed my first film called
Happy New Year
, which is about a prisoner's 48-hour visit with his family. It explored the tension between himself and his younger brother. This film won the top award at the Wim Van Leer Young FilmMakers Competition at the Jerusalem Film Festival for a short film. I was starting to work as a documentary filmmaker and editor at Israel Broadcasting Authority. Part of my life journey, I moved to Africa and lived in Democratic Republic of Congo for a handful of years, then moved to South Africa and among the things that I did there - I was a journalist, writing for one of the main newspapers in Israel Maariv and covering social and financial stories. My journey in Africa changed my life. I lived in places that few people are fortunate enough to visit, and I had the privilege of getting to know a different culture, a more simple and naive one. I learned to look at the world in a different light, to find beauty within great hardship, to recognize nuances within traditional societies and learn to what extent their history still influences their modern cultures. To discover beliefs, emotions, and stories that had moved me and captivated my thoughts. Being in Africa, just like my time in the documentary world, once again strengthened my deep connection with filmmaking. The hardships, the poverty, the personal defeats, the small magical moments that the simplest people experience, the stories I find myself wanting to tell again and again, the desire to write, to document, and to send my feelings and experiences to anybody who would accept them.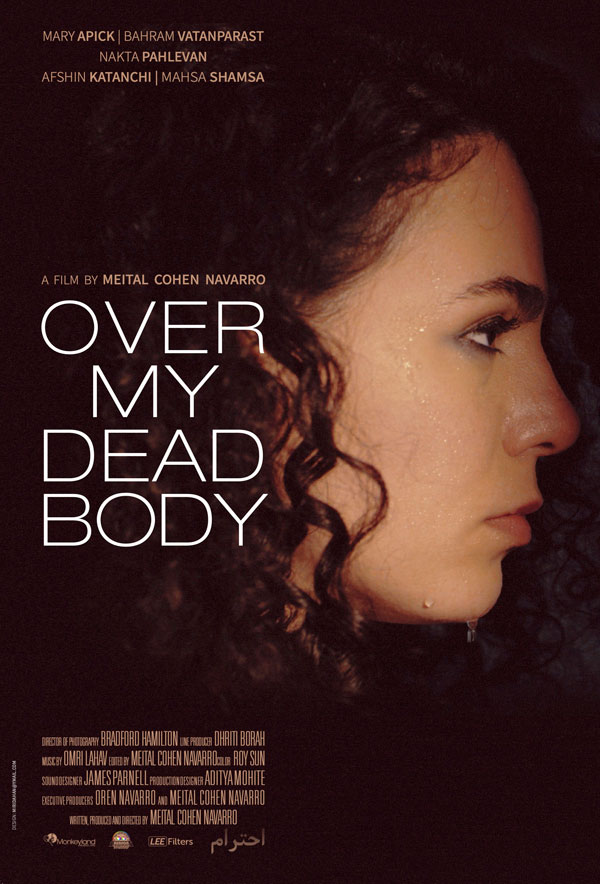 Tell us about your film. What is it about? Where does it take place? What was the inspiration?
Over My Dead Body
tells the story of a young Jewish Persian-American woman who tells her parents that her fiancé is Muslim, then they make her choose between him and them. When I moved here to LA, through one of my friends, I discovered that within my new neighborhood there was a huge Persian-Jewish community. They invited me for dinners, and I felt so at home because of our similar backgrounds. Persian culture reminded me of my family. They all immigrated from Iran to America and as a grandchild of immigrants, I had experienced similar conflicts and questions as the younger generation I was meeting. My grandparents immigrated from Yemen and Morocco to Israel in the early 50's. As a teenager, I felt the clash between two different worlds: my grandparents and parents who held to the traditional, conservative ideals and the modern liberal one that I was experiencing in Israel outside of home. I did not understand the reasons or implications for this gap. I simply rebelled against all the traditions and values that influenced my parents' lives. Filmmaking has allowed me to explore the different points of view and the gap that exists between the generations. I decided to create a film that would reflect my background as well as take place in my new home, Los Angeles. I started interviewing individuals across the generations within the Persian-Jewish community. Meeting these children of immigrants and their parents as well as my personal experiences inspired me to write
Over My Dead Body
, an authentic Persian-Jewish family drama which explores an internal conflict surrounding a family of Jewish immigrants from Iran, played by Muslim, Christian, and Jewish actors, now living Los Angeles.
What was your favorite thing about directing this film?
My favorite thing was directing a film, learning about a new culture, and conducting an anthropological study of that culture. You learn so much about them, but you learn so much about yourself. You often see things on the surface, but to do a deep dive is fascinating. To consider how they think, the food, the meaning of everything, the music, the hierarchy, their values. Everything makes you consider your own choices and life. It makes me think about what we miss as humans when we just get excited about something, we're moved by trends, but we don't really appreciate where things are coming from.
What was the most challenging thing about making the film? What did you learn in the process?
This film was full of challenges, notably my choice to maintain authenticity by shooting it in the Persian language. I'm not Iranian and I don't speak Farsi, therefore directing a film in a new language was challenging. Language creates the music in the film and I had to understand the music of my film. For a few months, every morning I would listen to music, radio, and TV shows in Farsi so that I could understand the language and the sound of the language, so that I could successfully direct a film in Farsi that presented the people's story authentically. Another challenge for me as a director was to make sure that I was building the right emotional arc for the characters. This film could easily have had five people screaming for half an hour because of the conflict that they are faced with. The film tells a story of five different characters, each with a different point of view regarding the conflict and a different relationship to one another. I had to take a step back to see the big picture of the film first as a unit then go back and disassemble each character's journey so that I could guide the actors accordingly.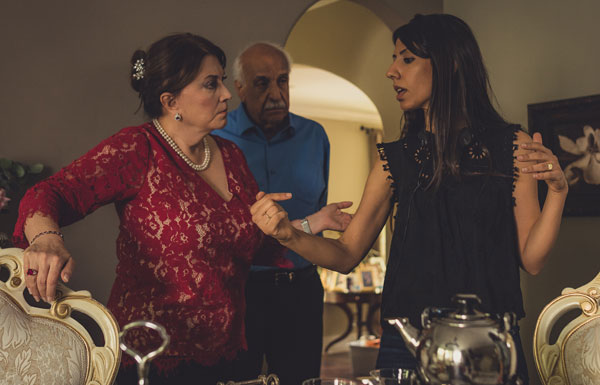 Meital (right) on set with renowned Persian actress Mary Apick (left)
I've noticed that food is a common motif in your films. They always make me hungry! What is your take on food, your characters, your stories?
This is such a great question! I see food as a gateway to experiencing cultures. In fact, food, in addition to its practical function, is also a key element to our social and cultural identity. Every society has its own authentic food that reveals its own story. It can be a story about origin and tradition; or about the connection of that food to an individual or collective memories and feelings. Every time you travel to a different country the first thing that you will do is to eat their food, right? It is the best way to learn about a new place we are discovering.
Also, food connects people. We always meet people for breakfast, lunch, dinner, coffee, ect. We don't care about the food as much as we care about the company. We can experience falling in love around food, we fight around the food, and we can make up after a conflict around the table. As an Israeli and Middle Eastern woman, I grew up in a family that treats their guests like royalty in their house. Whether you are poor or rich, you will give your best in abundance to show the host's appreciation for your visit. Big dinners are a way to connect within the family unit. Once there is food on the table, everyone will gather around to enjoy. It doesn't matter what happens during the day - conflict or difficulties - the shared meals are the glue that keeps the family together.
Tell us about the festivals you've participated in.
Unfortunately, I completed post-production for the film in the middle of the pandemic and all of the festivals underwent big changes as a result. We were fortunate enough to have our world premiere in the UK Jewish Film Festival, one of the largest Jewish film festivals in Europe that is also BAFTA qualifying. In February of 2021, we had our North American premiere in the Atlanta Jewish Film Festival, where only 16 short films were selected that year. It was an honor to be part of it. Our West Coast premiere happened the following month at the San Luis Obispo International Film Festival. Since then we've been fortunate to participate in many festivals, including New Filmmakers LA, Cordillera, and Julien Dubuque, and to pick up some awards along the way too! I am beyond honored to share that we are currently nominated for a College Television Academy Award (College Emmy). I cannot be more excited.
What was your favorite festival experience?
Every festival has its own character and we had wonderful experiences all over the US and Europe. Dances With Films was a special event for us, since the cast and crew were all in attendance, alongside audience members from the Persian community that the story is based on. It was truly unforgettable, and we are grateful we could all share this great experience, especially during the pandemic. That being said, we really are thankful to take part in every single festival we have gotten the chance to participate in. No matter which festival it is, the best part is always engaging with the audience after the screening, seeing where the story meets them and what it brings up for them.
What awards have you won for this film?
Winner Beaufort International Film Festival (Best Director, Best Ensemble cast) 2022
Winner San Luis Obispo International Film Festival 2021 George Sidney Independent Film
Competition Winner - Best Narrative Short
Winner Dances With Films 2021 -Grand Jury Honorable Mention
Winner The Valley Film Festival 2021 - Jury Award
Winner Film Pittsburgh Festival International Short Film Competition 2021 - Audience Award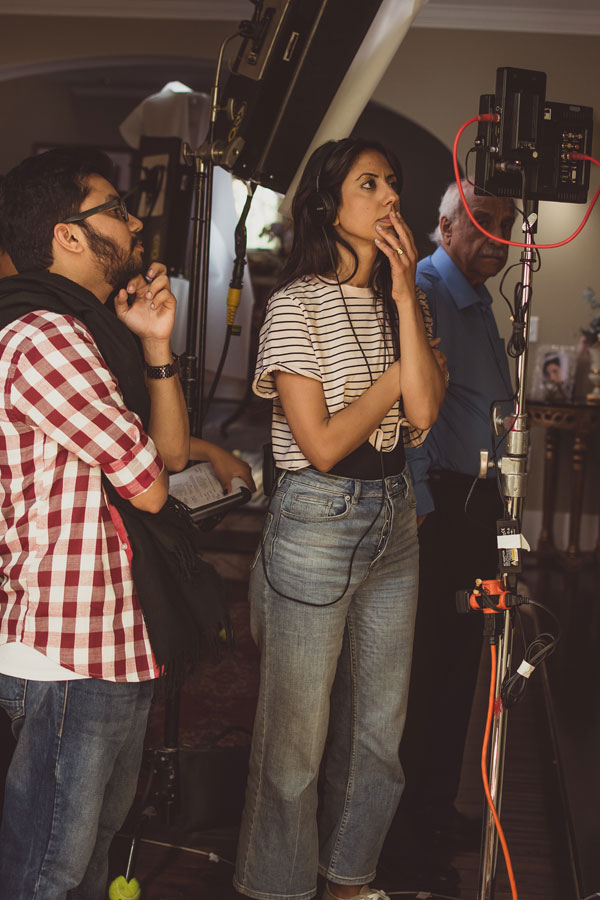 Meital on set of Over My Dead Body
How do you think your education at NYFA and the work you did here prepared you for a career in filmmaking?
Coming from Israel where I grew up as a filmmaker most of my focus was on European cinema. As a young filmmaker, I always thought that American cinema focused first on entertainment and then on the director's artistic view and message. Whereas in European cinema, you should be true to yourself and what you are trying to say and it will be conveyed to the audience. Obviously over the years my perspective changed as well as things within the industry. Learning at NYFA expanded my point of view on the industry overall. I learned that Hollywood is so much more than just the big studios; you can find many paths and colors, and you just need to discover it.
I took the MFA Filmmaking Feature Track, and it was definitely a great decision. What I love about NYFA's faculty is that they don't give you short-cuts. You feel like you are always on a professional set. From day one they have pushed me to the edge and forced me to give everything that I've got. What I really appreciate is the honest feedback and the challenging questions from the faculty. I met amazing instructors that always challenged me in a way that helped me to grow and rise to better performance.
And even as alumni, the door has always been open for any questions or requests. Crickett Rumley (Director of NYFA's Film Festival Department) created for us all these amazing Labs and Q&As from which I still learn so much to this day.
Do you have any advice for recent graduates making their way into the professional world?
First, I would advise them to have a clear voice as a filmmaker. You need to know what you are trying to achieve and what your message is. It doesn't matter if you are making an entertaining comedy or have a social-political film, just make sure that everybody understands what you are trying to say. The second thing is good networking. Meet as many people as you can and get your name out there as much as possible. You never know who you will meet and where you will meet them. And most importantly don't give up when you hear "no", because eventually something will click.
These are trying times in the world today. Art matters more than ever. Do you want to share any words/your personal views about the importance of film in the lives of humans living right now?
Watching movies is something that makes you feel happy, scared or a variety of emotions for an hour and a half. When you watch a movie from the comfort of your own couch, you move into another world, away from reality, and enter into a dream (at least that's what happens to me until I see a boom in the frame). Aside from fun and entertainment, watching movies has many other benefits that affect our lives in the last year.
We have been isolated in our homes for over a year and people have lost so many things, including friends and family, work, and they feel a great sense of loneliness. Movies play a very important role for us at this time, as a source of entertainment and escapism. Movies contain music, stories and images, and it is a way to forget the real world for about two hours but at the same time can give us a reality check.
This year not only do films allow us to escape, but they are also our travel agent, our teacher, and inspiration. We learn through films about new cultures and films make our imaginations run wild. Many movies give us a glimpse into the reality of life through the eyes of someone else. They often show how ordinary people embrace life and the things around them. This is why you are able to see life from a completely different point of view. And watching our favorite films brings us joy and inspires us, even in hard times. Until the world will be open again, I believe we can explore and experience new things through films.
What are you working on right now?
I recently got back from Democratic Republic of Congo, where I have been shooting a documentary about a high profile politician and his desire to make his country a better place for his people. It's truly an inspiring process, and I can't wait to be able to share more about it. Additionally, my feature script
One Way
has been making rounds through the festival circuit, including Austin Film Festival (2020), and earning a finalist spot at Raindance Film Festival Script Competition (2021) as well as reaching the final rounds at the Sundance Development Track. It tells the story of a Jewish mother, estranged from her family and her ultra-orthodox community, who returns from exile to stop her daughter from entering into an arranged marriage. I am also currently pitching
Morasa Polo
, a TV series expanding on the story in
Over My Dead Body
.
The New York Film Academy congratulates Meital on all her success and wishes her the best as she continues her filmmaking journey.