New York Film Academy Observes Sexual Assault Awareness Week
April 27, 2017 Trigger Warning: The image and video included in this article are PSAs designed to raise awareness to stand against sexual assault, and artistically represent distressing and/or violent scenarios. Content may be disturbing to some viewers.

Every April, the U.S. recognizes an especially important and difficult topic by observing Sexual Assault Awareness Month (SAAM). The official site of SAAM states: "Sexual violence is a major public health, human rights and social justice issue. We need everyone's help to end it."

This year, New York Film Academy observed Sexual Assault Awareness Month by holding dedicated Sexual Assault Awareness Weeks at our campuses in New York City, Los Angeles, and South Beach, Miami throughout the month of April. NYFA awareness events ranged from self-defense workshops to Denim Day, and from invited guest speakers such as the New York City Alliance Against Sexual Assault to movie screenings. Separate events were held for both students and employees with the goal of raising awareness within the NYFA community as well as empowering and educating every individual to take action and learn skills for sexual assault prevention.

The capstone event for NYFA's Sexual Assault Awareness Weeks was a student production contest, where students were invited to pitch and submit their own original media for Public Service Announcements (PSAs) and explore the responsibility and power of the media in shaping how we view sex, sexuality, consent, and violence. With such a diverse, international community of visual and performing artists, the NYFA student production contest for Sexual Assault Awareness provided a unique opportunity for new voices to be heard. Winners were selected for the poster and video categories from NYFA's Los Angeles and New York campuses, respectively.

At NYFA Los Angeles, the student production contest video winner was MA filmmaking student Samuel Gonzalez Jr., who created the deeply moving short, "Awareness." The film delivers startling facts regarding sexual assault while artistically portraying a real-life sexual assault victim's 911 call. Regarding the film, NYFA Los Angeles Dean of Students Kelly Gardner notes, "I am very proud of the work our student Samuel Gonzalez has done in creating the following Public Service Announcement for Sexual Assault Awareness through our student PSA program."


At NYFA New York City, one-year cinematography student Paola Herrera won the student poster contest through the creation of her powerful image of a barefoot woman sitting in a darkened laundromat, surrounded by her suitcase and a pile of clothing. The lighting, the woman's pose, and the costume and makeup evoke the aftermath of an assault. The image is gut-wrenching, and provides a dramatic portrayal of struggles faced by many survivors of sexual violence.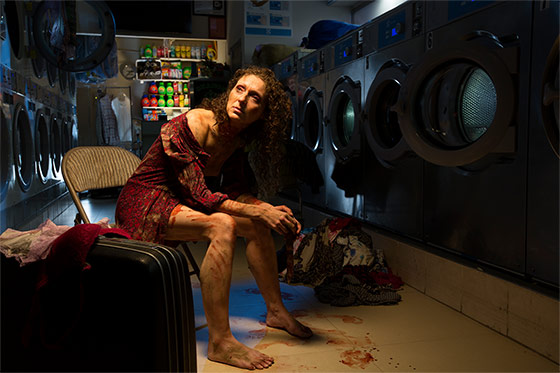 At NYFA South Beach, students participated in Denim Day by taking part in a denim art project. NYFA South Beach Title IX Coordinator Laura Gasperini presented information on Title IX and sexual assault awareness while students enjoyed pizza and signed a pair of jeans hung in the equipment room as a pledge to stand together against sexual assault.
New York Film Academy is proud to join with many institutions, schools, businesses, artists, and allies who chose to participate in Sexual Assault Awareness Month. The NYFA community stands together against sexual violence. The first step to ending sexual violence is to raise awareness, which is a responsibility that New York Film Academy takes especially seriously as a visual and performing arts school committed to training the next generation of storytellers, artists, and media creators.
As
SAAM
notes, "We can all use our voices to change the culture to prevent sexual violence.