NEW YORK STATE GRANT PROGRAMS
THE NEW YORK STATE TUITION ASSISTANCE PROGRAM (TAP)
New York Film Academy (NYFA) is approved to administer the New York State Tuition Assistance Program (TAP) to eligible students attending the New York campus.
The New York State Tuition Assistance Program (TAP) is a grant program that helps eligible New York residents pay tuition. TAP Grant funds are considered gifts from the State of New York that do not require repayment. The NYFA Financial Aid office is prepared to assist you with any TAP questions but for immediate assistance please contact HESC directly through the following link: https://www.hesc.ny.gov/contact-hesc.html
ELIGIBILITY REQUIREMENTS FOR US CITIZENS AND ELIGIBLE NON-CITIZENS
Be a legal resident of NYS and have resided in NYS for 12 continuous months
Be a US citizen or eligible noncitizen
Have graduated from high school in the United States, earned a high school equivalency diploma by passing a Test Assessing Secondary Completion (TASC) formally known as a GED, or passed a federally approved "Ability to Benefit" test as defined by the Commissioner of the State Education Department
Study at an approved postsecondary institution in New York State
Be matriculated in an approved program of study and be in good academic standing with at least a "C" average as of the 4th semester payment
Be enrolled as a full-time student taking twelve or more credits applicable toward the degree program, per semester
Be charged at least $200 tuition per year
Meet income eligibility limitations
Not be in default on any state or federal student loans and not be in default on any repayment of State awards
Be in compliance with the terms of any service condition imposed by a NYS award
TAP INCOME LIMITS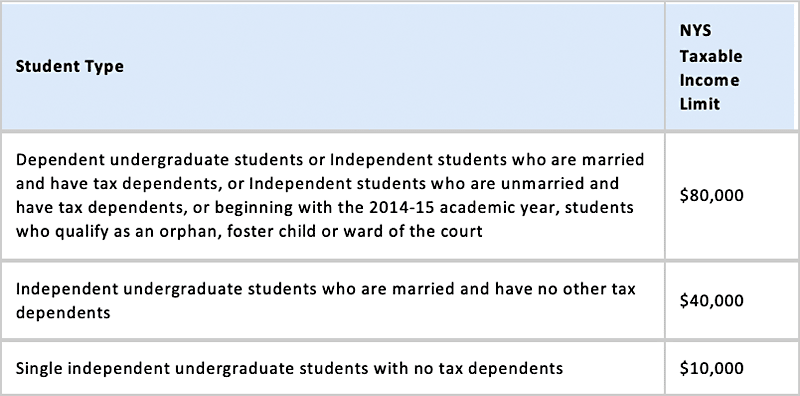 HOW TO APPLY
Complete the Free Application for Federal Student Aid (FAFSA) – The easiest way to apply for TAP is through the FAFSA. Make sure you have completed your FAFSA!
New York State (NYS) residents attending NYS schools can link directly to the TAP application from the FAFSA submission confirmation page.
If you exited the FAFSA before completing the TAP application–and you filled in your New York State address and a New York State college on the FAFSA–HESC will automatically receive your information in about three days. HESC will then send you an email or postcard with directions to complete the TAP application online.
TAP AWARD AMOUNTS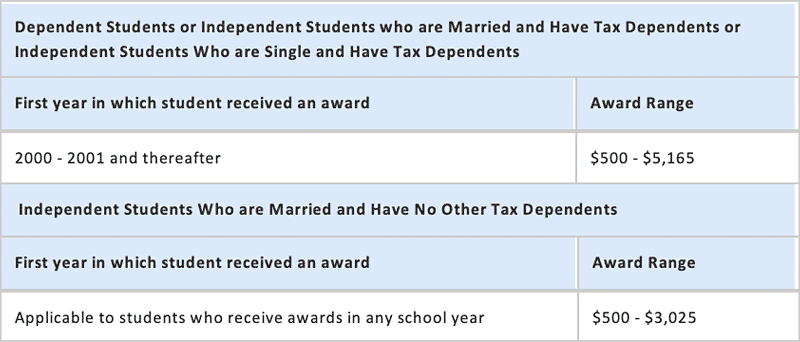 NEW YORK STATE DREAM ACT ELIGIBILITY REQUIREMENTS
Your permanent home is in NYS and you are or have ONE of the following:

Temporary protected status, pursuant to the Federal Immigration Act of 1990
Without lawful immigration status (including those with DACA status)
AND you meet ONE of the following criteria:

You attended a NYS high school for two or more years, graduated from a NYS high school, and are applying for an award for undergraduate study at a NYS college within five years of receiving your NYS high school diploma OR
You attended a NYS high school for two or more years, graduated from a NYS high school, and are applying for an award for graduate study at a NYS college within ten years of receiving your NYS high school diploma OR
You received a NYS high school equivalency diploma, and are applying for an award for undergraduate study at a NYS college within five years of receiving your NYS high school equivalency diploma OR
You received a NYS high school equivalency diploma, and are applying for an award for graduate study at a NYS college within ten years of receiving your NYS high school equivalency diploma

Your permanent home is outside of NYS and you are or have ONE of the following:

US citizen
Permanent lawful resident
Of a class of refugees paroled by the Attorney General under his or her parole authority pertaining to the admission of aliens to the U.S.
Temporary protected status, pursuant to the Federal Immigration Act of 1990
Without lawful immigration status (including those with DACA status)
AND you meet ONE of the following criteria:

You attended a NYS high school for two or more years, graduated from a NYS high school, and are applying for an award for undergraduate study at a NYS college within five years of receiving your NYS high school diploma OR

You attended a NYS high school for two or more years, graduated from a NYS high school, and are applying for an award for graduate study at a

NYS college within ten years of receiving your NYS high school diploma OR
You received a NYS high school equivalency diploma, and are applying for an award for undergraduate study at a NYS college within five years of receiving your NYS high school equivalency diploma OR
You received a NYS high school equivalency diploma, and are applying for an award for graduate study at a NYS college within ten years of receiving your NYS high school equivalency diploma

You study at an approved postsecondary institution in New York State
You are matriculated in an approved program of study and are in good academic standing with at least a "C" average as of the 4th semester payment
You are enrolled as a full-time student taking twelve or more credits* applicable each term toward your degree program
You are charged at least $200 tuition per year
You meet the income eligibility limits
You are not in default on any state or federal student loans or in default on any repayment of State awards
You are in compliance with the terms of any service condition imposed by a NYS award
* Credit-bearing courses in the student's minimum full-time course load (12 semester hours or the education requirement, major requirement, or elective)