The Academy of Motion Picture Arts and Sciences have announced the nominees for the 91st annual Academy Awards, to be given out during ABC's televised ceremony on Sunday, February 24. New York Film Academy (NYFA) is incredibly proud that two of the nominees, Free Solo and RBG, were worked on by faculty members of our Documentary Filmmaking school.

The Oscars will cap off a months-long awards season featuring industry veterans, newcomers, and as always, endless debates about who deserves to go home with the golden statue.
New York Film Academy takes a closer look at this year's Academy Award nominees for Best Documentary Feature: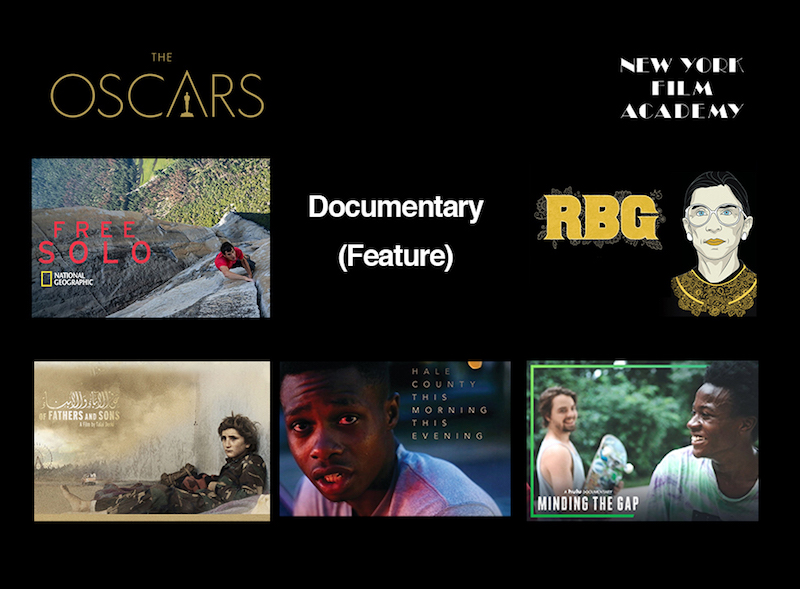 Free Solo
Free Solo profiles Alex Honnold as he attempts to free solo climb, without the aid of ropes, El Capitan. The film has already won several top awards, including the BAFTA for Best Documentary, and was edited by NYFA instructor Bob Eisenhardt and directed by Elizabeth Chai Vasarhelyi and Jimmy Chin. This is the first Oscar nomination for Vasarhelyi and Chin, who also directed climbing doc Meru. Vasarhelyi also directed the documentaries A Normal Life, Touba, and Incorruptible, among others.

Hale County This Morning, This Evening
Hale County This Morning, This Evening won the Documentary Special Jury Award for Creative Vision at Sundance and documents the citizens of Hale County in Alabama's Black Belt. The film has already been nominated for and won several awards, including Best Documentary at the Gotham Awards. Ross has worked as a cinematographer, producer, and editor, all positions he served on Hale County. This is his first Academy Award nomination.
Minding the Gap
Minding the Gap showcases three young skateboarders in Rockford, Illinois and won the US Documentary Special Jury Award for Breakthrough Filmmaking at the Sundance Film Festival. This was the directorial debut of Bing Liu, who worked a cinematographer on the short films Collinsville, Mistress, and What We Talk About When We Talk About Zombies, and crewed on Hollywood blockbusters like Jupiter Ascending, Divergent, and Transcendence, as well as television shows Shameless, Sirens, and The Girlfriend Experience.
Of Fathers and Sons
Director Talal Derki risked his own safety and life to document radical jihadism and terrorist training camps in the midst of the Syrian Civil War, following the Osama family—a father and two sons—as they dig deeper into their beliefs and face the consequences that ensue. The film won the World Cinema Documentary Grand Jury Prize at Sundance, among other accolades. Derki previously shot and directed the documentary The Return to Homs. This is his first Oscar nomination.
RBG
Supreme Court Justice Ruth Bader Ginsburg is profiled in the wildly popular and successful documentary, RBG. The film was shot by cinematographer and NYFA instructor Claudia Racshke and directed by Julie Cohen and Betsy West. This is the directorial debut of West, who previously produced films such as Whiz Kids, Constantine's Sword, The 4%: Film's Gender Problem, and The Lavender Scare. Cohen has produced for Dateline NBC and directed the documentaries The Unforgettable Hampton Family, A Joyous Sound, The Sturgeon Queens, and American Veteran, among others. This is the first Oscar nomination for both.
Check out the New York Film Academy Blog after this year's ceremony for a full list of the 2019 Oscar winners and losers!
by nyfa