This past weekend, Paul Feig's remake of the 1984 supernatural comedy, Ghostbusters (Ivan Reitman), is hitting theatres. Unlike the original film, which starred Bill Murray, Dan Aykroyd, Ernie Hudson, and Harold Ramis, the 2016 version has cast four women – Kristen Wiig, Leslie Jones, Melissa McCarthy, and Kate McKinnon – in the leading roles.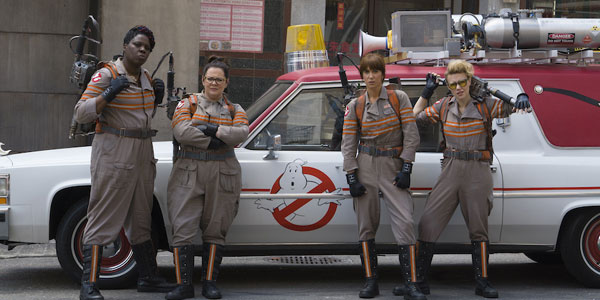 At New York Film Academy, we love to see women taking charge, amassing recognition for their talent, and spearheading the way for our students and future actors. However, movies dominated by female stars are fairly new to the industry. This variety of film is often critiqued for its tendency to appeal more to female viewers and to deal with issues that are specific to women. To this, we say: sorry, but we've been deprived. Bring on the ladies!
A League of Their Own (Penny Marshall, 1992)
Yes, Tom Hanks was one of the major characters in this film, but the rest of the cast were almost entirely female. We're talking Rosie O'Donnell, Lori Petty, Geena Davis, Madonna, and the list goes on. The actresses blended a humorous sensibility with moments of strength and compassion to create onscreen chemistry and an emotional, inspiring viewing experience. Plus, women breaking into a strictly male industry – like baseball – and taking it by storm? That's how it's done.
Whip It (Drew Barrymore, 2009)
Start with an established actress like Drew Barrymore, deciding she wants to direct a movie for the first time. Add a cast of incredible women, including Ellen Page, Kristen Wiig, Juliette Lewis, and Alia Shawkat. You get Whip It, the comedy-drama about roller derby, adolescence, expectations, and independence. The sometimes silly, sometimes powerful film truly understands what it's like to be a teenager, trying to fit in and simultaneously trying to separate from the artifacts of childhood and immaturity.
Bridesmaids (Paul Feig, 2011)
Like Ghostbusters, Bridesmaids was directed by Paul Feig, and it stars several of the same actresses. The now-iconic comedy possesses a unique ability to make you cringe with its raunchy humor and simultaneously give you all the feels. When the film became a sensation back in 2011, it was hard not to adore Bridesmaids' girl gang full of comedy veterans and upcoming stars.
Sisterhood of the Traveling Pants (Ken Kwapis, 2005)
The Sisterhood of the Traveling Pants
This beloved teen-drama chick flick is all about the bonds of friendship. Lined with subplots that explore romance, family conflict, the pursuit of identity, and the difficulties of change, Sisterhood of the Traveling Pants is based on a single, magical premise: a pair of jeans acquired by chance are somehow able to fit and flatter the very different body types of four best friends, played by Blake Lively, America Ferrera, Alexis Bledel, and Amber Tamblyn.
The Help (Tate Taylor, 2011)
https://youtu.be/UVTMkINRChk
The Help
Based on an award winning book penned by a female author, The Help delves into the experiences of women residing in a small, insular, Mississippi community, afflicted with racism and scandal. The film stars Emma Stone as a young woman who returns home from college with dreams of becoming a writer. She gives the disenfranchised women in her town an opportunity to speak and be heard, liberating them from the agony of silence.
онлайн кредит на киви кошелёк
zaymibistroru
займ на киви кошелек без отказов мгновенно
кредит срочно на карту без отказа
zaymibistroru
экспресс займ онлайн заявка
by nyfa