While a lot of movies seem ripe for adapting to Broadway–like Frozen, Kinky Boots, and Once–many people were surprised when it was announced Tim Burton's 1988 dark afterlife comedy Beetlejuice would be turned into a big-budget musical.

Beetlejuice the film is a cult classic starring Michael Keaton, Winona Ryder, Alec Baldwin, Geena Davis, and Katherine O'Hara. The movie follows a recently deceased couple, Adam (Baldwin) and Barbara (Davis), who are conflicted by the arrival of a posh family that has purchased their home. They go to a ghost named Beetlejuice (Keaton) to help them get rid of the family and their daughter (Ryder).
Unfortunately, Beetlejuice (don't say his name three times!) is unpredictable and untrustworthy. The film, which is campy, imaginative, and even features a musical number, is still beloved by Burton fans.
Beetlejuice: The Musical: 7 Reasons to See It
Beetlejuice: The Musical was an unexpected adaptation from screen to stage, but it proved to be a great concept. The dark humor and eccentric characters of Tim Burton's 1988 film were brought to life on Broadway, offering audiences a unique and entertaining experience. The show garnered eight Tony nominations and earned widespread acclaim. 
With memorable songs, impressive set designs, and standout performances, Beetlejuice: The Musical is a must-see production that should not be missed. While it's no longer on Broadway, the show is now touring! 
Here are seven reasons why every Burton fan should see it:
The creepy story
Fans of the film are well aware of the story, but it's not one you'd normally see on the stage. The musical follows the same plot: a lonely teenage girl befriends the ghosts of a married couple after her family moves into their home. Scott Brown and Anthony King deserve their Tony nominations for Best Book of a Musical.
It is wickedly cast
Tony nominee and Broadway veteran Alex Brightman (School of Rock, Wicked, Matilda the Musical) was the perfect choice for the fast-talking wild card ghoul Beetlejuice. It wasn't his first time in a Tim Burton adaptation–in 2013, he also performed in the musical adaptation of Big Fish. The stellar Broadway cast of Beetlejuice was rounded out by Anne Caruso (Blackbird), Kerry Butler (Les Miserables, Mean Girls) as Barbara, and Rob McClure (Avenue Q, Something Rotten) as Adam.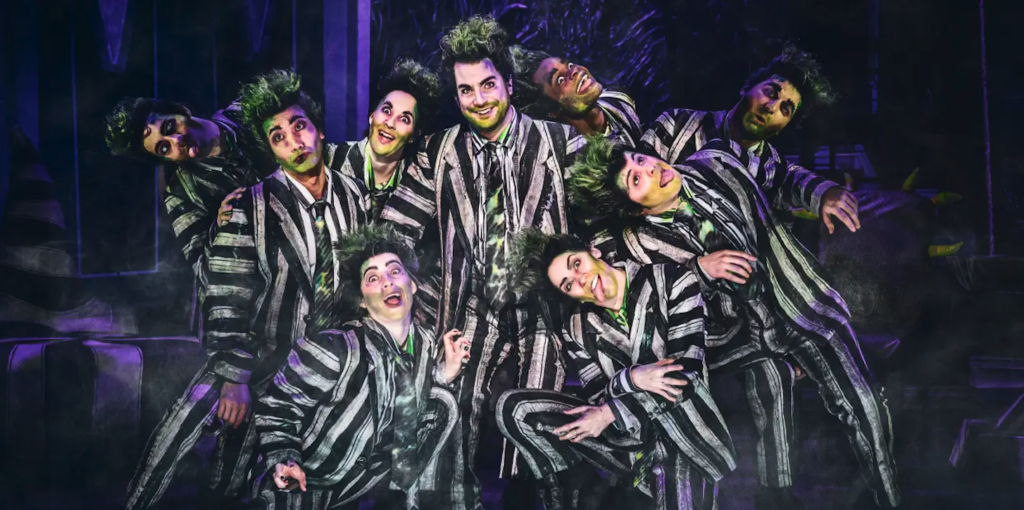 The touring production cast includes Justin Collette as Beetlejuice, Isabella Esler as Lydia Deetz, Will Burton as Adam Maitland, and Britney Coleman as Barbara Maitland. NYFA Musical Theatre alum CorBen Williams also joined the ensemble of the show's touring production, adding to the cast of zany characters. Williams has additional credits in Cinderella, The Music Man, Sister Act, Beauty & The Beast, and more.
There are visual effects, projections, and puppetry
Awarded for Best Makeup at the Oscars in 1989, this visionary show lives up to the original film's Hollywood special effects. Tony nominations for Best Lighting Design, Sound Design, and Scenic Design should tell you that you'll be in for a treat when seeing the various magical moments offered by this blockbuster musical.
New and familiar tunes
A musical isn't worth seeing if the music isn't great, and the numbers offered by Beetlejuice are fantastic. In addition to new, diverse rock- and pop-based tunes written for the show (Beetlejuice also earned a Tony nomination for Best Original Score), the play also features two classics from the original film–the "Banana Boat Song (Day O)" and Harry Belafonte's "Jump in the Line."
Costumes straight from the film
A six-time Tony nominee for Best Costume Design, William Ivey Long obtains two more nods this year for his brilliant work in Beetlejuice and Tootsie. Original film director Tim Burton built his career on the stunning warped visuals from his own imagination, and Long's wardrobe work evokes a unique style while offering something new to a live theatre audience.
It's devilish fun
Director Alex Timbers (Peter and the Starcatcher, Moulin Rouge) takes a leap with this spectacular show that never takes a break from its silly energy and slapstick physical comedy. Capturing the manic energy of Michael Keaton's original performance and Tim Burton's direction is no small feat, so it's no wonder the show has been Tony-nominated for Best Musical.
The Beetlejuice franchise is expanding
Beetlejuice, which also inspired an animated series, is getting a sequel. Beetlejuice 2 welcomes back Michael Keaton as the title character, as well as Winona Ryder returning as Lydia Deetz, and Catherine O'Hara as her mother. The film will also feature Jenny Ortega of Wednesday as Lydia's daughter. The movie is slated for a Sept 2024 release, so there's plenty of time to check out Beetlejuice: The Musical before you check it out!
Pursue a Future in Musical Theatre at NYFA
As cinephiles, NYFA is thrilled that one of our own has joined the ensemble of this fun, film-inspired musical. For aspiring performers inspired by the success of Williams and our Musical Theatre alum can build and polish their own skills in voice, movement, and performance in one of our many hands-on programs. To learn more, request information today!
by nyfa