New York Film Academy Filmmaking alumnus Jacob Hayek decided to use his NYFA thesis project as an opportunity not only to tackle tough contemporary issues, but also as an opportunity to take the international film festival community by storm.
So far this year, Hayek's film "The Jim Crow Holocaust" received a fantastic collection of accolades from international festivals. The nominations and wins include Best Short Screenplay, Best Rising Star, and Best Ensemble Cast at the Monaco International Film Festival; 2nd Best of the Fest, Best Director, Best Original Score, and Best Actor at Feel the Reel in Glasgow; Best Short Film, Best Short Director, Best Actor, and Best Actress at WIND International Film Festival, Los Angeles; the Golden Palm Award at Mexico International Film Festival; and more at the Transylvania Cinema Awards in Romania, the Philadelphia Independent Film Festival in the U.S., the Bucharest Shortcut Cinefest, and the Sochi International Film Festival in Russia. Whew!
Hayek found time in his busy festival schedule to chat with the NYFA blog about his film and his recipe for success after film school.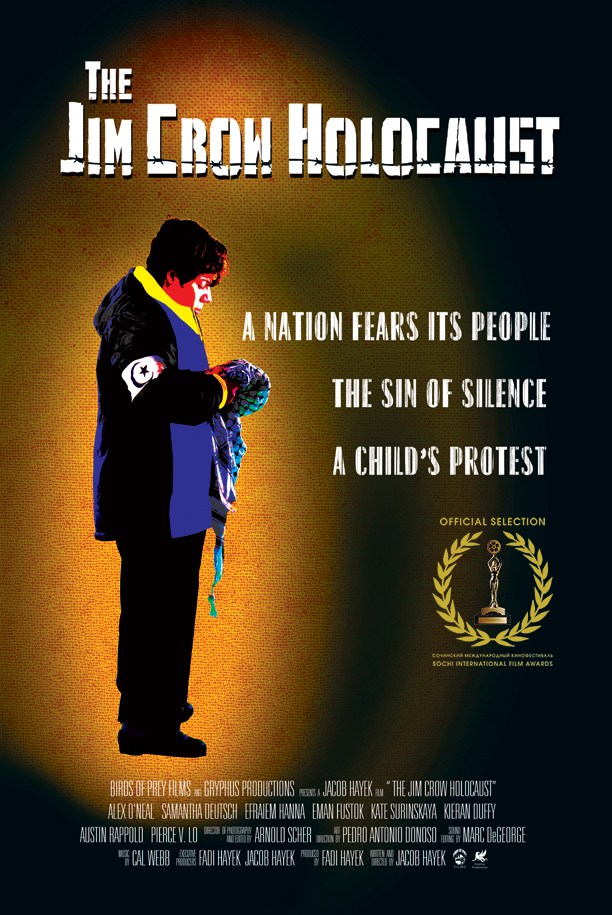 NYFA: First, can you tell us a little bit about your journey and what brought you to NYFA?
JH: Well, believe it or not, the last thing I wanted to be before I chose to become a filmmaker was a professional wrestler. When I graduated high school, I was sort of discovering what I wanted to do with my life. I got a job at McDonald's, which taught me a lot about what I didn't want to do. I was going back and forth between being a pro wrestler and a filmmaker. One day I thought back to my childhood and realized I love telling and creating stories, particularly movies. For fun, I decided to write a short screenplay to see if I was good at making a movie. I absolutely loved the experience, and that's when I decided to become a filmmaker.
I searched for a ton of film schools in the New York area; I thought it'd be a good way to start. What drew me most to NYFA was that it threw you right into filmmaking. Whenever I set my mind to something, and my Dad can confirm this for sure, I'm like a bulldog: When I get my jaws on something, I never let go. I wanted a school that didn't linger on, but made us work under that pressure and realism that you only get on a set. That's what I love about NYFA. It's for those who are really driven and committed to their craft, and who will get the type of education that won't drag on like others. It's shock and awe. Only the best can make it.
NYFA: Why filmmaking?
JH: I love the idea of making an incredible story and bringing it to life for all to see. Making an amazing film requires the most vigorous of research and knowledge. It's one of the best ways to learn.
NYFA: For our current filmmaking students, can you tell us about navigating your transition out of school? Any advice?
JH: My advice to them would have to be, just keep jumping into it. The more experience you gain, the better you become. Make as many connections as you can, make as many movies as you can to master your craft, and yes it's going to kill you knowing this might not be your best work, that you made mistakes that could've been avoided, but never let it get you down. The reason we fall is so we can learn how to get back up. And if your ideas don't scare you, then they're not big enough.
NYFA: What inspired "The Jim Crow Holocaust" and how did you go about bringing this film to life?
JH: It was originally a very short film about a little girl sewing a scarf back together for a little boy who was bullied. I was coming up with ideas for a thesis film before I officially enrolled in NYFA. One day my Mom said to me that I was the product of an Arab and a Jew: My father being Lebanese and my mother being born a Jew. In light of all the recent events happening in the Middle East, it hit me that that's a rare combination today. I decided to make the boy a Syrian Muslim and the girl Jewish. As the election here happened, I added the events of a future with Trump as president and the mass hate encompassing America.
In comparison to many thesis films, mine was beyond ambitious. I co-produced the film with my father. We had actors come from Virginia all the way to Alaska to be in this film. That, and we had to have a ton of extra actors. The one thing that kept this film going was the amazing people who helped us make it, from crew to actors, and the need to create a story about the issues going on today.
NYFA: Your film has inspired an amazing response at film festivals internationally. Can you tell us a bit about that experience, and how you found the right festivals for this film?
JH: It came as quite a shock to be honest. We sent the film to multiple festivals to see where it could go. The very first festival we applied to (Monaco International) nominated us and we ended up winning. From then on, we were on a streak. We were both nominated and won awards in countries like the U.K., Mexico, Romania, Russia, Japan, and here in the U.S.
Don't limit yourself at first, achieve all you can. You'd be surprised the kind of doors that can open for you.
NYFA: Would you say your time at NYFA was at all useful for preparing you for your work on "The Jim Crow Holocaust"?
JH: Yes it was. It taught me just how hard it is to make a movie, and that it shouldn't be taken lightly. I learned that you need to know the rules and the reasons for them if you're ever going think outside of them.
NYFA: What is next for "The Jim Crow Holocaust"?
JH: Because of the amazing reception the film has received, we've decided to turn it into a feature film. We're going to take our time, do everything right, and create a film for the whole world to see. The screenplay is complete and we're getting ready to pitch it to studios.
NYFA: Are there any other projects you are currently working on that you'd like to tell us about?
JH: In addition to "The Jim Crow Holocaust," I'm currently writing a short screenplay for Director/Cinematographer Earl Stepp of "Isomnija." I'm also writing a few screenplays for other future projects, as wells as video promotions for well known companies and their products. My father and I started a production company together called Birds of Prey Films, and we intend to make it the best there is.
Interested in learning the art of filmmaking? Check out the hands-on programs the New York Film Academy has to offer here!
екапуста займ онлайн на карту
zaymibistroru
займ на киви кошелек мгновенно
займ на киви кошелек без отказа
zaymibistroru
займы онлайн на карту без проверок срочно
by nyfa