Stare too long at NYFA alum Aubrey Plaza, and you can't help but feel a little disturbed. It's not that there's anything outward about her appearance that would do it, just the sense that she is, in a way, always shifting, never fully in focus – much like the characters she portrays. Plaza is an actress that thrives on chaos, and like a millennial Meryl Streep, she has harnessed the chaos of our modern world to craft roles sometimes comedic, sometimes dramatic, sometimes from another planet – all while deliciously defining what it means to be a "vibe."
Aubrey Plaza Movies and TV Shows: Our Favorites
From her breakout role as April Ludgate on Parks and Recreation to her recent plaudits for Emily the Criminal and The White Lotus, Plaza has built a career out of zigging where anyone else would zag, giving even her smaller roles an unexpected quality that makes them instantly memorable. With an upcoming role in the series Agatha: Coven of Chaos, her star is likely to shine even brighter as she joins the Marvel Cinematic Universe.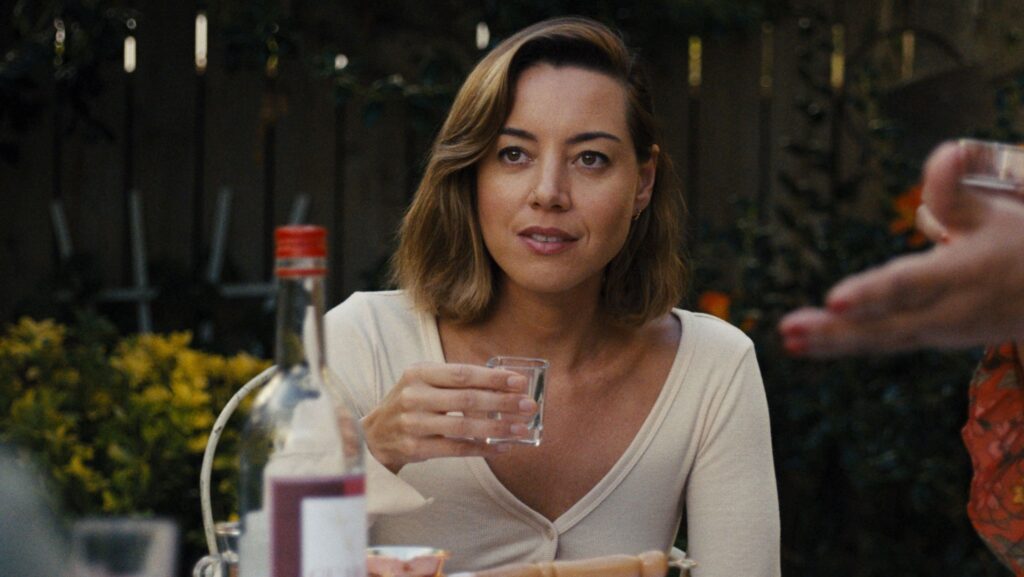 Whether playing a foul-mouthed barista, a lovelorn zombie, or an obsessive social media fan, Plaza brings it every single time. Here we take a look at ten performances that punctuate a career that is the perfect balance of raw talent and unpredictability.
Parks and Recreation (2009 – 2015)
Plaza's first big splash was as the sardonic April Ludgate on the beloved comedy Parks and Recreation, where her just-left-of-kilter attitude and withering insults made her a perfect counterpoint to Leslie Knope's sunny disposition and Andy Dwyer's moronic earnestness. By the end of the series, Plaza had morphed April into an extension of every young person who struggles to find their passion and purpose in life, bringing depth to the character without ever losing the wry personality that made her so instantly iconic in the first place.
Scott Pilgrim vs. The World (2010)
In the psychedelic video-game environment of Edgar Wright's comic adaptation Scott Pilgrim vs. The World, where superpowered vegans fight with bass guitars and anime twins generate giant dragons out of sound, it might be hard to stand out. However, Plaza's Julie Powers makes an instant impression when she shows up to accost Scott at a coffee shop with every curse word covered by a black bar over her mouth and a loud honk. It isn't the largest role, but Plaza puts everything she has into every withering look Julie throws Scott's way, making her a memorable part of a movie chock-full of outsized characters.
Life After Beth (2014)
If a loved one became a zombie but still said they loved you, would you be able to shoot them in the head? That question forms the silly core of the zombie rom-com Life After Beth, which finds Plaza playing the titular character who succumbs to a snakebite and reanimates into a slowly decaying walking dead. Her boyfriend Zach seems to think that this is no impediment to their relationship, and even as Plaza amps up Beth's slow transformation into a full-fledged walker, he maintains his optimism. The comedy itself is a little hit-and-miss, but Plaza's commitment to Beth's metamorphosis is a must-watch.
The Happiest Season (2020)
In Clea Duvall's queer romance The Happiest Season, Plaza pulls off one of the most difficult and fiendish tricks in cinema – upstaging the main character. The film follows Kristen Stewart's Abby and her girlfriend, Mackenzie Davis' Harper, as they visit Harper's family for the holidays. But Harper isn't out to her family, and Abby is forced to pretend they aren't together. Plaza's Riley – an ex of Harper's who went through a similarly difficult situation – becomes a needed sounding board and shoulder, and Plaza brings such warmth and wisdom to the character that there was quite an outcry when Abby didn't wind up with Riley by the time the film was over. It's a credit to Plaza's abilities that she created such a compelling character well beyond what was in the script.
Black Bear (2020)
Lawrence Michael Levine's Black Bear isn't an easy film to describe, as it's two narratives – one real, one imagined – all taking place at the same time, with Plaza's Allison the broken linchpin holding it all together. Plaza shifts from femme fatale to emotionally broken mess to vivid dreamer, putting on a masterclass in chameleonic transformations.
As the film plumbs the depths to which we sink to make art, Plaza plays with a darkness missing from many of her other roles, creating her own mesmerizing art in the process.
Legion (2017-2019)
Anyone who watched Noah Hawley's Legion, loosely based on Marvel's X-Men comics, could be forgiven for wondering exactly what the hell was going on – and a lot of that confusion would center around Plaza's Lenny. As the close confidant of Dan Stevens' David Haller, Lenny appears in reality and in his mindscape in a host of different forms, eventually even serving as a host for Amahl Farouk, the vicious Shadow King. Plaza is essentially playing several roles at once, bringing a different texture to each character, making the only thing certain in this twisty televised tale the brilliance of her performance.
Safety Not Guaranteed (2012)
Between Parks and Recreation and Scott Pilgrim, Plaza had established herself as a reliable dose of deadpan snark that would fit in almost any comedy. Colin Trevorrow's Safety Not Guaranteed was the film that proved Plaza wasn't just a supporting player but a star in her own right. Her magazine intern Darius is tasked with getting to know Mark Duplass' possibly-crazy time-traveler Kenneth, and while their early interactions are reminiscent of what we expect from April Ludgate, her growing warmth and excitement over the course of the film are infectious.
Ingrid Goes West (2017)
Plaza does double-duty on Marc Spicer's Ingrid Goes West, producing the film as well as portraying the title character, a troubled woman who goes from chasing the dopamine high of engagement on social media to literally chasing an influencer across the country to become her friend in person. In Ingrid, Plaza plays awkwardness personified, extracting uncomfortable comedic beats from the script but never losing sight of the fact this is a woman suffering from a borderline personality disorder. It's a tour de force in front of and behind the camera.
The White Lotus (2022)
Mike White's The White Lotus anthology series follows the lives of the ultra-rich while on holiday, and the second season featured Plaza as Harper, wife of Will Sharpe's Ethan, together a nouveau riche navigating a disappointing and fumbling marriage as they vacation with friends. Once again, in a show built as an ensemble, Plaza finds her way to being a standout, and her character's actions left audiences talking long after the season finale. But it's the story of her and co-star Meghann Fahy getting lost on a hike while high on mushrooms that personifies the chaotic art Plaza brings to every set. The show is by far, one of the best in our curated list of Aubrey Plaza movies and tv shows.
Emily the Criminal (2022)
An early poster for John Patton Ford's Emily the Criminal set the internet ablaze with a rumor that Plaza was playing Lara Croft – and after seeing her performance in this gritty crime thriller, it'd be easy to see her raiding a few tombs. The eponymous Emily is a young woman trying to deal with crushing debt but unable to get a job who turns to a life of crime to pay off her art-school loans. It's crime-drama-as-millennial-fever-dream, with Plaza anchoring the twists and turns with a tangible realism relatable to anyone who's ever panicked over how the next bill was getting paid.
Polish Your Acting Skills at NYFA
Want to develop your unique and memorable characters? NYFA offers a variety of short-term and long-term programs in Acting for Film that can help you achieve your goals. Our acting students gain invaluable hands-on experience by acting in their classmates' films and creating their own content, providing them with a comprehensive and practical hands-on education. Request more information today!
by nyfa