For many film fans and aspiring filmmakers, their first exposure to the varied and historic streets and sights of New York City is on screen in the many movies and TV shows that have filmed throughout the city. Comprised of five boroughs, NYC offers endless possibilities for filmmakers to find both unique and iconic settings where to film. Before filming, it recommended that you learn about NYC's permit requirements. Below we culled together a list of some of the most legendary locations in the city.
SoHo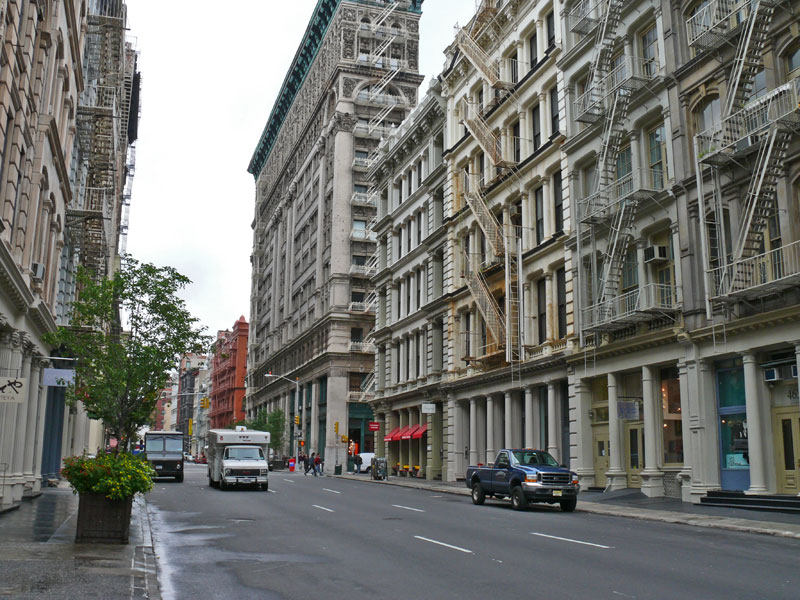 With boundaries set off by Houston Street, West Broadway, Canal Street and Crosby Street, SoHo—which stands for South of Houston—is identifiable by the intricate cast-iron architecture of many of its buildings, which were largely erected in the late 19th century. It is also noted for its cobblestone streets paved with Belgian blocks.
SoHo gained prominence in the 1960s and 70s when the cheap locations that had been previously occupied by factories were refashioned by artists, creating affordable lofts and studios. Through the 1980s, SoHo remained a haven for artists as the cost of living was extremely low, but like many other areas in the city, during the decade, as more and more prosperous tenants were drawn to the area's bohemian aura, there began a gradual exodus by the area's artists that reached its climax during the 1990s.
Over the past two decades, SoHo has lost much of its gritty aura as it has been transformed into one of the city's primary shopping areas, making it a popular attraction for tourists. Nonetheless, once visitors get off Broadway, the area still offers quieter and less commercialized side streets that filmmakers can use to capture a particular old-school New York feel, one perfectly caught in the film Basquiat which was filmed in SoHo.
Union Square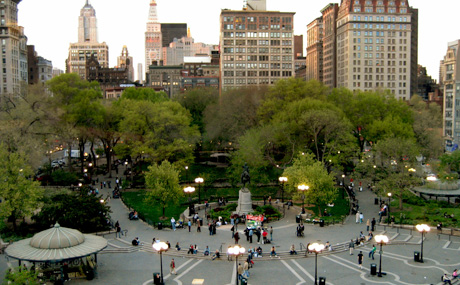 A hub for public transportation, shopping and dining, and people watching, Union Square serves as a gateway both to downtown NYC and the rest of the city, as residents can access the 4, 5, 6, L, N, Q, and R trains. Not only does the area boast a gorgeous public park ideal for filming, but the area serves as a gateway to a number of neighboring areas that are equally stunning, including the Flatiron District, Chelsea, Greenwich Village, and Gramercy.
Union Square is the site of many NYFA student projects alongside numerous television shows that film there due to the heavy and diverse flow of people. It has been seen in such classic films as Citizen Kane and The Taking of Pelham One Two Three.
Tribeca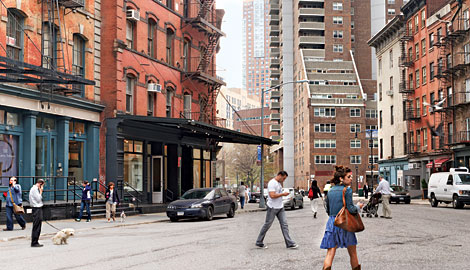 Tribeca is a fashionable, trendy residential neighborhood with a highly affluent population. Many of the streets are lined with boutique shops and high-end restaurants such as Nobu, Chanterelle and Bouley. Tribeca is also home to the Tribeca Film Festival. The neighborhood is a frequent filming location for movies, including the 1984 hit movie Ghostbusters, which took place in a Tribeca firehouse.
Times Square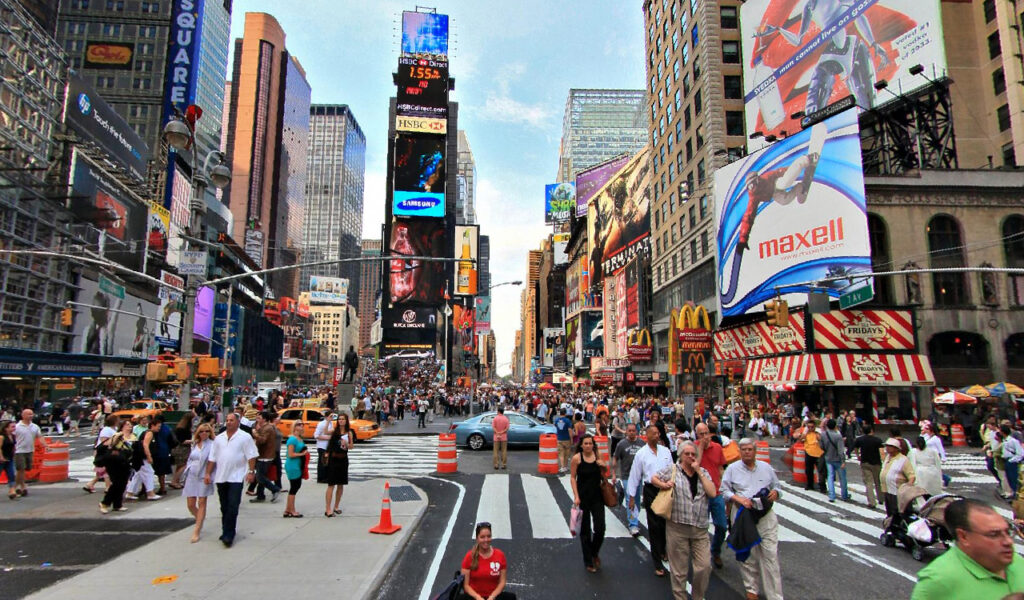 The setting for countless independent and Hollywood movies, Time Square has served as something of a cultural and economic barometer regarding the changes Manhattan has undergone. Located at the meeting point of Broadway and Seventh Avenue and extending from West 42nd to West 47th streets, Times Square is often the first image one calls to mind when thinking of New York City, which makes it no surprise that is one of the most visited tourist attractions in the world.
Once considered to be the worst area of the city due to crime and prostitution—as exemplified in the 1969 film Midnight Cowboy—Times Square underwent a commercial renaissance during the Giuliani administration with the closing of the majority of pornographic theatres and bringing in such international brands as Disney to open up flagship stores. Now primarily a tourist attraction and commercial district, Times Square still offers countless opportunities for filmmakers looking to capture the bright lights and bustle of New York City.
Chinatown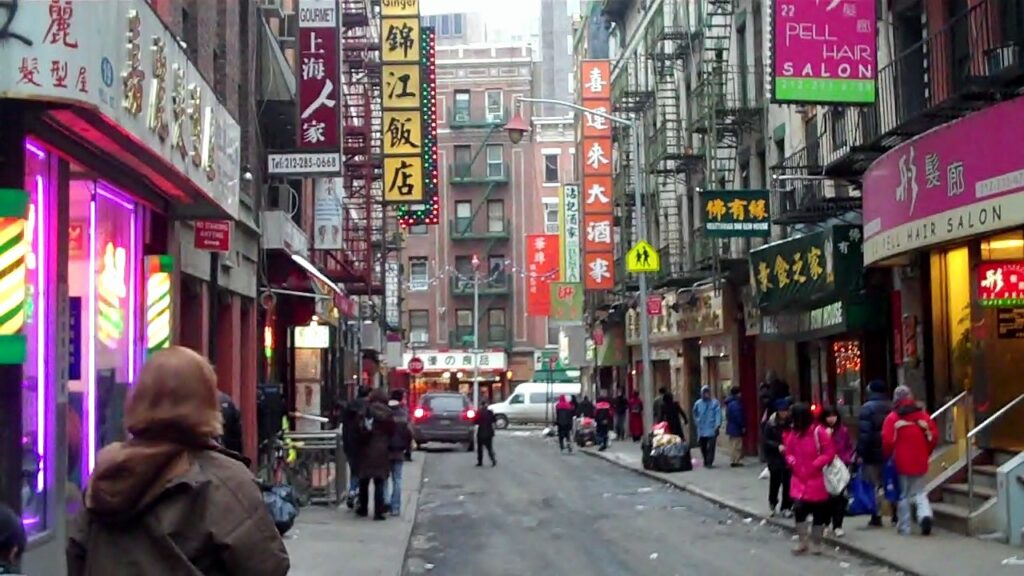 Boasting the largest concentration of Chinese people in the Western Hemisphere, Chinatown can be found in Manhattan with the Lower East Side and Little Italy serving as its borders. Cantonese businessman Ah Ken was the first Chinese individual to immigrate to Chinatown in the 1840s, but the area soon exploded as a wave of Chine immigrants were drawn to the area following increased racial discrimination on the West Coast.
Today, the area is home to between 90,000 and 100,000 Chinese residents and is a mecca for both tourists and aficionados of Chinese culture who can explore the area's seemingly countless grocers, restaurants, and street vendors. With an atmosphere and energy that can cause one to momentarily forget that he or she is even in New York, Chinatown is an ideal filming location whether one is looking to create a facsimile of China itself or capture a wholly singular pace and culture.
East Village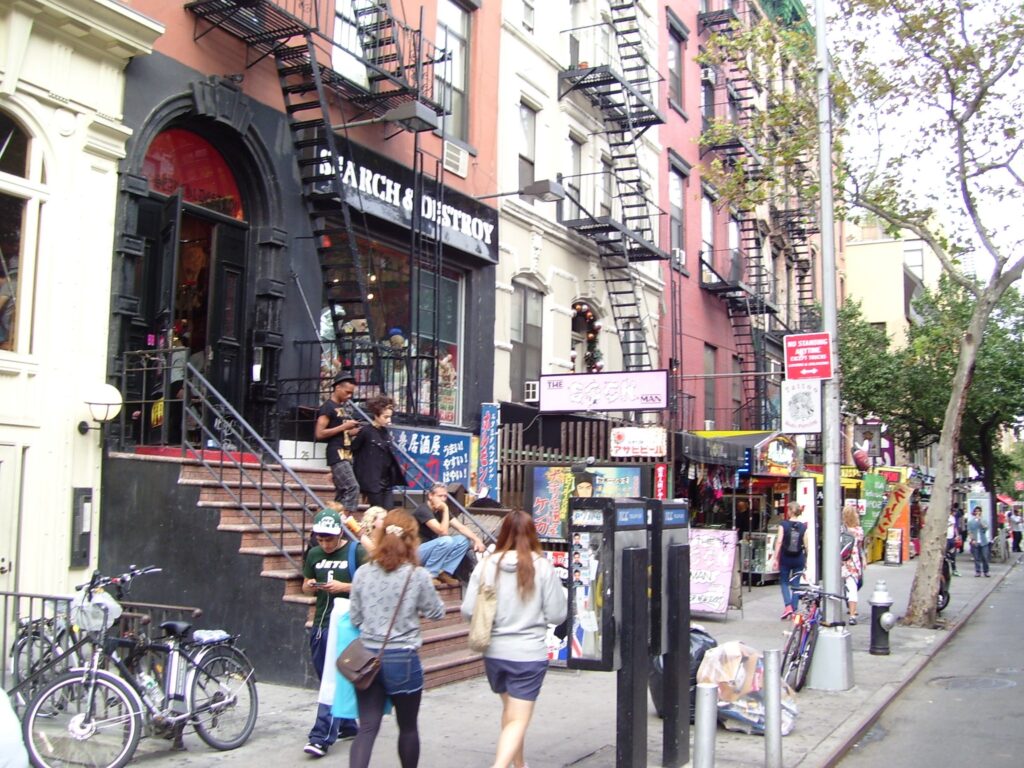 Surrounded by Greenwich Village, Gramercy Park, and Stuyvesant Town, the East Village first came to prominence in the late 1960s when artists, musicians, students, and hippies gravitated to the area for its cheap rent and Beatnik culture. While recent years has seen increasing rent and gentrification diluting the diverse and vibrant culture, it remains a lively area where New York University students call home and such legendary steets as St. Marks Place retain their counter-cultural vibe—though the transformation of legendary punk rock club CBGB's into a retail store did mark a substantial change in the area's vibe.
While many of the area's former artistic residents have made the migration to cheaper neighborhoods in Brookyln, the East Village retains an ineffable bohemian character, even in light of the many changes the neighborhood has experienced. A boon for filmmakers, many of the area's original buildings have been retained, creating a character that filmmakers looking for a "real" New York City neighborhood are eager to film in. Just ask Spike Lee who shot his 1970s period piece Son of Sam in the neighborhood in 1998; viewers of the movie would think that nothing has changed since the 1970s due to its classic architecture and independent spirit.
Coney Island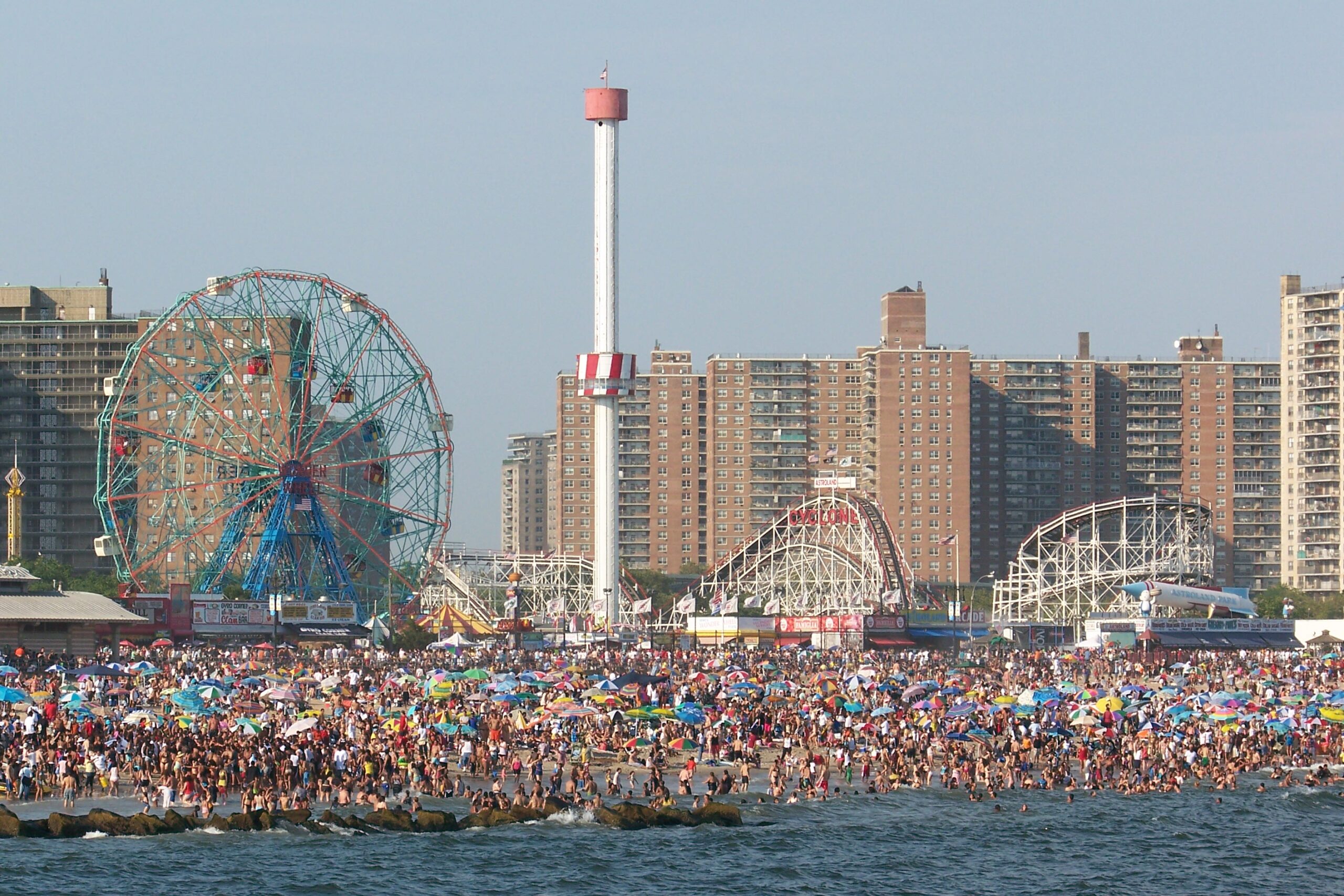 A peninsula located in southern Brooklyn, Coney Island is located adjacent to the Atlantic Ocean and sports a storied history that makes it a true one-of-a-kind locale, even by New York standard. As Coney Island became easy to reach, the area transformed into a resort destination following the American Civil War, with the first of the peninsula's iconic carousels constructed in 1876. In 1927, the Cyclone roller coaster was built and still remains one of the country's oldest wooden roller coasters.
Over the next century, Coney Island became a flashpoint for disagreements over whether to keep the area like a park or build up the growing residential and commercial properties, arguably culminating in Mayor Guiliani's ordering that the legendary Thunderbolt roller coast be torn down in 1994. In the past decade, the peninsula has undergone a fresh round of funding and development, with the area's substantial history of amusement parks being revived as Luna Park.
With so much going on in Coney Island, especially during the summer, it is an ideal location for shooting films with such legendary events as The Mermaid Parade making for the perfect backdrop for a scene. It's little surprise that such legendary New York movies like Paper Moon, Annie Hall, and The Warriors have used Coney Island as their backdrop.
Harlem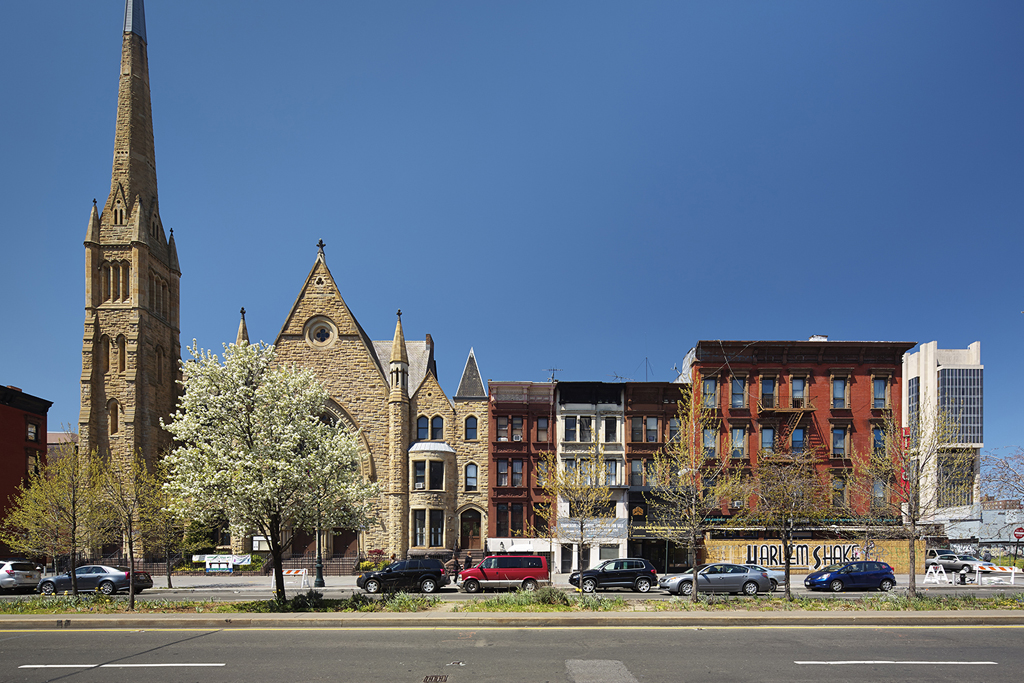 Located in the northern part of Manhattan—"Across 110th St." anyone?—Harlem has traditionally been viewed as a culturally rich African-American nexus. However, Spanish Harlem located on the east side of the neighborhood is also home to a prodigious Latin American population and culture.
Beginning in the 1920s, the area was home to what is known as the "Harlem Renaissance" in which its African-American residents were responsible for remarkable achievements in music, literature, theatre, and more. Such landmarks include the Apollo Theater, the Cotton Club, Sylvia's Soul Food, Frederick Douglass Circle, and much more. In the 1980s, the area underwent another renaissance due to the invaluable contributions its residents made to the development of hip-hop.
With such a diverse cultural and architectural background, it's no surprise that numerous filmmakers have set such class films as Cotton Comes to Harlem, Malcolm X, and Sugar Hill there. Harlem offers countless sights and pockets where filmmakers will undoubtedly find inspiration.
The Hamptons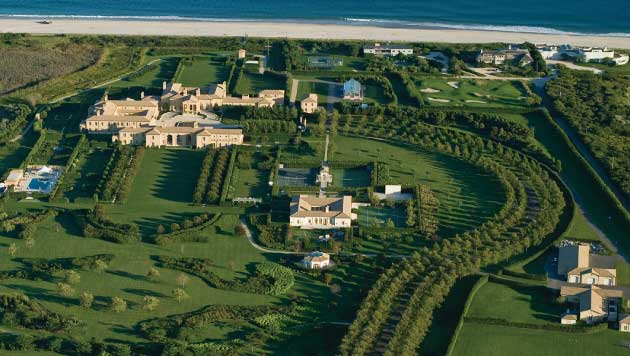 Composed of a number of villages and hamlets throughout the towns of Southampton and East Hampton, the Hamptons are located on the far east of Long Island. Known in popular culture as weekend seaside vacation spot for wealthy New Yorkers, the Hamptons is also noted for its stunning real estate, rolling countryside, and breathtaking bridges.
For filmmakers looking to make the trek out to scout locations, they should take the Montauk Branch of the Long Island Rail Road from New York City. Films that have been filmed in the Hamptons include the classic documentary Grey Gardens, Woody Allen's Interiors, Eternal Sunshine of the Spotless Mind, and The Nanny Diaries.
Meatpacking District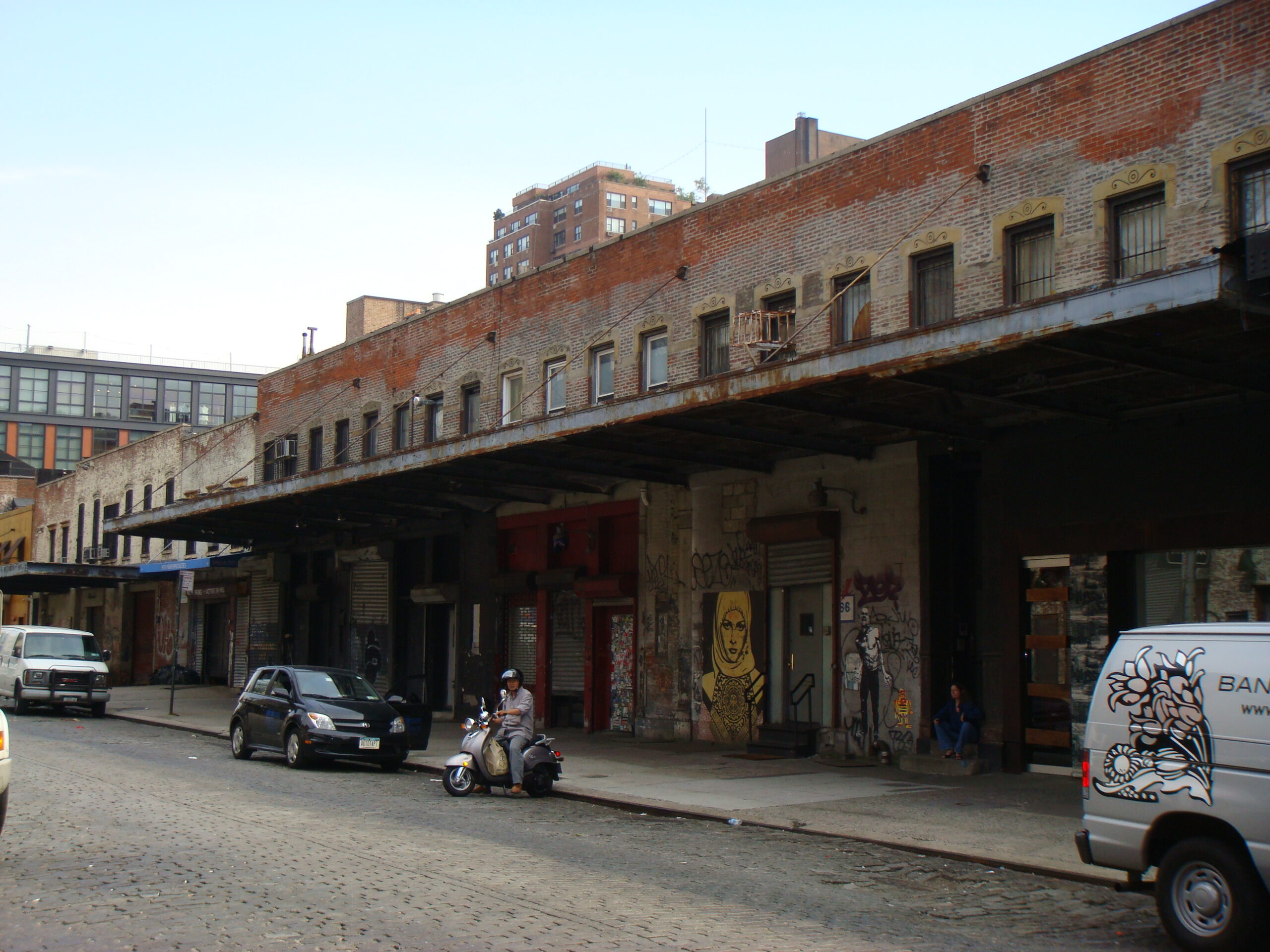 Known to many TV fans due to its recurring role in Sex and the City, this area of Manhattan runs from West 14th Street down to Gansevoort Street and from the Hudson River east over to Hudson Street. Originally the location of Fort Gansevoort, the Meatpacking District earned its name over the course of the late 19th century as numerous slaughterhouses and packing plants sprouted up, which congealed into an area that remained prosperous until the 1960s.
As many of the slaughterhouses and packing plants closed down or went out of business, the area saw a revival in the 1990s as a number of high-end boutiques popped up around the area. The nightclubs were not far behind and to this day, the Meatpacking District remains a focal point for the city's nightclub scene. With its industrial-chic buildings and vibrant nightlife, the Meatpacking District is an ideal location to capture different slices of New York life during both the day and night.
Brooklyn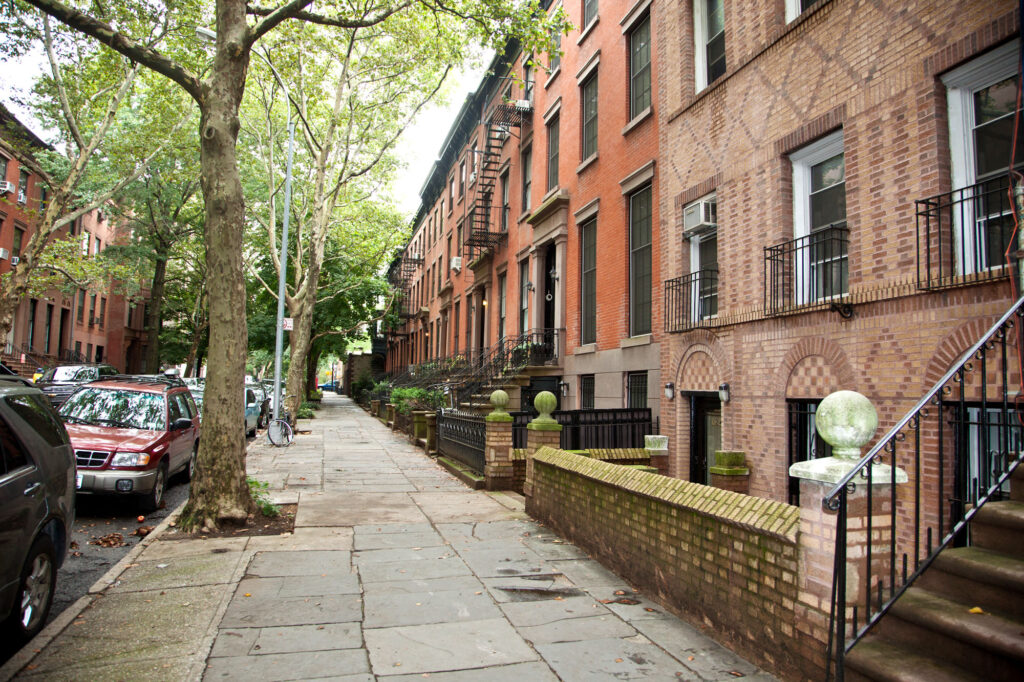 A borough that is as diverse and vibrant as it is sprawling, Brooklyn has received increased attention in the past two decades as its reputation as being a hub for artists and creative professionals has grown considerably. However, as a quick walk through any of the borough's neighborhoods will reveal, history and diversity are alive at every step.
The most populous of NYC's five boroughs, Brooklyn was originally its own incorporated city until it was combined with Manhattan's other surrounding boroughs to form the modern City of New York. Brooklyn is home to dozens of different neighborhoods, many of which are ethnic enclaves, though the racial and cultural make-up of different neighborhoods is constantly in flux. Bedford-Stuyvesant (or Bed-Stuy for short) contains one of the city's most famous African-American communities while in north Brooklyn, Greenpoint has long been home to a vibrant Polish community that has started to migrate to Ridgewood, Queens.
One of Brooklyn's strongest selling points as a film location is the sheer diversity of locations contained within a single borough. Filmmakers looking for an industrial backdrop might want to look at the industrial zone in Bushwick or the Brooklyn Navy Yards, while those looking to film amongst picturesque brownstones have numerous options, with neighborhoods like Park Slope and Cobble Hill being prime examples.
by nyfa