Black and white photography is something that will never go out of style. While the bright colors of contemporary photographs are eye-catching and visually appealing, there's something about looking at a black and white photograph that really allows you to feel connected to the image. Perhaps it has something to do with the distinct lack of color; without having an array of bright colors to focus on, viewers are forced to look deeper into a photograph – into the expression of the subject's face, into the lines and shapes that make up the subject, into the distinct differences between light and shadow. There are plenty of aspects of photographs that go unnoticed when looking at a photograph in color. By reducing it to its black and white state, more is observed.
While all early photographers were forced to shoot in black and white before color film was invented, there are some that were more influential than others. And in a day and age where color photography is everywhere you look, there are still modern-day photographers who appreciate the beauty of a simple black and white photograph and choose to continue its use. Some modern-day photographers are even still photographing with black and white film!
Ansel Adams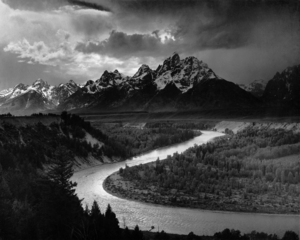 Perhaps one of the most – if not the most – well-known black and white photographers of all time, Ansel Adams is widely known for his large, beautiful, black and white landscapes taken between the 1920s and the 1960s. By choosing to photograph with a large-format camera, Ansel Adams ensured that no detail was left unnoticed. The sharpness, clarity, and perfect tonal range of each of his images show the painstaking measures that were taken in the darkroom to create such beautiful images.
Robert Frank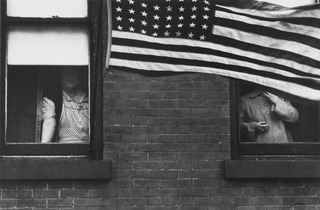 Robert Frank, a black and white photographer born in Zurich in 1924, immigrated to America in 1947. He began his work as a photographer shortly before moving to America, and once there was fascinated with the American culture. Traveling across America for two years, he took almost 30,000 photographs. After narrowing this collection down to under 100 images, his famous book The Americans came to be. This work documenting American culture is interesting because it comes from the eyes of an outsider. Since Robert Frank was not an American himself, he chose to document the aspects of America that he found quirky or unusual – aspects that many Americans of that time wouldn't have thought twice about.
Sally Mann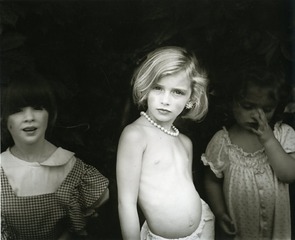 Sally Mann, while controversial, is an incredibly talented photographer. She is most well known for her photographs of her children, controversial because she often photographs them naked, running around the yard in which they grew up. While many will say that these photographs are beautiful portrayals of children in their natural state, many others have accused her of child pornography. She has a photograph of one of her daughters, topless, wearing a pearl necklace and earrings that has caused quite a stir within the photographic community. This photograph blurs the line between the innocent and not so innocent within child photography. Whether you believe her photographs are beautiful works of art or not, it's hard to deny that her tonal range is always perfectly spot on.
Joel Peter Witkin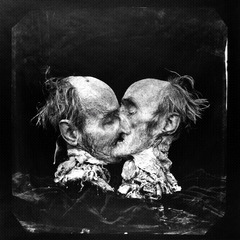 Not for the faint of heart, Joel Peter Witkin creates work that is controversial in a whole different way. Take one look at his work and you'll see what appear to be dead bodies. The photograph above, in which two heads of an old man appear to be kissing each other, is actually the real head of one man, cut directly down the middle and positioned this way. Apologies for those who are squeamish. While his work deals with disturbing subjects such as death and decay, and oddities such as hermaphrodites and dwarves, his use of traditional black and white photography is beautiful, if not shocking. He often uses techniques such as toning his prints by hand or scratching the negative or print to create different effects.
Richard Avedon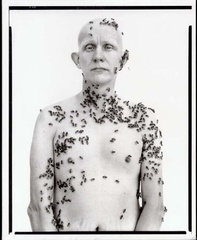 Richard Avedon can be mentioned in regards to many different types of photography – the use of the white background, traditional fashion photography – but overall he is most well known for his exceptional use of black and white. His large-scale portraits are famous due to his attention to detail and ability to bring out an emotion in his subjects that most cannot. The large size and lack of color allow viewers to really gaze into the soul of each and every subject, and see emotions that most photographs these days do not contain.
Have you guys ever experimented with black and white film in the dark room? What about converting digital images to black and white? It can be easy to get wrapped up in the beauty of color images, but it can be interesting to see how the same image changes in mood and meaning by simply removing its color. If you've ever wanted to experiment with black and white film in a dark room, explore our 1-Year Photography program at NYFA today.

by nyfa