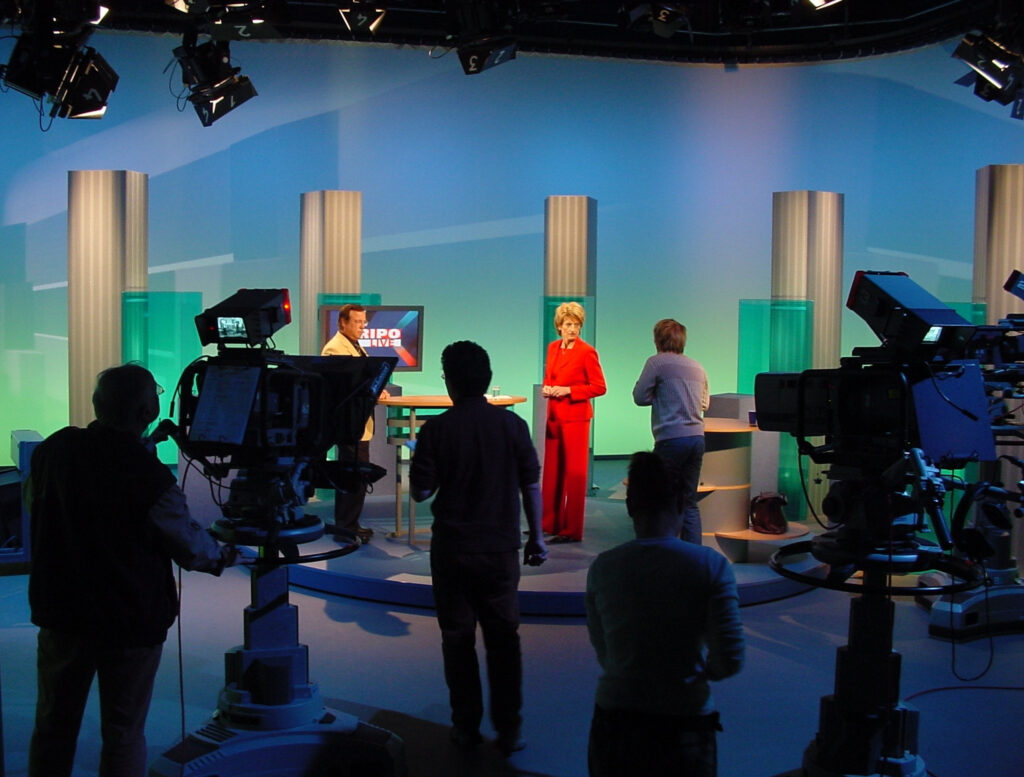 Last week we talked about the pros and cons of on-air careers. While many people want to be in front of the camera, others prefer a behind-the-scenes job. This week we'll discuss working in the control room or studio of a broadcast organization.
Control Room Or Production Jobs
TV and radio stations employ a variety of people to work in technical positions. A Production Assistant position is a classic entry level job. A PA is usually assigned to take care of  the many small, detail-oriented tasks that are essential to a successful program: distributing scripts, tracking down story elements (graphics, footage), and generally assisting the Show Producer in an always hectic production environment. That can mean everything from getting the anchor a bottle of water, to timing a news package and communicating its "out cue" to the director.
Production assistant jobs usually don't have high starting salaries, but they allow you to get your foot in the door and make contacts at a TV or radio station, even if you have no previous experience. For this reason, and because production assistant jobs are often part-time, this is an ideal job for a student studying journalism. It's also good for a recent graduate who is unable to find another job in the field due to inexperience. You'll learn about how a TV station works, and may be able to find a mentor for the job you want to have later. If you're not sure what you want to do, working on a news set can help you figure it out.
Camera Operators run TV studio cameras during live shows. In addition to setting up each shot, they give visual cues to the anchors using hand signals. They take direction from the Technical Director, who gives instructions via headset. Camera operators have to pay attention, even if they have static shots that don't change often—if something goes wrong in the control room, they may be told to make a quick move with the camera to accommodate a sudden change. For example, if a graphic is wrong, you may need to quickly adjust the camera so the anchor is centered, while the director removes the incorrect graphic to the anchor's right or left side.
Audio or Sound Board Operators control the audio during a live broadcast. In addition to the anchors' mics, they also handle the audio for packages, other video, theme music, and live shots. Turning microphones and other sound sources on at the right time and off at the right time are equally important, and you may be doing both almost simultaneously. This job requires good concentration—if you get distracted watching the a package and forget to turn the anchor's mic on after it concludes, viewers are going to see a talking head with no sound. Worse, if you forget to turn off the anchor's mic while the package runs, viewers might hear him asking if his tie is straight over the package audio. Understandably, this position can be stressful and is not for everyone, but some people enjoy the fast pace and the challenge of juggling multiple audio sources.
Graphics Operators create the show's graphics (sometimes called keys, CG, tickers, etc.) and ensure they are available for the director to use at the appropriate time during a live broadcast. This person needs to have good technical skills and specialized training for the type of software the station uses, although some stations will train the right person. Good spelling/grammar skills and attention to detail are also essential.
TV stations used to employ Tape Deck Operators, but most broadcasters have moved to digital video. Usually, one person (whose title may vary from production assistant to digital video coordinator) is assigned to run the computer where all the videos are stored. The videos are put in order of their use during the show with video management software, and the person handling this job ensures the right video is available where and when the director expects to find it.
Often it is the Technical Director who runs the studio cameras from the Control Room. The TD responds to the Director's commands, and puts online the specific studio shots, graphics and footage the Director calls for, using a piece of equipment called a production switcher. This complicated piece of equipment is the interface between literally dozens of video sources and the "on-air feed" that goes out to viewers.
The director job requires someone with the right temperament. If something goes wrong and you start yelling at people or arguing about whose fault it was, you will quickly turn one mistake into a string or mistakes. Fix the problem to the best of your ability, and deal with any disciplinary issues after the show is over. This is also a fast-paced and potentially stressful position, but can be enjoyable for people who like to do something different every day, as no two shows are ever exactly alike.
Some stations also employ Teleprompter Operators to run the prompter while the anchor reads. Again, you have to pay attention and learn to keep pace with how fast he or she reads. Not all stations hire for this position—some require anchors to run their own prompters, while others consider running the prompter a production assistant duty. In some stations, camera operators will take turns running the camera or the prompter.
How To Get Started In A Production Career
Most people start out running either the prompter or a studio camera, or both. If you're not interested in moving to the news department to pursue a producing or reporting career, you may want to continue in the production department.
Assuming you do well running a camera, you may be able to move up to audio or graphics. If you think you'd like to make graphics, you might ask the graphics operator if you can watch him or her prepare the graphics before the show. (Camera operators often have some downtime between shows—just make sure the studio is properly set up before you do anything else.) After several years of experience, audio and graphics operators who have proven they work well under pressure are sometimes promoted to technical director.
If you think a production career might be right for you, the best skill you can cultivate is keeping your cool under pressure. Learn to focus on solving a problem before assigning blame.
It's also important to understand that, as with on-air careers, working in production is not for everyone. Some people find the fast pace and rapid changes too stressful, and that's okay. There are other behind-the-scenes careers in broadcast journalism, which we'll discuss in a later article.
by nyfa