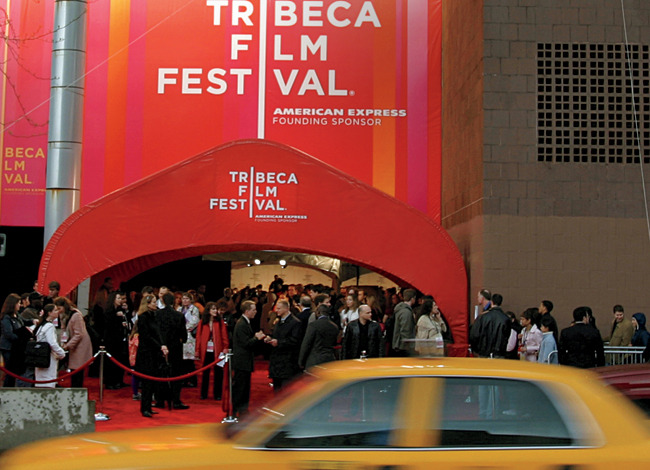 Over the past decade, The Tribeca Film Festival has become one of the most prestigious international film festivals for aspiring filmmakers. It's an honor when we hear about our students' thesis films being accepted into the festival. Given the importance of the festival, we had filmmaker and New York Film Academy Instructor Abraham Heisler speak with Sharon Badal, shorts programmer for the Tribeca Film Festival. Sharon provides insightful advice for students submitting their shorts to TFF. This Q&A is a must read if you're considering submitting to Tribeca or any film festival for that matter.
Abraham Heisler: Thanks for joining us. Would you like to introduce yourself and tell us about your background?
Sharon Badal: Sure. My name is Sharon Badal. I am the head of shorts programming for the Tribeca Film Festival. I have been with the festival since its inception and my job is to program all the shorts for the festival. I am also the director of short film programming and initiatives for Tribeca Enterprises. I am a film school graduate myself, from NYU, and worked in the studio system for 10 years. I did freelance production and actually started with Tribeca in 1999, several years before the festival began. I've also produced different projects for various Tribeca entities, but once the festival started, that became my main area of focus.
AH: Obviously, Tribeca is one of the premiere film festivals, but can you tell us what makes it a unique festival?
SB: I like to think that Tribeca epitomizes the phrase, "There's something for everyone!" because in addition to, obviously our very strong slate of features and shorts, we have our public events like the Family Festival and the drive-in. We have a very diverse Tribeca Panel Series series, which covers many different topics about the film industry and entertainment industry in general. And so I think that what makes Tribeca unique is that it is just like New York. There are a lot of different things for a lot of different people. And we are part of the fabric of the city by reflecting that in what is admittedly a very large festival with a lot of different activities.
AH: Tell us about the submission process. How many submissions do you receive and how many slots do you have to fill?
SB: We receive approximately 2,900 shorts each year and it's not so much about the slots, but it's about the programs. We have eight programs. We have five narrative programs, two documentary programs, and one experimental program. So, the amount of films we accept can range anywhere from 55 to 70 depending on the length of the films we select.
AH: What determines the theme of each program?
SB: Depending on the year, we decide what those programs are. Last year, we had very strong genre submissions, so we created a specific genre program. The year before that, we had very strong animation submissions, so we created an animation program. The themes of the programs are dictated by the submissions and what we select, and that is the magic.
Once you get to that point where you have that group of films that you love the most then you put them together and curate how they are going to play and what the ride is for the audience from the beginning of a program to the end of the program. And the very last thing that happens is that you look at each group of films that you now have put into a program and create a thematic element. "What do they all have in common? How do we tie a loosely creative ribbon around them?"
So, there's no specific thematic that we go into from the get-go. The exception to that, of course, is because we are a New York Festival, we love to have a New York shorts program every year, and whether we have that program is dependent on if the shorts we love the most fit into that category.
AH: Who views the submissions?
SB: I have a co-programmer whose name is Ben Thompson. He's been with me for years. And I have a dedicated group of screeners who are all industry professionals and do this on the side because they love the short film format as well. One of us watches every single submission and then Ben and I sit together watching all of our top choices. And then we make the final selections.!
AH: And what do you look for in a short film?!
SB: Good story! That's really what it is. I mean, I can go on and on, but in the end the film lives or dies by the story and if it's strong enough.!
AH: That's the first thing we tell students at the New York Film Academy.
SB: Absolutely! Keep telling them.!
AH: Students are always concerned with production value. How much does that weigh in on your film selections?
SB: Well, I have to emphasize that sound is very important. You know, with the newer technology, the visual image has gotten much, much better. But, I do think that the sound, the quality of the sound from the beginning and the final sound mix are very important. If we can't hear it we can't show it.
AH: Out of your 2,900 submissions, how many appear to be homemade or amateurish?
SB: You know it's an interesting question, Abe, because I can't tell anymore. If you asked me this question five years ago, I could've told you I can see immediately when a film was shot on a home video camera. But the technology makes that no longer visible. I would say the place where that is most noticeable is in the quality of the acting. That is where you know if it's an "amateur production." That's usually where the weakness is, in the acting and not the physical production itself. We wouldn't prejudice a film if the production quality is less than 100% but the story and the acting holds up. If you showed me blind three films, I would not be able to tell you which ones are trained filmmakers and which ones are untrained.
AH: Would you say the winning combination is story + acting + good sound?
SB: I would say the winning combination is … first of all: SHORT! We are an academy qualifying festival and we go by the running time of the academy, which is under 40 minutes. But, the longer your short is, the better that script has to be. And I would say it is rare that I see a 28-minute student film that shouldn't have been 15 minutes. That's where technology has hurt us because in the "old days," time was money. Every frame of film meant a cost. It meant a cost in film stock, a cost in development; it meant a cost in the editing room. Now I think that because the technology is so inexpensive and those costs don't apply, that filmmakers are not containing themselves enough.
If I see a shot of someone walking, I don't need to see them go down the entire street slowly. And that's where I find the weakness. So, by short I do mean the most expedient storytelling possible. I'm not saying that every short has to be under 12 minutes, don't misunderstand me. But, I'm saying that the story has to be told in a very concise [way] and [with] sustained action. It's not a feature. You can't use the time the way you would to develop a feature.
So, the winning combination is short + story + acting.
AH: What "do's" would you recommend to filmmakers?
SB: Do get your audience into the film quickly. No feature main credit sequence. Do make sure that your ending is satisfying. I would say that's one of the biggest problems — that you could be with the short all the way and it's pretty obvious that the filmmaker didn't quite know how to end it. And that's very disappointing. The ending has to be satisfying. Do spend as much time in the script stage as possible getting that story into its best shape.
AH: How can a filmmaker benefit from having their film programmed at Tribeca?
SB: Our mission, basically in terms of the film side, is to discover and nurture filmmakers and bring their work in front of an audience. So, one of the things that we do, especially with the shorts programs, is screen at least three times each. And we also have a very strong filmmaker component to the festival, which are private events — networking, socializing, educational — that are available only to those filmmakers whose films have been invited. And that is part of our nurturing part of the formula where we want them to meet each other and have opportunities where they are exposed to the press, exposed to the industry. We feel that, and especially for the short films this is quite often the case, that when we invite you we are helping you to launch your career.
And our press team works very hard and does an extraordinary job of making sure that the press outlets are aware of the shorts, are aware of the filmmakers. They build stories that come out of the festival and that are interesting to the public. So, I think that's where we're different. We really have this very strong desire to make that festival experience a career changer. !
We've had shorts filmmakers return to Tribeca with features. We've had shorts filmmakers win Academy Awards. We've watched our shorts filmmakers go on to do many other things and when a filmmaker is at Tribeca they are forever part of our family. We do want to see what they do next and we are their cheerleaders from that point on.
AH: What would you say to filmmakers whose films do not get accepted?
SB: You know it's simply a matter of the math. Really, when you think about it, let's say we program 60 shorts out of 2,900 submissions. That's about 2%. And I would have to say, don't take it personally. My hope is that for every filmmaker whose film we decline, to use a music analogy that they are not thinking of themselves as a one-hit wonder, but they want to be Bruce Springsteen and be around for a long time and therefore their reputation is important. So when we decline, it's nothing personal and it's even nothing personal about the film. It might not have anything to do with the film. I might be able to slot 60 films and you were 61 and I loved your film and I just don't have room for it.
So part of it is not taking it personally. I mean, rejection is part of this entire entertainment industry and it's something that you need to accept with grace and dignity because hopefully you're going to come back with something else.
AH: Anything else you'd like to add?!
SB: I am now in my 20th year teaching at NYU undergrad film and TV. So I have to say that from a purely personal perspective, I hope that filmmakers still and always will consider themselves artists. That you don't make a film because you think Tribeca might like it. But, you make the film that you want to make always and that it is creative first. That I think is really important.
by nyfa