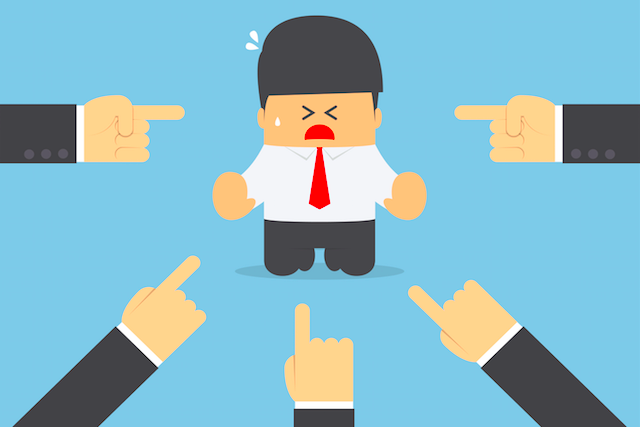 Working in broadcast journalism can be an engaging and exciting job, but every job has its drawbacks. In the news business, there's always a steady stream of criticism from viewers, from hairdos to the stories the station covers. The popularity of social media has made it even easier for the audience to express its displeasure to the news organization—and the world at large.
If you're on-air, you'll likely receive everything from marriage proposals to criticism of your clothes to complaints about your interviewing style. Even if you're not on-air, the critics won't completely forget about you. Amateur photographers love to complain about "lousy video quality," even if they have no idea of the circumstances or difficulties involved in capturing a particular shot. Everyone loves to tell the news director or assignments editor what stories to cover—or not. (How dare you fail to send a camera crew to cover a viewer's cat's wedding!)
Fifteen or twenty years ago, viewer complaints (valid or not), would have been delivered by phone, by snail mail, or maybe by email. But today, they show up on a station's social media pages where hundreds or thousands of other followers can see them. Have a page for yourself, as a news anchor or reporter? People will post complaints there, too.
How Do I Make It Stop?
You can certainly delete any comments that are obscene, profane, threatening, hate speech, etc. If you had time, you could just go ahead and delete all negative comments, but that would be a bad move from a PR standpoint. Viewers would then take to their personal page to tell their friends that your TV station's management doesn't care what their viewers think, can't take a healthy debate, and deletes critical comments in an effort to censor free speech. Even people who don't see those posts might notice and find it odd if there were never any negative comments on a broadcaster's page.
Some outlets are even eliminating Comments sections, seeing that they can get hijacked and turned into forums for racist and sexist rants. Large stations and networks actively curate their online and digital platforms. Elsewhere, it can sometimes become an embarrassing free-for-all.
Handling Social Media Comments in a Professional Manner
There is no requirement that you respond to every comment on the station's page, your page, or on a link to a story you covered. You can choose to ignore some of the negativity, and that's definitely a better idea than shooting back an angry reply. However, if you have a large number of similar negative comments, someone at the station should address these.
Most broadcasters have a position to handle the station's social media presence. This person will usually be on top of comments about each story, and about the station in general. Usually reporters and anchors are not expected to spend all day defending their stories on the station's page.
However, most on-air personalities are expected to have their own social media presence as part of the station or network's social media strategy. Some stations will create profiles for anchors and reporters; smaller stations sometimes expect the talent to handle that themselves. In either case, on-air personalities are expected to check in at least a couple times a day, and make some effort to respond to legitimate questions and concerns. (In larger stations with more viewers and comments, the station may assign someone to help the anchor or reporter.)
How Do I Respond? What Should I Ignore?
First, remember that you represent your employer on social media—even on your personal accounts that are separate from your professional profiles. If someone tracks down your personal profile despite your best efforts to hide it, you still have to respond in a professional way. Usually this means a polite reply directing the person back to your professional profile.
You can manage all of your professional accounts with a social media management program like Hootsuite. This allows you to monitor all your account activity in one place—Facebook posts, Tweets, Pins, Instagram pics, and whatever other platform you use. As time allows, you should try to respond to comments and questions—both negative and positive—from viewers. Engaging with people on social media helps build rapport and keep people interested in watching your news reports.
If you get a lot of questions, remember that you don't have to respond to every person individually. Frequently, twenty people will ask the same question—all you have to do is answer once. Start by noting that you appreciate all the questions about X, and the answer is Y, etc.
So What Do I Do When People Hate My Story? What If They Hate Me?
To begin, figure out what the problem is, and whether there is any merit to the complaint. If viewers don't like your new haircut or the outfit you wore today, you can probably ignore them. Your hair is going to take a while to grow back and there's not much you can do in the meantime; you're not going to wear the same outfit two days in a row, so the viewers can look at something else tomorrow.
If you see a lot of negative comments about a story, figure out what bothers most of the viewers. Sometimes rude comments are really about the subject of the story and not the reporter or the station (although viewers have been known to get confused, or blame the station for publicizing someone they don't like). However, if there is a specific concern about the newsworthiness or fairness of a story, that's something you should consider addressing, especially if you have a lot of comments about it. The most common complaints about news coverage are "This isn't news," and "This is unfair to the subject/paints someone in a bad light/this is slander."
Newsworthiness is a subjective thing; so long as you didn't fail to cover another really big story, there is nothing wrong with running a human-interest piece, especially on a slow news day. Plus small stations sometimes don't have enough hard news to fill a broadcast—but you can't tell the audience that! Instead, respond with something like this: "We work hard to cover all the news in our area, and tonight we brought you stories about the City Council, the new zoning law, and the three-car pileup on Main Street. When we have time, we also like to report on the local person who does something noteworthy or interesting, and that's why we covered John Doe's yarn sculpture. Thanks for your feedback, and please let us know if you hear of any news you think we should cover."
If someone complains that a story was unfair, the best defense is to point out all the ways in which you showed both sides of the story. For example, "Here at XYZZ, we strive to report news impartially. That's why we included comments from both Council members in favor of the proposal and those against the proposal. We showed both sides explaining their positions so the viewers could make up their own minds."
[su_note]Learn the skills you need to succeed as a game designer at the Game Design School at the New York Film Academy by clicking here.[/su_note]
by nyfa