In season one of Harlem on Amazon Prime, Camille, the protagonist, asks, "Why is everything always about men?"
By the end of the season, we have our answer. For our main characters, Camille, Tye, Quinn, and Angie, it actually isn't always about romantic relationships. Like shows about close female friendships that came before it, Harlem is about modern dating. But as the show progresses, we see so much more for audiences to explore as they watch the characters navigate life, love, and their careers.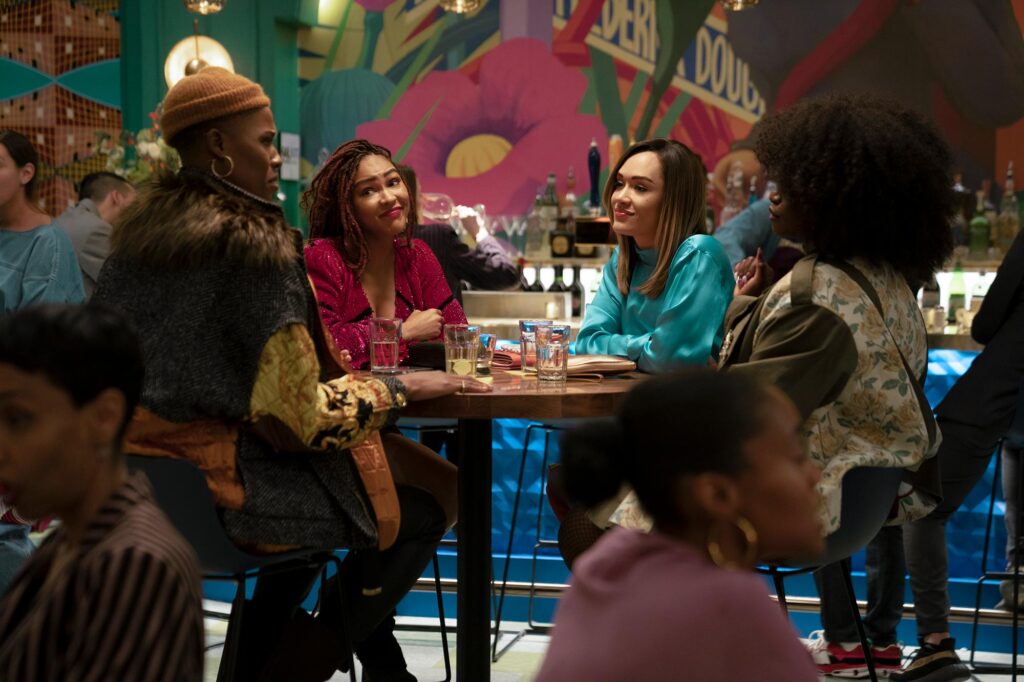 The Four Girl Formula on Television: Why It Works
Historically, the formula of four best friends juggling work, relationships, and unpredictable life experiences works well on television. A show that charmed generations, The Emmy award-winning Golden Girls (1985) featured four retirees living together in Miami, Florida. Played by Bea Arthur as Dorothy, Betty White as Rose, Rue McClanahan as Blanche, and Estelle Getty as Sophia, the show tackled ageism and women's issues, including menopause and widowhood, nearly unheard of on television at that time.
Even with the passing romantic interest, the show's core focus was the women and how they related to each other, introducing an international audience to the concept of women simply enjoying their lives and prioritizing their friendships. Audiences saw this again after the conclusion of Golden Girls in 1992, with Sex and The City, another Emmy award-winning show.
Premiering on HBO in 1998, Sex and the City took a season or two to find footing. At first, the show featured a few different New Yorkers commenting on their social and love lives. Ultimately, writers settled on focusing on the four main female characters, quickly developing each woman with their own personality. However, anyone watching closely could have seen some character traits they had seen before.
READ MORE: New York Film Academy (Nyfa) Filmmaking Alum Tracy Oliver Launches 'first Wives Club' Series
While Carrie (Sarah Jessica Parker) was fleshed out as the first of her kind on television, there were glimmers of the sarcastic Sophia in the independent and no-nonsense Miranda (Cynthia Nixon) and the same notes of naive goodness in Charlotte (Kristin Davis) as there were in Rose. Blanche and Samantha (NYFA Guest Speaker Kim Cattrall) had stark similarities in their confidence and larger-than-life persona.
Still, the format worked. For decades, online quizzes would inquire whether one was a Carrie, Samantha, Charlotte, or Miranda, with an in-depth description of what that meant. Fans still obsess about Carrie's relationship with the toxic Big and her second choice, Aiden. After six seasons, two films, and a reboot, the original Sex and The City is still watched and beloved, even with episodes and plotlines that would likely not make it to air today.
UPN followed with Girlfriends (2000), and HBO again with Girls (2012), both about close-knit groups of friends with intertwining lives. Women saw themselves in storylines about being left by unfaithful partners, fired from jobs, betrayed by friends, and crushed by the places they loved to live. Audiences were inspired by the idea of female friendship conquering all, despite arguments and disagreements about finances, boyfriends, and responsibilities. Writers' rooms felt comfortable exploring plotlines beyond marital statuses, some with more success and consistency than others.
Tracy Oliver's Harlem on Amazon Prime: A Fresh Take on The Four-Girl Formula
While Harlem chronicles the careers, friendships, and love lives of four girlfriends living in New York City, similarly to other shows, the exceptional writing and relatable characters make it a must-watch. Our protagonist, Camille, narrates ala Carrie Bradshaw but with a more compelling spin, as she introduces most episodes through an anthropological lens. As she's an assistant professor of anthropology at Columbia, Camille often analyzes the world around her as she navigates her career and love life, and her friends do the same.
Audiences love to watch cringey character moments like Carrie Bradshaw losing a pair of $400 shoes or Hanna Horvath refusing to sell out as a writer and work for a magazine, but Harlem presents refreshing scenarios where women are actively learning and growing from their mistakes, making them feel more relatable and grounded.
READ MORE: The Crazy Ex-Girlfriend Pilot: Our Take on The Story Engine
(Some spoilers ahead for season one of the show.)
In season one, Camille struggles with her ex (Tyler Lepley) being engaged to someone else while trying to win over her new supervisor (Whoopi Goldberg). Tye experiences medical racism from a doctor after going to the hospital with intense pain, challenging the audience to examine the trope of the "strong black woman." Quinn struggles with being taken seriously by her wealthy mother, and Angie continues to pursue her dreams as an aspiring singer, despite it being an unrealistic career path.
Similar to Manhattan in Sex and the City and Brooklyn in Girls, the neighborhood of Harlem also essentially plays a character on the show. Shot predominately in real-life Harlem, the show weaves the story of the area's gradual gentrification into the plot, touching on real-life problems that residents face. As of the summer of 2022, the Harlem crew was spotted filming season two on Striver's Row, the corner of Amsterdam Avenue and W 149th Street, and in front of a mural titled "Harlem Ever After."
NYFA Alum Tracy Oliver's Harlem Premieres Season Two
NYFA alum Tracy Oliver, showrunner for Harlem, drew from many of her own experiences to write it, calling it her "most personal project yet." Known for her work on Girls Trip (2017), The Sun is Also a Star (2019), The First Wives Club (2021), and her upcoming horror film, The Blackening (2022), which premiered at the Toronto International Film Festival, Harlem continues to make magic with season two, now available to stream on Amazon Prime.
READ MORE: NYFA Alum Tracy Oliver's The Blackening Trailer Released
Featuring Meagan Good (Shazam!, Think Like A Man) as Camille, Jerrie Johnson (Good Trouble) as Tye, Grace Byers (The Blackening, Empire) as Quinn, and Shoniqua Shandai (I Am The Night) as Angie, the show has a Black principal cast and also stars Sullivan Jones, Jasmine Guy, and Robert Ri'chard. Season two welcomes new cast members Rachel True (The Cosby Show, Dream On), Courtnee Carter (Pose, Law and Order: SUV), and Luke Forbes of Atlanta, Dog, and This Is Us, which also featured NYFA Alum Adlih Torres.
Guest stars include Countess Vaughn, Lil Rel Howery, Rick Fox, and Sherri Shepherd. There's even a delightful throwback to Cousin Skeeter (1998), the Nickelodeon show that helped spark Good's and guest star Robert Ri'chard's acting careers.
Tell Your Own Story at NYFA
Oliver successfully made a familiar television show format feel new again with Harlem. By using her experiences for inspiration, Tracy created characters and plotlines that audiences can resonate with, essential elements of making great television. To learn more about how to write your own television show or pilot and share your story, explore the Screenwriting programs and Filmmaking programs at NYFA.
by Melissa Randall