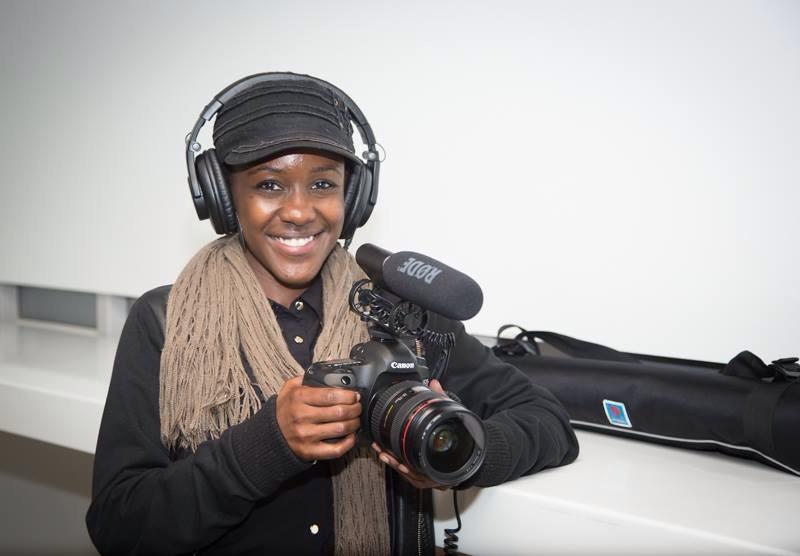 NYFA: Could you tell us a bit about your background and what drew you to filmmaking?
Paquita Hughes: I grew up in a small town in Mississippi and always had dreams of escaping to California to make movies. I was a Spielberg kid so nonetheless Star Wars and E.T. captured my imagination and fueled my interest in movie making magic! I didn't know what I would do in the industry or how I would fit in, I just knew I wanted to be a part of the process. I began plotting my journey to Hollywood at an early age but was sidelined after my high school graduation when my family disagreed with my decision to attend USC School of Cinematic Arts. I was told to pursue a "realistic goal" and to get a more practical profession, like a Lawyer, Doctor or Teacher. Crushed by this revelation, I pushed my dreams aside.
NYFA: You served in the Navy for eight years as an Air Traffic Controller. What lessons did you learn during your service that have helped you in your development as a filmmaker? What led you to leave and pursue your filmmaking dreams?
PH: As an Air Traffic Controller in the World's Greatest Navy, I faced many challenges and obstacles; mentally, physically and emotionally. It's in the top 5 most stressful jobs in the world and going through a "crash-course" school through the military (6 months) was a validating process for me. It showed me I could definitely rise to any challenge placed in front of me. I controlled the best pilots in the world as an enlisted sailor overseas and on an amphibious assault ship during a time of war. I've had to deal with many personality and culture differences that have definitely prepared me to collaborate with a variety of filmmakers and performers. Working under pressure during a time of war in foreign countries and territories has toughened me to make difficult decisions on the drop of a dime. I'm a troubleshooting Diva!
The deciding factor to separate and attend school to pursue my dream came when I was being forced to take college courses to stay competitive for advancement of my rank. I had promised myself when I dropped out of college the first time, that I would never attempt college again for a profession that I absolutely had no interest in. What fun would that be? I wanted to enjoy higher education like I enjoyed my primary and secondary education years. I enrolled in the Associate of Arts in Motion Picture/Television: Producing course for Academy of Art University and never turned back. I studied online for the next 2.5 years while serving overseas and got hooked! I wanted to be hands on and actually start making movies! I aced every assignment and test, and as my military career hit a "glass ceiling", I realized my motivation, drive and creativity would be utilized better in the civilian sector so I decided to get out and pursue it full time.
NYFA: What was it about the New York Film Academy in Los Angeles that attracted you to its filmmaking program?
PH: What attracted me to the NYFA filmmaking program was the key word "immersion". When I describe the course to others, I say it's the "Rosetta Stone of filmmaking" because you are immersed in the process while learning. I think it's the best way. I spent two years learning the history and theory of filmmaking so I was ready to get my hands on equipment and scripts. I was also very decisive about my choice because of my military benefits. AAU was going to cost me more to continue there than it would have been for NYFA. NYFA's Yellow Ribbon program allowed unlimited amount of veteran students to apply and AAU only allowed the first 50 who applied. Not to mention NYFA matched the VA at a much higher amount then what AAU matched. It was a better decision financially also.
NYFA: What lessons did you learn at NYFA that you still find yourself applying to your current work?
PH: Planning is everything! I've also learned how important it is to create positive relationships with my classmates and to not burn bridges with the talented students. You can ruin your reputation quickly by missing classes and showing up late. Collaboration is key in filmmaking and you want to have a plethora of collaborators in your Rolodex when it's time to get a production off the ground.
NYFA: You've enrolled twice in NYFA, firstly studying filmmaking and then returning for the one-year digital photography course. What skills as a filmmaker did you hope to hone through the digital photography course? Have you always been drawn to still images alongside moving images?
PH: Photography has always been a passion of mine. It seemed fitting to enroll in the Photography course once it became available. A still camera was the first camera I owned so my filmmaking career started with photography. I wanted to take a skill I taught myself and honed for 20+ years and learn the proper technical and business processes.
Through this course I honed my skills as a visual storyteller and strengthened my cinematography skills. I learned how to see the world with a different view and the many styles of photography opened my mind to the many styles of filmmaking that I can explore.
NYFA: As a veteran in the film industry, what avenues have you found that have allowed you to network with other veterans? Do you feel that veterans possess a certain skill set that makes them particularly adaptable to working in film and other industries?
PH: As a veteran in the industry, I had hoped I would find an organization or group that would shepherd me into the industry respectively. I found that in Veterans in Film and Television. It's a non-profit organization founded in 2012 by two vets who wanted a central meeting avenue for vets in the industry to network with other vets who have made their mark already. Luckily, I became a member during its second month in existence and ever since I've pretty much found ALL of my work and collaborators through this group. I am also proud to have been selected to be one of the 15 vets used for the VFT Promotional Ad that was featured in Variety magazine and for their website www.vftla.org.
There are veterans who posses the skill set it takes to really handle working in the industry and I've met some veterans who probably weren't too motivated when they were active, so they become lazy and too opinionated to get with the program. Not all veterans are made for the industry. If you were a hard charging, A.J. Squared Away sailor like myself, you could really make a name for yourself amongst your peers and colleagues. If you are a veteran who didn't like the most basic things about the military, then the industry isn't for you either. The infrastructure is very similar and if you had a problem with authority in the service, then you'll have a problem with my authority on set and that's not good.
NYFA: Your thesis film, California Dreaming, deals with a young woman who runs away from home to pursue her dreams. As someone who made a leap towards realizing your dreams in film, is this a theme you continue to explore in your current work? What other themes do you find yourself returning to in your original work?
PH: California Dreaming was my first film ever and I had to add a personal touch to the story because an instructor made a comment once to, "write about what you know, then go from there," so that theme came easily for me. Currently and moving forward, I produce mostly and the work I'm attracted to is very eclectic. I'm producing a pilot for a web series that explores the taboo lifestyle of "Sugar Babies" and my theme for that series is simply, "all that glitters ain't gold." When some people are so desperate to escape their current situation, they have the tendencies to make drastic and irresponsible decisions hoping to temporarily fix a permanent problem. I'm attracted to creative stories and concepts with out of the box substance.
NYFA: What advice would you give current members of the military who have ambitions to enter the film industry?
PH: My advice to current members of the military with ambitions for the film industry would be to take heed to all of your military training and revisit the basics. Learn to be resourceful as hell and don't expect to make friends (just like in the service) but focus on making strong bonds with others just as motivated and driven as you. Reach out to other veterans and organizations and please be prepared to give as much as you would like to receive. It's give and take. The days will be long, the people will be difficult and disasters will occur but remember, it's better than being on deployment. The most important advice would be to have a lot of money in savings to survive while making your mark in the industry. I know you hear stories of people making it big after being homeless or living in their cars, but that's not a healthy way to start. You want to have your ducks in a row and have a PLAN!
NYFA: How have you navigated such a competitive industry as film and what words of wisdom would you impart to recent graduates who are trying to realize their career goals in film?
PH: I've navigated this industry by staying focused, keeping my eyes on the prize, planning and using my resources and time wisely. Also, I've made some great relationships with people I met along the way. I leave a great impression when working on any production no matter how big or small. You'll never know who on the crew is watching and could have the next big gig with your name on it. I'm always pleasant and no matter the mood I'm in, I'm professional at all times.
NYFA: What upcoming projects do you have that you are particularly excited about?
PH: I'm excited about a few upcoming projects and one to note is a pilot for a dramedy series called, "Sugar" (sugartheseries.tumblr.com). It's been a year of developing and production and it's now in post-production. I have high hopes for this project because an instructor informed me to pitch it to Networks such as Showtime and HBO. I plan to pitch to Netflix and Hulu as well, but it's a long and hard process getting everything in line the way I want. Nonetheless, I'm excited.
I recently attended the GI Film Festival in D.C. for a film that I directed for the 48 Film Contest. It was my first festival selection and it was a great feeling seeing my name in the line up of filmmakers. It was an accomplishment of mine that felt satisfying. It will also screen at the GI Film Festival in LA this year so, I'm excited to walk the red carpet in my own stomping grounds.
I'm also currently a freelance Associate Producer for an awesome production company called Imaginary Forces and I've had the pleasure of working with some talented producers, directors, designers, animators and more on projects I used to dream of being a part of. The first project I was attached to was the 2014 MTV Movie Awards. Since working at IF, I've helped produce for Discovery ID (Swamp Murders), MPAA, Sapporo and Electronic Arts.
NYFA: Any parting words of advice you have for aspiring filmmakers?
PH: Rome wasn't built in a day; so don't expect your career to happen fast. The important thing is to keep moving forward and stay focused.
by nyfa