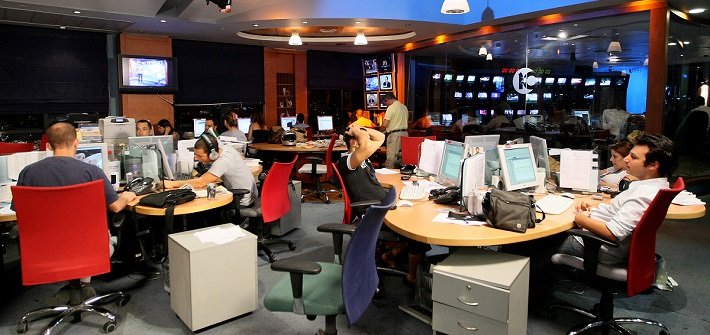 Producers frequently do many of the same tasks as reporters—they come up with story ideas, and in some cases do the legwork of setting up interviews or chasing down leads. They're also usually responsible for "stacking the show"—putting the stories for a broadcast in order, starting with the A block. This means deciding what to lead with—what was the biggest story of the day, or overnight if you're working on a morning show. You will also have to decide how much time to devote to each story.
Producers' duties can vary from one station to another, with larger stations having more producers, sometimes with different titles. Smaller stations (where many journalists start their careers after graduating) usually just have one producer per newscast. In these small-market stations, one producer may be responsible for the morning show, another for the five and six o'clock casts, and another for the ten o'clock news. (Again, this varies depending on the station—in some stations, one person may be responsible for all three evening newscasts, while another handles the morning and noon news.)
Field producers often go out with a photographer, gather facts, and interview subjects for the story while standing off-camera. Depending on the size of the station and how busy other staff members are, he or she may even go out alone, set up the camera, and record video in a pinch. The same is also true at the network level, where nationally known correspondents often arrive on scene after a field producer has already begun the process of assembling a story.  This is a good assignment if you like interviewing and chasing down stories, but don't want the pressure of appearing in live shots or spending a lot of time fixing your hair and makeup every day.
If they're not in a field position, most producers spend their time at the station, generating story ideas, monitoring the reporters' work on those stories, and stacking the show.
Producers and reporters both usually report to the assignment editor, someone who monitors everything going on (including following the police scanner) and determines what stories to pursue. Often the assignments editor will give the producer a general assignment—"Give me five ideas for election coverage," for example—and the producer will decide on a specific approach—the five angles, who covers them, when they run, etc. Producers and reporters sometimes move up to the assignments editor position after multiple years of experience.
Producing can be an ideal position for someone who wants to be a reporter but doesn't want to be on-air. Good qualities for this job include multi-tasking, organizational skills, and the ability to work under a tight deadline. If you think producing is right for you, you'll also need some of the same qualities as a reporter—being friendly, personable, and able to talk to a wide variety of people.
Photojournalism
Not everyone is a "people person." Photojournalism is a good career choice for those who are interested in journalism, but aren't comfortable talking to a lot of strange people every day.
In television news, a photographer is usually assigned to go out with a reporter and capture video and audio of the story. While the reporter usually does most of the talking and tries to get the subject to open up, the photographer has an equally important job: Finding a visual way to tell the story.
This is not a job for someone who just wants to set up the camera and pay no attention to the news topic. Your job as a photographer is to understand the story, the angle the reporter is going for, related issues, etc. That way you can seek out shots that help tell the story.
A photographer's job can be critical to producing a package that not only tells the facts, but makes viewers care. Yes, the reporter will do everything in his or her power to get the interviewee to open up and say something with emotional impact. But sometimes even the most skilled journalist can't get a subject to say anything beyond a rote recitation of facts. Yes, you can complete the assignment that way, but whenever possible, you want to present something viewers will relate to on an emotional level.
This is where the photographer comes in. If you're paying attention, you might get a shot of something in the interviewee's office or home that tells us more about that person than he or she ever would. Maybe the police chief has the picture of a missing child whose case has been unsolved for twenty years on her desk. That tells us more about the kind of difficulties the chief faces in her job, and her determination to solve the crime even after many years, than she would probably tell a reporter in a standard interview about the department's new software program to help find missing kids.
It's important that the photographer and reporter work together as a team. Sometimes the photographer notices things the reporter misses because he or she is busy trying to make eye contact with the interview subject. Just because your job isn't to interview, doesn't mean you can't ask the occasional question, or point something out to the reporter. Sometimes a casual questoin like, "Hey, that's an interesting picture, where was it taken?" can bring a new angle to the reporter's attention, and get the subject talking about something you can use. Cultivating basic interviewing skills is also important because, during busy times, a short-staffed assignments editor might ask you to go interview a subject by yourself.
Editors take the video from a shoot and edit it into a package, VO (voice over) or VO/SOT (voice over with sound bite). In smaller stations, photographers sometimes double as editors. This can be useful because if you do both jobs, you can start thinking about how you'll edit a package as you shoot. However, in larger stations, photographers frequently run from one story to the next and have no time to edit, so these stations usually employ a full-time editor.
Editing is another job that requires you to pay attention and think about different ways to tell a story. When you edit a package, you receive a script written by the reporter. The script contains the package intro, the reporter's voice over script, sound bites from subjects, and usually some direction about cover video/ambient sound ("cover of children playing at the park," "cover of crowd with ambient noise from cheering fans," "cover of the mayor greeting supporters," etc.). This leaves you with some room for creativity, especially if the photographer provided a wide variety of video and audio. Training in both photography and editing is a good way to boost your skills for both tasks, as you can learn a lot about shooting video from editing, and vice versa.
Multimedia journalists (MMJ) are becoming ever more popular at broadcast news outfits. These are individuals who can quite literally "do it all." In an era of tight budgets, it makes good economic sense to send out one person instead of three. Local cable news outlets pioneered this approach. Now even network news and magazine programs employ MMJ's as broadcast journalism schools place an increased emphasis on teaching MMJ skills.
by nyfa