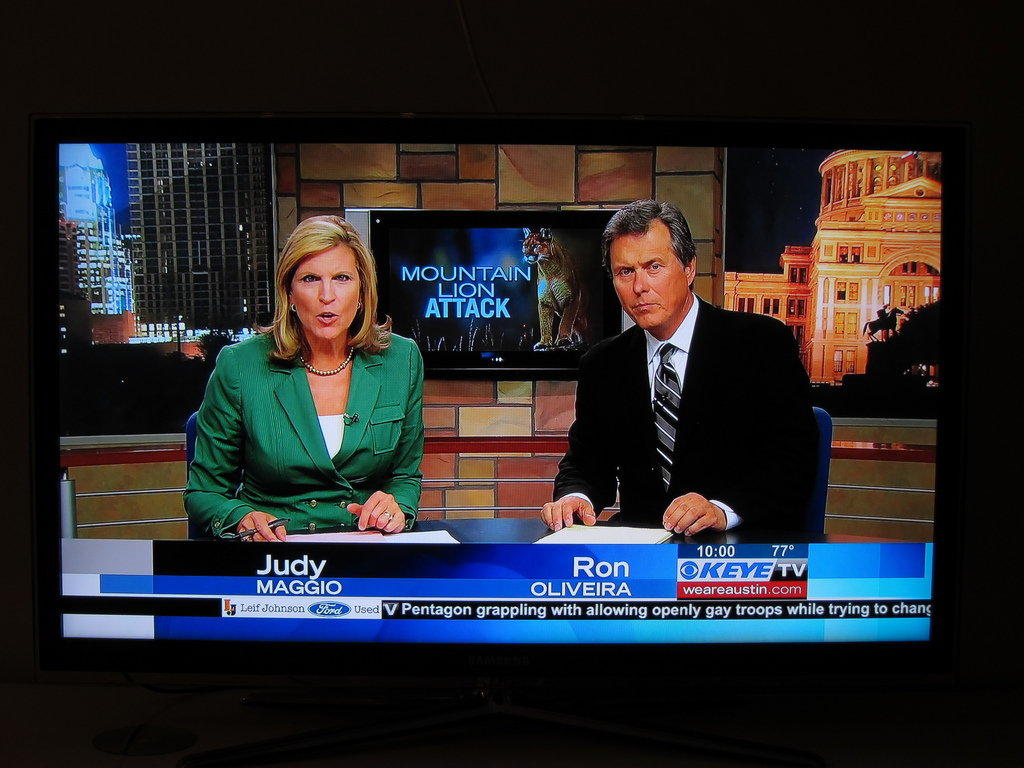 According a recent Pew Research report, local news viewership has grown in general, with total on-air ad revenue for affiliates hitting $20 billion in 2014, an increase of 7% over 2013. In particular, alternative time slots, like early morning, mid-day, and 7 pm newscasts are all rising in popularity.
Noon News and Early Evening Newscasts Growing
Noon news and 7 o'clock slots are doing especially well. Recent Nielsen data shows that the 7 pm slot had the most impressive growth among non-traditional time slots for 2014, growing 11% from the previous year. The overall audience has grown 8% since 2010, possibly because stations have realized they benefit from the national news lead-in.
These times also benefit from commuting patterns. In July, an AdWeek article about the trend noted that viewers who work during standard business hours and commute an hour each way often don't make it home in time for the five or six o'clock news. This makes the 7 pm slot particularly attractive to stations that reach metro suburbs, where a large percentage of those who work outside the home commute into the city. It's also handy for busy professionals who spend time running errands after work or socializing with friends.
What about prime time shows?
In cities outside of the Eastern time zone, 7 pm newscasts can be problematic. For example, ABC 7, the top-rated news station in Chicago, would have been deluged with angry phone calls if they decided to run the local news instead of top-rated ABC shows like Grey's Anatomy or Dancing with the Stars at 7. (The national network would have had issues with that, too.)
An Opportunity to Team Up with Other Stations?
Instead, in December of 2014, ABC 7 announced it was starting an hour-long local news broadcast at 7 pm to air on WCIU "The U", an independent station in Chicago. (Independent, in this case, means the station is not associated with one of the big four national networks; it is the flagship station of the Weigel Broadcasting group.) On January 12 of 2015, the early evening broadcast became the first in its time slot for the Chicago market.
What does that mean for ABC 7? It didn't just lend its name to WCIU—the newscast is anchored by on-air talent from other ABC 7 (WLS-TV) time slots. A Chicagoland Media article noted that WLS dominated the May 2015 sweeps period for evening newscasts in general, although the 7 pm space wasn't counted as there were no other stations in the market using it for news. It's unclear how the 7 o'clock news on WCIU has impacted ABC 7's ratings, but a recent Chicago Business Journal article notes that WLS has the top-rated 10 pm newscast and that the station generally leads the market.
Other News Opportunities at 7 O'Clock
Another ABC affiliate, WWSB in Tampa, Florida, recently began a 7 pm newscast with an investigative focus. Because prime time doesn't begin until 8 in the Eastern time zone, WWSB has the opportunity to run a local news program in the time slot. However, it is different from the station's usual local news because of its focus on in-depth investigations and digging deeper into the issues. Because the show features a live, round-table discussion with local people in the news, it's more similar to cable news than other local broadcasts. Considering the recent decline of cable news ratings, finding a way to provide in-depth coverage of local, rather than national issues, is a possible opportunity for many local stations.
Early Morning Newscasts Also Growing, But More Slowly
Very early morning newscasts have also continued to grow, but more slowly, gaining only 6% in 2014, after 13% increases in the previous two years, according to the Pew Research report. Noon news, on the other hand, gained viewers in every sweeps period for the same year, while the 7 pm slot had the fastest growth.
It's important not to put all your eggs into one time-slot basket, especially an alternative one. These spaces may be growing, but they still lag far behind traditional news times. The Pew Research report shows the 11 pm newscast is still the most-watched time, with close to 24 million viewers. That doesn't mean that adding a 7 pm broadcast is a bad idea, but TV stations should ensure they have engaging local newscasts in all time slots they use.
[su_note]Learn more about the School of Broadcast Journalism at the New York Film Academy by clicking here.[/su_note]
by nyfa